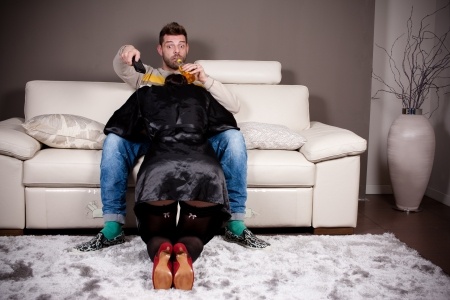 Okay, a quick recap first.
Last year I wrote a ridiculous book review in which I dismissed the book's believability because real-life women don't enjoy giving blowjobs as much as the protagonist. After getting some hate-mail (from men), I conducted a very scientific research study that involved badgering interviewing my friends to collect data to support my original assertion. Then, I ran a survey to collect even more data from you readers, but I messed that up by not limiting survey responses. (READ: my husband choose "YES, YES, YES!" 485,972,498,752,984,755 times.)
So, I forgot the whole topic. (Much like I forget about blowjobs.)
Finally, last week I made a joke about apology blowjobs (that's a thing, really), realized I should have reported back about the tainted survey, and then ran a new survey, asking you (yet again) what you thought about blowjobs.
All caught up now? Good. Let's get to that new survey.
So listen, I'm a pretty simple and direct sort of person so I made the survey question simple and direct as well:
What are your thoughts on giving blowjobs to your guy?
And here were the options:
Meh.
It's quicker and easier than having sex.
I do it when I want something like a purse or a trip.
I love it. No, really, I do.
I do it for foreplay and change positions before you know what happens.
I say N-O to the blow.
I'm a lesbian, you idiot.
Other: [fill in the blank]
A few of you immediately pointed out that I should have had some more answer options. Options like:
It really hurts my neck.
I have a sensitive gag reflex.
I HATE SWALLOWING.
Unfortunately, those weren't in the blowjob survey, but I'm still happy with the overall results. Over 500 of you responded, which gives me statistically-significant survey results (in the world of humor blogs). And here's what you responded:
First off, Papa Does Preach, you'll be happy to know that more women (14.9%) blatantly lied because their husbands/boyfriends were watching actually love blowjobs than flat-out refuse to give them (11.3%).
Most of the rest of us, however, fell somewhere in between.
Meh. 19.7%
It's quicker and easier than having sex. 7.8%
I do it when I want something like a purse or a trip. 7.0%
I do it for foreplay and change positions before you know what happens. 29.2%
I'm a lesbian, you idiot. 0.6%
So here's how I'd represent these results in a graph:
Percentages aside, the "Other" responses were probably the very best part of the whole survey. Here are some of my favorites (and my replies):
"I've never given one. I get on my knees for no one." (I read this one in the voice of Brienne of Tarth.)
"I thought blowjobs were a 'holiday' thing. You know birthdays, anniversaries, and nothing says Happy Easter as much as a certificate for a blowie in his Easter basket." (Dammit. I have to do them THAT often?)
"Sometimes, if he's been very sweet, and I feel he deserves a 'thank you for loving me' gesture, AND I have my period, he'll get a blowjob 'to completion.' But I never swallow. That shit's gross." (Yep. It is.)
"I will often do it if I think I've nagged at hubby too much and feel guilty about it." (It's called an Apology Blowjob. I don't do those.)
Yuck. The smells. The hair. The taste. Gag! (Yet another time I'm happy to have anosmia.)
"Unless it just got out of the shower, that nasty thing isn't going in my mouth!!!" (HAHAHAHAHAHA. *dies laughing*)
"A quickie like when you are in the car." (No, I don't do it there either.)
"I've become a very bad 'blow job giver' over the years 😉 so my husband no longer even wants them." (I think I just found a new Blowjob Avoidance Strategy. Too much teeth, anyone?)
Of course, several of you brought up a very valid point: that you should give it as much as you want to get it. I agree. And I believe that goes for most things in life: treat others how you want to be treated. (That doesn't mean going around giving everyone blowjobs, people.)
And, for those of us who hate swallowing, one respondent had some helpful advice: "It isn't wine, don't swish it. It's more like a shot of tequila, let it go down the back of your mouth and you won't taste it."
*throws up in mouth a little*
Let this be the last time we speak so much of blowjobs.
Photo Credit: mindof / 123RF Stock Photo
Follow Foxy Wine Pocket on Facebook and Twitter. You can also subscribe to my blog and never miss a new post. It's quick and easy! (That's what she said.)