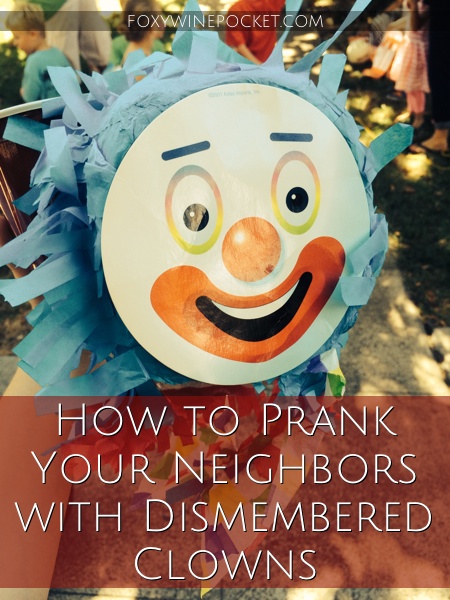 My freighbors (friends + neighbors) and my family had an epic block party on our street for Labor Day. (Actually it was the day before Labor Day because we need like to have Monday to recover. Genius, right?) As with all of our block parties, we obtained a permit to close down the street; we rented a bouncy house to babysit entertain the kids; and we had a shit-ton of delicious food and drink. (My freighbors are some seriously good cooks and bartenders.)
Sometimes we even like to kick the parties up a notch with a theme that includes decorations, games, and crafts for the kids. This time some asshole very creative type picked a circus theme for the party. Now I don't mind circus themes in general, but you know what evil lurks at the circus, right? CLOWNS. Fucking clowns are always at the circus, and I HATE clowns. Fortunately for me, my freighbors promised no actual clowns—just some fun, circusy goodness.
And they delivered. We had:
Tattoos and face paint
Silly rainbow hats
Inflatable, squeaky monkeys
A make-your-own-set-of-juggling-balls craft (hehe, I said "balls")
A dress-up photo booth
Cotton candy, peanuts, and popcorn
We even had a ferocious lion:
I was having a great time at the party just drinking relaxing and enjoying the company of my freighbors, but then out of the blue came the piñata. Not just any piñata—it was a CLOWN piñata. I could see that beast from across the street. After I shuddered and initiated breathing exercises to calm myself down, I put down my drink and walked over for a full inspection. Maybe I was initiating exposure therapy. Or maybe (more likely) I just wanted to see the kids beat the shit out of that clown. Whatever was driving me, I HAD to watch.
Dozens of kids lined up to get their turn at bat. I watched with glee and delight. I giggled hysterically each time they hit that clown. It gave me a possibly unhealthy amount of satisfaction watching this clown take repeated blows to the head. And then, some child actually beheaded the clown. The evil clown face went sailing through the air (leaving the piñata and all of its contents intact) and landed on the lawn. (I may have screamed with delight.)
That's when I made my move. I HAD TO HAVE THAT CLOWN HEAD. Running into the crowd, my eyes were locked on my target. Pushing children out of my way, I lunged for that head. I grabbed it and held it in my hands, laughing like a maniac. I held my trophy high—pretending blood was dripping from the neck.
The prize was MINE. ALL MINE. Holding the treasure in my shaking hands, I debated what to do with it:
Put it on a stake and leave it out as a warning to all clowns everywhere?
Pour lighter fluid on it and burn it on the BBQ?
Rip it to shreds with my teeth and bare hands?
No, none of those was right. I knew exactly what I was going to do with it: wrap it up and send it to Ashley at Big Top Family for her epic 40th birthday celebration. Plan in place, I turned my attention back to the kids beating the decapitated clown body. They finally broke the piñata, and candy and sugar-coated dreams went flying in every direction.
After the kids had filled their bags with sweetened meltdowns, I went around collecting clown parts. I decided that the only thing better than a clown head for Ashley would be a completely dismembered clown carcass.
Clown carnage collected, I turned to walk back to my drinking chair to enjoy the rest of the festivities. Before I could take two steps, however, my freighbor Debbie stopped me to ask about the clown head.
Debbie: Oh, can I see that for a second?
Me (holding the pieces tighter and closer to my body): Uhhh. No. They're mine.
Debbie: I just need to show the head to my husband. Hugh's not going to believe this.
Me (loosening my death grip a little): What do you mean?
Debbie: Well, you remember that movie Poltergeist?
Me (gritting my teeth): Of course…
Debbie: So there was an evil clown in Poltergeist. And every night I check under the bed to see if that clown is there.
Me (realizing that crazy wasn't contained to just me): Really?
Debbie: Yeah, I do. It's ridiculous, I know. I have to show Hugh; he will laugh so hard.
Just as I was about to hand over the precious clown head, Debbie was interrupted by her son who needed some help with his bag of sugar and hysteria. I took that opportunity to get away with my clown body parts. I ran quickly. Because I had a new plan. (Sorry, Ashley. No clown for you!)
I grabbed my evil twin, Starla, and explained my scheme. (She is an actual person, not a figment of my imagination. She's just the prettier, healthier, smarter version of me.) Without hesitation, she nodded, grabbed my hand, and led me down the street. Unfortunately, we couldn't get into Debbie's house because there were witnesses people standing outside. We needed a valid reason to get into her home. I had to find her husband, Hugh. Frantically, I scanned the street. When I found him, I practically knocked him over as I breathlessly explained my evil plot. He laughed and replied, "That's awesome."
And then he led me inside of his house. Where I did this:
And then I waited … waited for the report from Hugh on how Debbie reacted when she discovered the horror under her bed. I was hoping for an account of screams and/or tears and/or maybe a little pee. Unfortunately for me, Debbie passed out that night (block parties are HARD work, people) and didn't look under her bed. And THEN she went out of town on a business trip.
So I waited. And waited.
Patience may be a virtue, but it's not one of mine. I kept texting Hugh repeatedly to see when his wife would get home. To see if she had discovered our present left so carefully under the bed. I was starting to think that he had blocked me when he sent me this sad, sad text: "Our son found it last night. He played with it and made a giant mess. I had to throw it out before she even saw it."
Well, fuck. There went my brilliant plan … all the way to hell.
So … now I'm working on Plan B…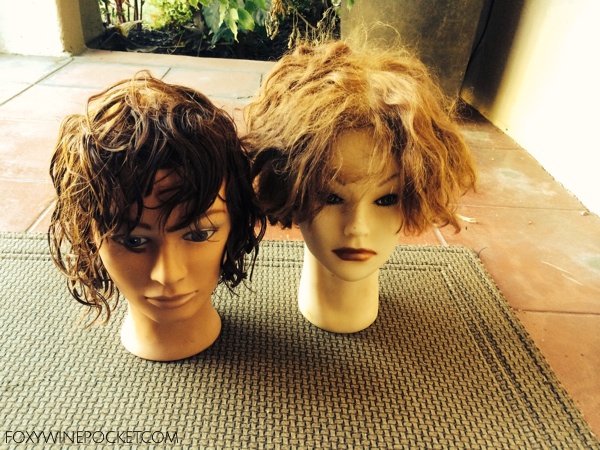 Follow Foxy Wine Pocket on Facebook and Twitter. You can also subscribe to my blog and never miss a new post. It's quick and easy! (That's what she said.)