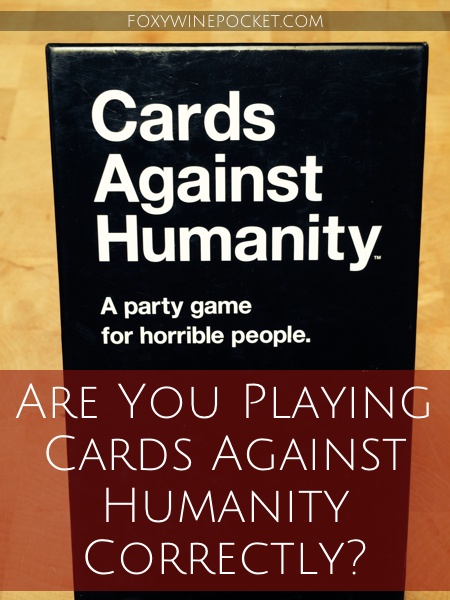 I am a horrible person.
How do I know? Because Cards Against Humanity is my absolute favorite game in the entire world, and it's "a party game for horrible people." IT SAYS SO RIGHT ON THE BOX. Ergo, I am a horrible person. But I'm okay with that.
Actually, I'm not much of a game player. I hate ugly competition and mind-numbing repetitive rounds of pointless ladder climbing, passing go and maybe collecting $200, and trying to remember where the frakking cherry card is. I. Hate. It. All. But I love Cards Against Humanity because it truly doesn't matter who wins or loses. The end result is not the important part. It's HOW you play the game.
For the uninitiated, here is a basic summary of how Cards Against Humanity is played:
Every player gets ten(ish) white cards, which have ridiculous and horrifying answers on them.
One player, called the Card Czar (I'm not making that up—it's on the rules) picks a black card and reads the question on the card (without guilt or shame because, horrible people).
Everyone else plays one of his/her ridiculous and/or horrifying cards to answer the horrible question—in a twisted, adult Mad Libs style.
The Card Czar shuffles the answers, dramatically reads them all (it's better than theater), and selects his/her favorite answer.
Whoever played the favored white card is the winner and keeps the black card as a horrible badge of honor.
There are some other rules and caveats, but I'm too lazy to actually read the them. I usually show up to the game, pour drinks for everyone, and follow along with whatever "house rules" have been adopted by others (who also didn't read the official rules).
Based on some recent experiences, however, I've come up with some guidelines that aren't included with the game to help you enjoy your gaming experience even more—to help ensure you're achieving the appropriate level of horribleness.
Play with the right people. The right mix of horrible is essential to your enjoyment. Do not play with politically-correct, non-swearing, easily-offended prudes, your pastor, or your mother-in-law. Find similarly horrible people.
Allow enough time to play. The box says 30-90 minutes, but 30 minutes is not enough time. You need more than that to fully discover just how horrible your game-mates are. Recently I was playing with a group of my freighbors, and we were interrupted by the need to go pick up our kids. (I called it Cardus Interruptus.) Not only did I not get to finish (that's what she said), but I had the MOST AMAZING hand of horrifying answers ever. And I will never get it back.
Decide upfront if you're going to allow trade-ins (AKA CHEATING). Sure, there's a rule on the game card that allows "rebooting the universe," but it doesn't state you can turn in any card you want and pick over the deck looking for the most absurd or hilarious answer. The fun of the game is being creative with the cards you are dealt. Get an agreement upfront. Or at least ridicule the cheaters and make them pour the next round of drinks.
Minimize distractions. If you're going to play the game, PLAY IT. Don't be checking on your phones or having to get up and do stuff during the rounds. Also, it's probably a good idea to put the kids in front of a movie or something. You don't want to ruin young minds by having them overhear any of the game. (There's plenty of time for that when they go to college.)
Know your game-mates. The object of the game is not to play the best card; it's to get the Card Czar to pick your card. I suck at this. (That's what she said.) Mr. Foxy, who always claims that he doesn't know how to play, wins every game. Because he gets inside our friends' sicko heads and figures out which answer would make them laugh the most. He's genius. Or horrible. Whatever.
Serve beverages and finger foods. Alcohol, while not a requirement, is always delicious and can help "up the crazy" in every round. Snacks are good too. My only word of warning—be careful of greasy finger foods which can really mess up those cards. We ate some delicious cherry and white chocolate chip oatmeal cookies during our last game.
Be prepared for the crazy. Cards Against Humanity + Appropriately Horrible People + Liquid Lubrication = A Raucous Affair. In a recent game, the host for the evening decided to grant the winner of each round a chance to hurl an old toy across his backyard. Yes, you read that correctly: the winner could pick an old toy, launch it through the air, and watch it crash on the other side of the yard. While everyone else cheered.
Don't play if you're going to whine about how offensive the game is. There's no crying in Cards Against Humanity. (Unless you're cry-laughing.)
That particular game was so incredibly ridiculous that one or two of us (not me, I swear) may have peed our pants laughing. Even the kids came out to tell us to be quiet. Our hostess had to remove herself at one point to check on the kids. Or so I thought. She confided in me the next day that she was laughing so hard that she threw up all of the delicious snacks in the kitchen sink.
She literally tossed her cookies. Great game, folks!
P.S., Papa Does Preach, I found this card just for you and Mr. Welcome to the Bundle.
Follow Foxy Wine Pocket on Facebook and Twitter. You can also subscribe to my blog and never miss a new post. It's quick and easy! (That's what she said.)