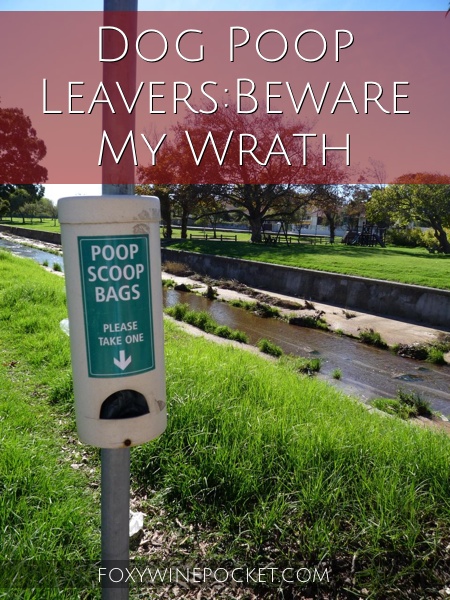 I want "Poop Hero" added to my tombstone. Here's why.
I was drinking coffee and perusing Twitter the other morning in my breakfast room.  ("Breakfast room" sounds way more fancy than it really is—it's a tiny breakfast nook off of the kitchen. I also call my teeny-tiny backyard a "courtyard" for the very same reason—fancy.) Anyhow, I like hanging out in the breakfast room because I can see all of the comings and goings in front of my house. I'm nosey like that.
So I was drinking my coffee when I saw two ladies walking a beautiful Golden Retriever down the street. Sure, the women both looked very cute and perky with their bottle-blonde pony tails and in their matching tennis outfits that will likely never see a tennis court, but what I focused in on is the dog. I LOVE dogs so of course I stopped what I was doing to admire this gorgeous canine whose coat had that fresh-from-the-groomers shine (no way in hell those ladies groom their own dogs). Then the very pretty puppy proceeded to take a crap right on my neighbor's lawn.
Now I've got a dog and have lived with dogs my entire life. They crap. No big deal. You pick it up and move along. Except these ladies didn't bother to pick it up. They even had a bag tied to the leash, but they didn't use it. The lady holding the leash bent down slightly to examine the poop, then stood straight up and just kept walking.
"Are you fucking kidding me?" I asked no one in particular. (That might be one of my favorite expressions.)
I jumped out of my chair, grabbed a poop bag from our stash, and ran out the front door to confront them. But I couldn't be mean—I had to give them a way out of the awkward situation.
Me (holding up the bag): "Oh hey. Did you need a bag to pick up after your dog?"
Poop Leaver (walking by my house): "Oh no. It was so small. You could barely see it."
Me: "Uhhh…"
Poop Walker-Awayer (still walking…): "Yeah, and it was in sticks and everything."
Me: "Uh, you need to pick it up so someone else doesn't step in it."
Poop Bitch (completely passing my house): "You could barely see it."
So I went over to pick up the poop because my dog and I walk by there all of the time. I didn't want either of us stepping in it, and it wasn't very nice to my neighbor. I looked at the poop, and it was not small. (Big dog = big poop) Yes, it was in some tiny twigs, but I just picked those up with the poop.
I was even more pissed. I proceeded to jog down the street—still in my pajamas—after the ladies, and I started hollering and waving their dog's poop at them, "That was not small! You need to pick up after your dog!"
Only they ignored me and just kept walking down the street. My big, scary neighbor across the street must have figured out what was happening (probably not too hard since I was yelling about dog poop and waving a steaming bag of shit in the air). Then he screamed at the top of his lungs, "YOU! NEED! TO! PICK! UP! YOUR! DOG'S! SHIT!!!"
But they kept right on walking.
I looked at my big scary neighbor and shrugged my arms dramatically so he could see I was pissed too. (I didn't need him directing his big scary hate towards me.) We both shook our heads and walked back to our houses.
So, yeah, the poop bitches totally ignored me. And I ended up picking up after their dog. But I bet they won't do that again. I showed them. FOR SURE.
Or at least they'll avoid my house next time.
Photo Credit: "Poop Scoop Bags" by Danie van der Merwe is licensed under CC BY-NC-SA 2.0. Cropped and added title graphic overlay.
Follow Foxy Wine Pocket on Facebook and Twitter. You can also subscribe to my blog and never miss a new post. It's quick and easy! (That's what she said.)