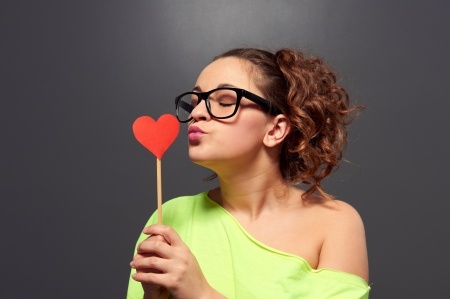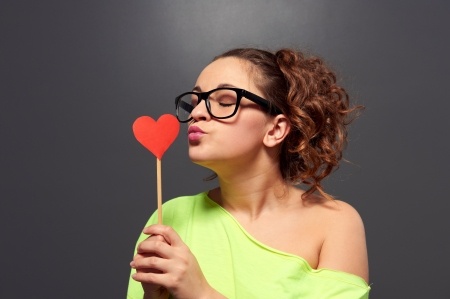 I've been seeing all these beautiful pictures of my friends and their spouses on Facebook in the "Love Your Spouse Challenge," a seven-day challenge designed to "celebrate your special union." First dates. Weddings. Nights out on the town. Perfection, right?
Some of you have even created hilarious spoofs by posting pictures of your grilled-cheese sandwiches, burritos, and doughnuts (don't you spell it "donut" or I will cut you). Hilarious, for sure, but not the real challenge.
The glamour shots aren't the real challenge either though. It's too easy to post flawless pictures of you and your spouse—special moments and occasions that highlight your love at its finest. What about the ugly moments? The hard ones? (That's what she said.) The unflattering pictures? That's where the real challenge comes in.
Allow me to up the ante.
Picture #1: Here we are on a catamaran on our honeymoon. Awww, so cute, right?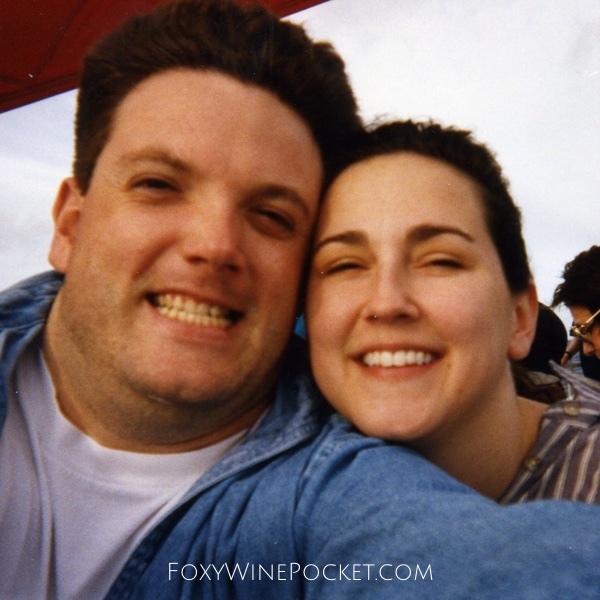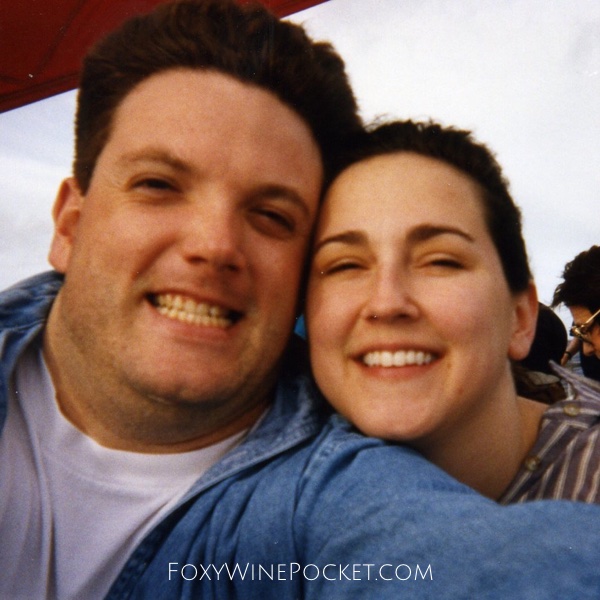 Well, moments before we took that photograph, my new husband got sea sick and hurled chunks off of the stern of the boat. The wind blew back splattered vomit on me. We're smiling, but he was horrified. And I was horrified. And covered in puke bits.
Picture #2: Here we are at our baby shower hosted by our good friends. I am undoubtedly saying something loud, rude, or ridiculous (or some combo of the three).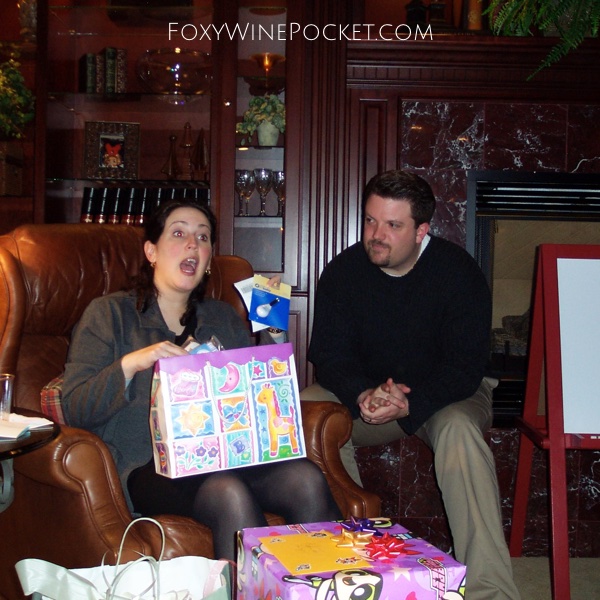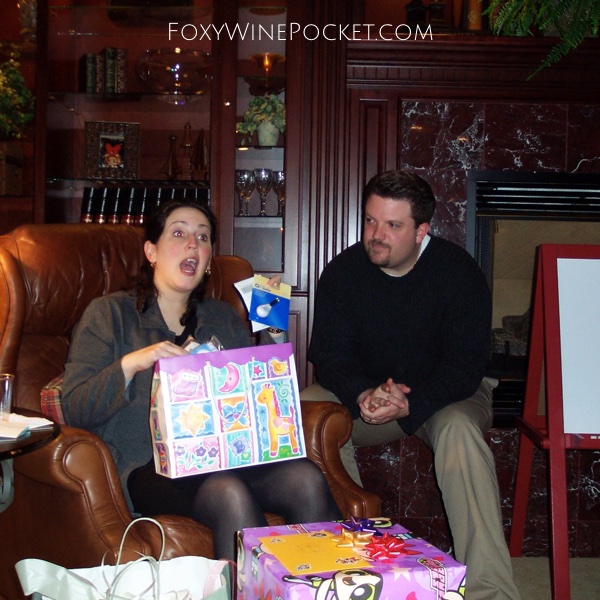 But look at how calm and smiley Mr. Foxy looks, even though I was being obnoxious. His face radiates love. Right? That's not an annoyed face, RIGHT?
Picture #3: Here we are holding our newborn son. My water broke during my morning shower so I have no make-up or hairstyle or anything. I'm not even sure I brushed my teeth. (Of course my husband was polished, clean, and ready for work. Fucker.)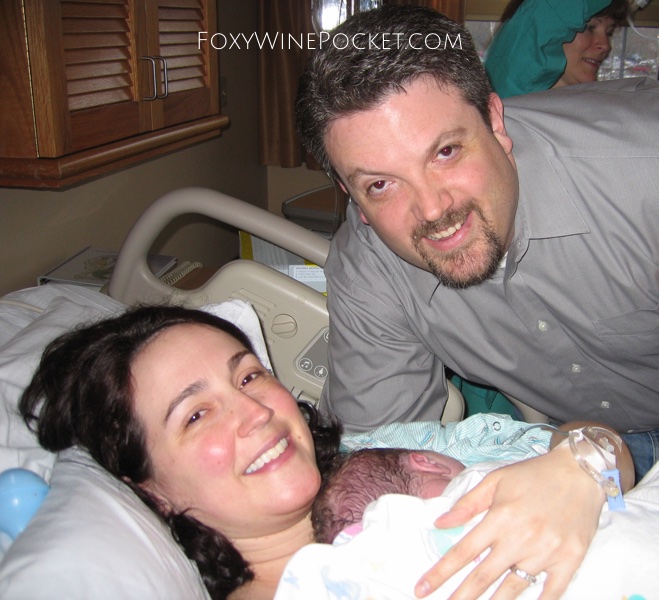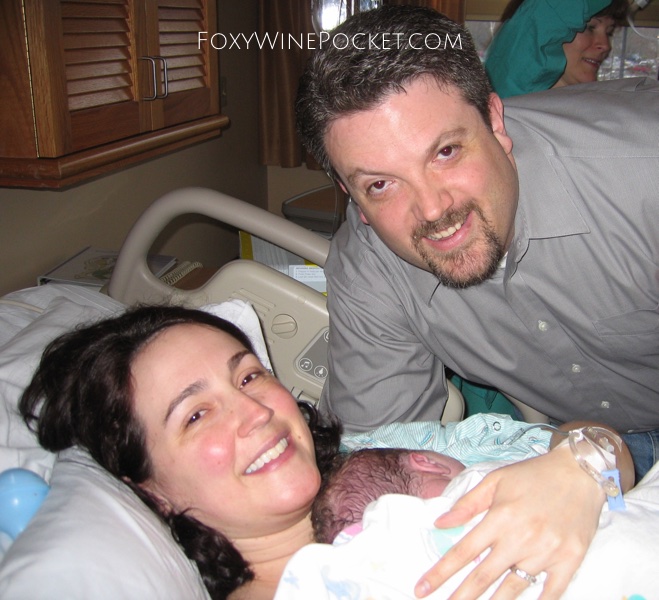 Anyhow, it was a rough pregnancy preceded by two miscarriages. And a fast and furious delivery. The phlebotomist had to draw blood three times before they would give me my epidural. (The first sample wasn't large enough; the second got lost somewhere between our room and the lab; the third finally made it to the right people who FINALLY okayed the epidural. Fuckers.) Also, I might have said some pretty awful things to my husband when he kept dropping my completely numb leg. Love and marriage, people.
Picture #4: Here we are barely holding it together at our son's baptism.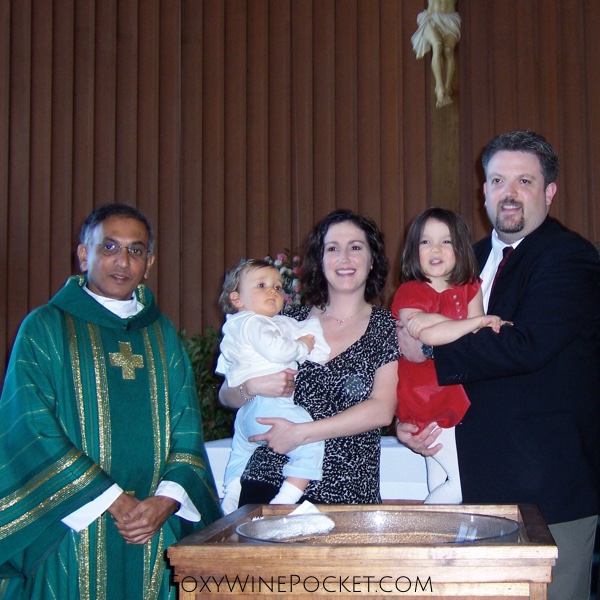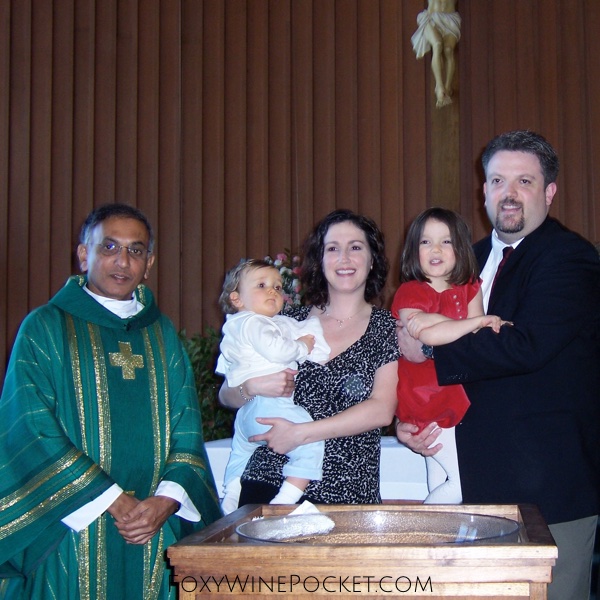 My son wanted nothing to do with the entire event, and I'm struggling to contain him in my arms. (I left a trail of Cheerios from the church pew up to the altar.) Our daughter was done—just DONE. Mr. Foxy and I have "take the fucking picture right now" looks on our face. We went home and had booze, I'm sure. In the name of Jesus.
Picture #5: We're barely holding it together again as The Wiggles at a Halloween party.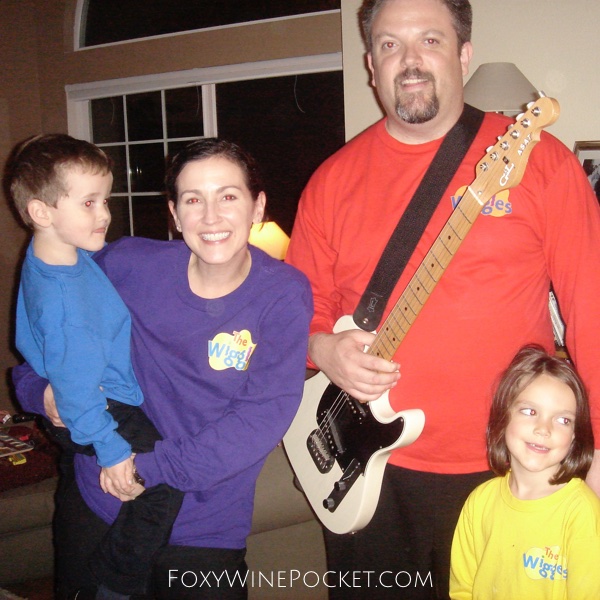 My son is plotting his escape. I'm gritting my teeth saying, "Just look at the camera so we can go have fun, dammit." My husband is complaining about having to hold the guitar the whole night. And my daughter, who came up with this costume idea, just wants to go play with her best friend in the other room. Or make out with the candy bowl; I'm not sure.
Picture #6: Here I am with a picture of my love. Oh wait, that's not my spouse—that's Kevin Bacon. But, damn, I just love him so much. Not as much as Jason Bateman, but a whole hell of a lot. Of course, I love Mr. Foxy more than them both. Blah, blah, blah.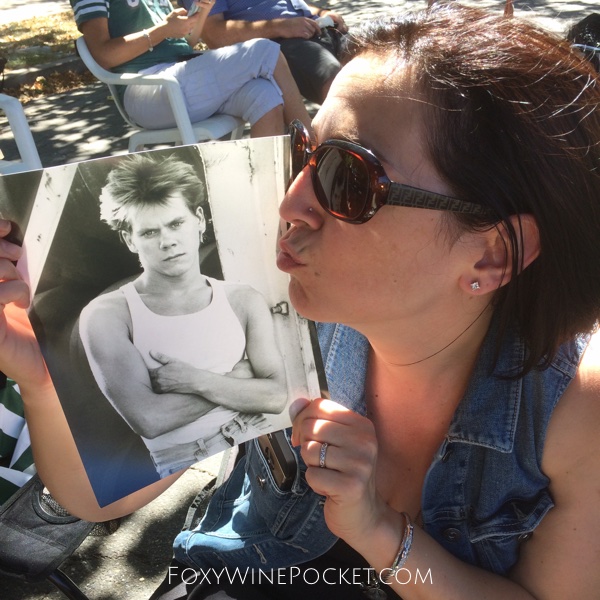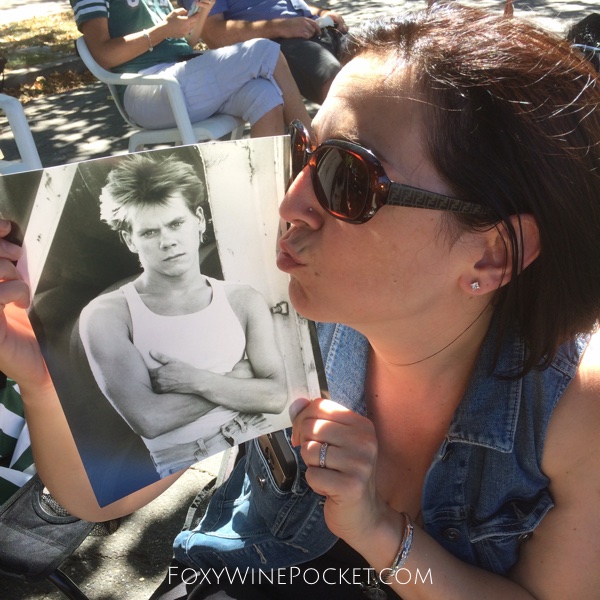 Picture #6 (for realz): Here we are dressed up as Ron Swanson and Tammy 2 from Parks and Recreation. It's not a horrible picture, just a little (a lot) ridiculous. Certainly it's no glamour shot.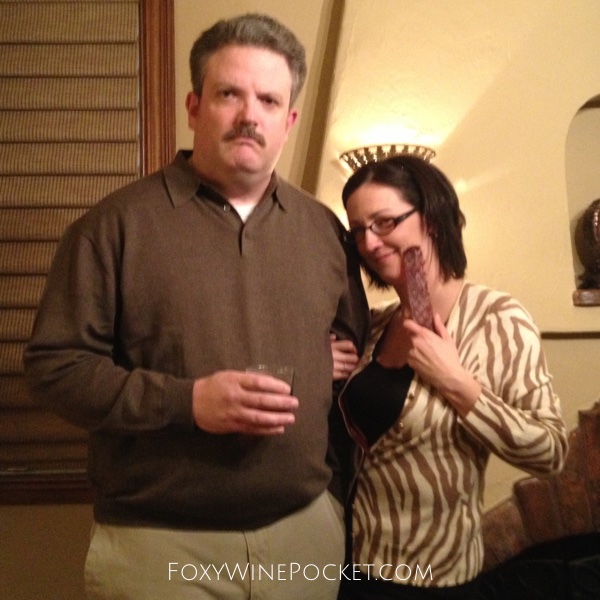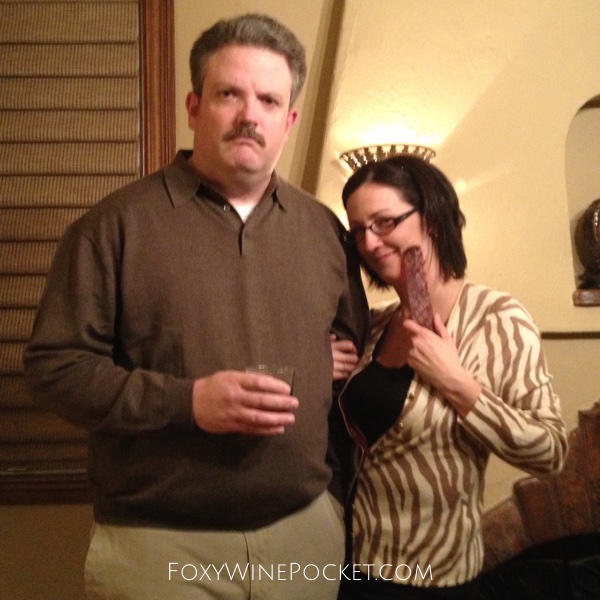 What I remember most about this moment is that we were in a terrible fight that evening over something stupid. I have no idea what we were fighting about, but I'm sure I was right. We hardly spoke to each other at the party, and I was still pissed (the American version of the word, not the UK version) the next morning. But the wonderful thing about our marriage is that I know we'll always work through those rough patches. Even if it requires scotch and beef jerky.
Picture #7: Here I am drinking wine with my other half. Shit, that's my evil twin, not my spouse.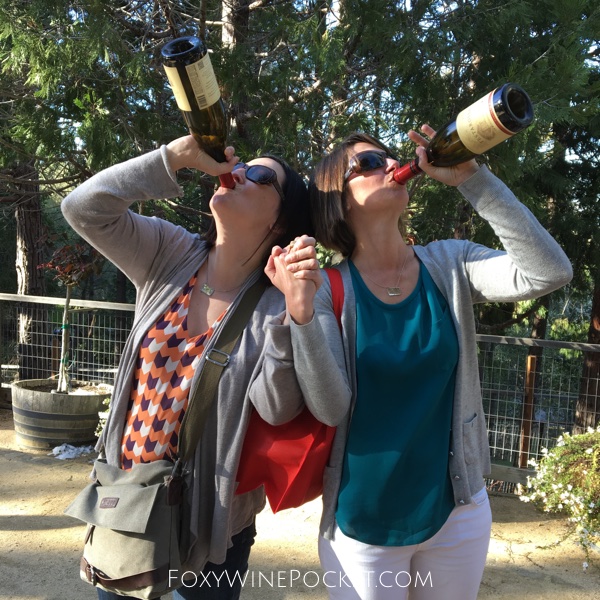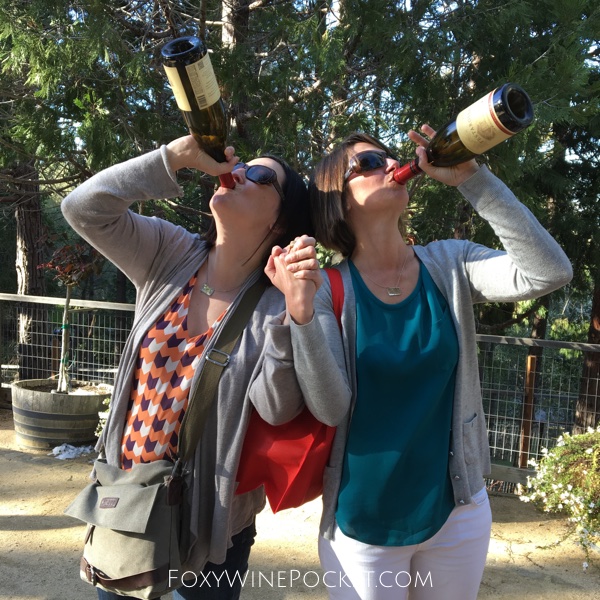 We do a lot of dumb shit together. She recently dumped her entire vodka-soda on me. Completely unprovoked, I swear. I love her so much.
The Real Picture #7: Here we're at one of our freighborhood block parties, acting pretty stupid. I've got a wicked double-chin going on in the picture. He's got a lampshade on his head. And a pink goatee. But, dammit, if we weren't having a great time.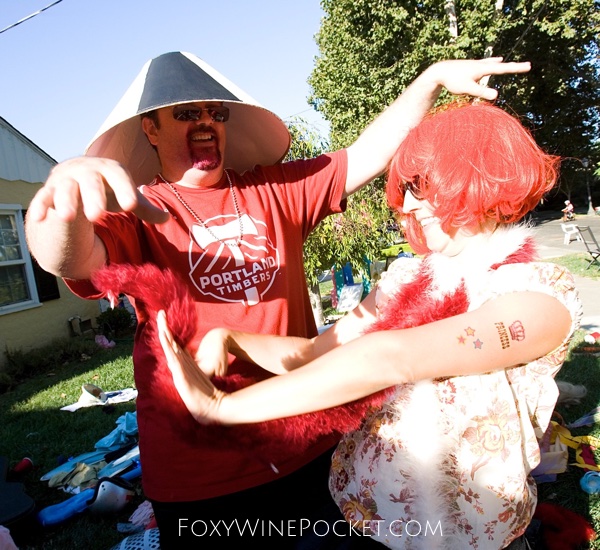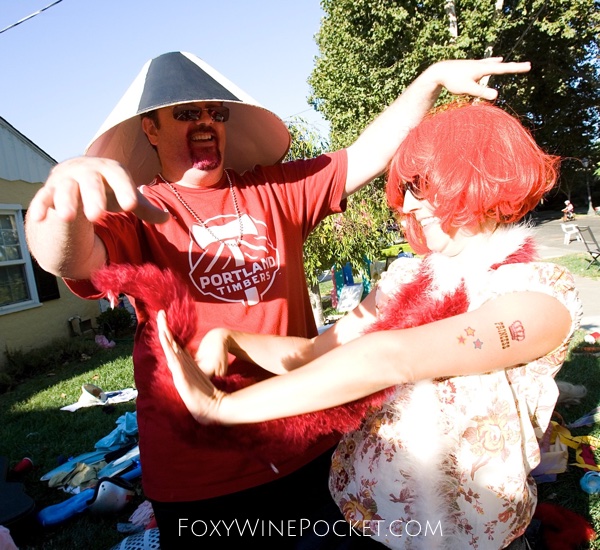 Bonus Shot: My husband intentionally took a horrible picture of himself in order to recreate an intentionally horrible (but nowhere to be found) driver's license picture.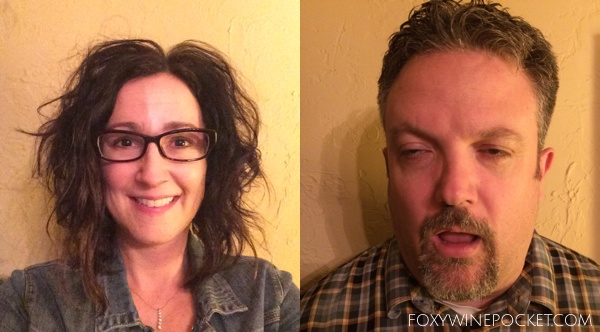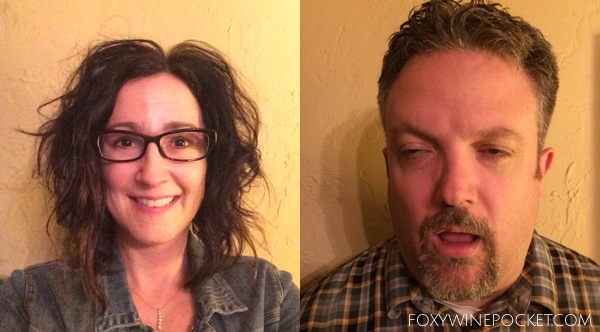 If that's not love, I don't know what is.
Now, are you up for the REAL Love Your Spouse Challenge?
Cover Photo Credit: konstantynov / 123RF Stock Photo
Follow Foxy Wine Pocket on Facebook and Twitter. You can also subscribe to my blog and never miss a new post. It's quick and easy! (That's what she said.)