Here's the thing: I don't like Pumpkin Spice Lattes or pumpkin-favored baked goods, but I understand that some people do. And I respect that. However, I would never even consider trying Pumpkin Spice M&Ms or pumpkin-flavored candy corn to see if I like them—because I think those are plain wrong.
Honestly, I just don't get the whole Fall pumpkin-flavored food frenzy. Pumpkin "flavor" has invaded everything. And I hate pumpkins. I hate carving them. They smell gross. And they're slimy. But whatever—it's Fall, and I try to ignore the pumpkin everywhere in my face. (And I make Dan carve the jack-o'-lanterns.)
Then, just when I thought the pumpkin craziness had reached it's peak, I was shopping at Trader Joe's and saw these: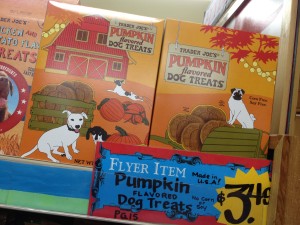 Oh, Trader Joe's, I love you so much. But seriously? SERIOUSLY?! Pumpkin-flavored dog treats? Stop the fucking pumpkin madness already. We don't need most of the seasonal treats for people so we certainly don't need seasonal treats for dogs. They're dogs. DOGS. They lick their own asses and eat kitty roca from the cat box for fuck's sake.
It has officially gone too far.
Follow Foxy Wine Pocket on Facebook and Twitter. You can also subscribe to my blog and never miss a new post. It's quick and easy! (That's what she said.)