Would anyone like Colin's peanut butter toast? Apparently, it was too crispy. As he refused it, he told me, "This is not my way."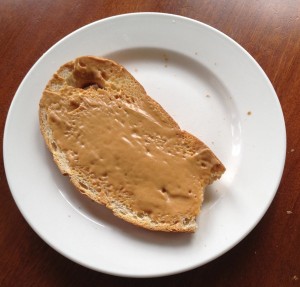 I told Colin that he could eat it "my way" or make his own.
And then Erin was no help. She told Colin that I left the bread in the toaster too long. I made her help Colin make his new toast.
P.S., Ziggy the Dog told me it was the best peanut butter toast he'd ever had.
Follow Foxy Wine Pocket on Facebook and Twitter. You can also subscribe to my blog and never miss a new post. It's quick and easy! (That's what she said.)