So the first day back after the holiday break was rough. Not for the kids—they were fine. For me and the foster dog. If you recall, we took in a foster dog just before Christmas. We found out, after leaving her for a pre-Christmas family gathering, that she has some issues.
She broke out of her first crate on Sunday and peed all over the bedroom, including on our bed. We had jerry-rigged an old crate so we figured it just didn't hold. So we bought a new "ultra-strong" metal crate on Monday morning, and she broke out of it on Monday evening and peed all over the bedroom, including on our freshly laundered bed. And chewed the bedroom doorframe off. And mauled the antique dresser a bit.
Well shit. We were thinking she hates crates with a passion, but we needed to crate her when we're gone—for her safety and our house's safety apparently. So we bought a third crate, stuck it in the middle of kitchen, and starting working on crate desensitization. We fed her in the crate. We put random treats and toys for her to find in the crate. And we quickly figured out that she was fine with the crate—it's the being alone part that's the problem.
That's when we determined she had very real and very severe separation anxiety. At that point, we had to change plans for the holiday break so we could stay home with her. I skipped dinner on Christmas Eve. We had a simple Christmas dinner at home instead of joining the extended family out of town. And we cancelled all of the day trips we had planned with the kids over the Christmas break. Luckily Grandma was able to watch both the kids AND the dogs for New Year's Eve. It would have been very sad to miss the Dead Celebrity Party.
Anyhow, for the past two weeks, we have been employing a painstaking behavioral modification plan where we gradually increase the amount of time she is left alone. 2 seconds alone then a treat. 4 seconds alone then a treat. 6 seconds alone then a treat. You get the picture.
We've dealt with separation anxiety in previously adopted pets, but never anything this severe. We talked to two animal behaviorists and a vet (and left countless messages for other professionals) to get advice. We read books and scoured the Internet to find some more help. We tried Xanax, but that just lowered her inhibitions and made her aggressive toward Ziggy the Dog (and didn't help with the anxiety) so we quit that. I tried to schedule alternative treatment (acupuncture/chinese herbs), but that doctor wasn't available for a couple of weeks. We tried calming treats, a CD designed to calm dogs, peanut-butter-filled Kongs in the crate (that she only got when alone), etc., etc.
We felt like we were getting somewhere when we had two successful extended cratings (a one-hour and a two-hour) over this past weekend. And that should have put us in a good spot for Monday morning—when the adults went back to work and the kids went back to school.
And then Monday happened. Fucking Mondays. I put the foster dog in her crate with all her special treats and dog-calming music and left to take the kids to school. I had to go into their school so I couldn't bring the dog with me (and we had done so well!). I got home less than an hour later. To find this: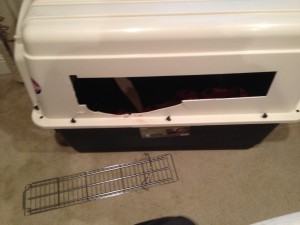 Yes, that's blood on the plastic. She chewed off the "window" and squeezed out of the crate that way. (She's okay.) This was the third crate she has broken out of. It was our last hope for crate training. At this point, it's a learned behavior, and there's no way she'll stay in any future crate.
Fuck.
I mean, I work from home, but I have appointments and school commitments and other volunteer work that I need to do. I have to be able to leave the dog for an hour here and an hour there each week.
While the rescue agency and I brainstormed ideas, I also sent an email to my vet (she's the best vet in the whole world) to see about trying Prozac, something one of the behaviorists had suggested. It works differently than Xanax and might just help the foster dog. My vet called me immediately. We discussed the situation, and she asked if I could come down right away for some bloodwork before starting the foster dog on Prozac*.
It was 12:30. I hadn't eaten any lunch, but readily agreed. Anything to help this dog. I put Ziggy the Dog in his crate (he doesn't eat crates) and shoved the foster dog in the car. We headed down to the vet office for the bloodwork.
And here's where Monday went South.
We got to the vet's office just fine. The bloodwork went fine. I chatted with the vet about some additional ideas to help address the separation anxiety. We headed to a pet supply store for a pheromone collar. And the rescue emailed me back about some supplies they had to help (a Thundershirt, in particular).
It was now about 1:30, and I had about 1.5 hours before I had to pick the kids up from school. I had to keep the foster dog with me as she is destructive to the house (and to herself) when not in the crate. I didn't want to go home before school pick-up because that would disrupt Ziggy the Dog's afternoon. So I headed to the rescue to pick up the supplies. The foster dog was drooling a lot in the car, but I figured that went along with the anxiety.
My stomach reminded me that I still hadn't eaten. I only had cottage cheese and fruit for breakfast (it's a new year, y'all) so I was getting really hungry and shaky and irritable and fainty. No one needs to see me like that. I decided to swing by the pharmacy to pick up the Prozac (my vet had already called it in) on my way to get some food. We went through the drive-through, but of course, the drugs weren't ready.
Fuck.
I needed food. I couldn't wait for the drugs. I needed food. My options with a dog in the car were limited. I don't do fast food (unless it's In-N-Out Burger, but there were none close by) so I decided to go through the Starbucks drive-through for a latte and a protein bistro box. I noticed as I pulled in that the foster dog had been drooling like crazy. Beyond normal drooling. It was on me, on the seats, and all over her face. It was like she swallowed vinegar and baking soda (remember the science class volcanoes from our youth?). I reached for my car towel (yes, I have one—I'm a mom), but couldn't find it. Then I remembered that I brought it in the house to wash it over the holidays. I looked around and couldn't find a thing to dry that dog's face. So I took off my new Christmas scarf and sacrificed it in the name of keeping drool from puddling on the kids' seats. (There was really that much drool.)
I placed my order and stayed in line. And that's when I heard the sound. The unmistakable sound from the back seat—hrmuf, hrmuf, HRMUUUF!
Fuck.
And I turned back to watch the foster dog hurl all over my daughter's seat.
Fuckity-fuck.
Of course she gets car sick. Of course the foster dog with separation anxiety that I need to take everywhere with me because she eats crates gets car sick.
Fuck.
Well shit. What was I going to do? I could have left immediately, but that wasn't going to help the dog. And it sure the hell wasn't going to help my irritability. I. Needed. Food. So I figured the puke wasn't going anywhere and stayed the course. I. Needed. Food.  I opened the windows to get some fresh air (more for the dog than for me—I have anosmia, remember?). I got my food, and the foster dog, the drool, the puke, and I headed over to the kids' school.
I pulled into the parking lot and debated what I should do first: eat or clean up the puke enough to get the kids home. I really needed food, and I wasn't going to want to touch anything after cleaning puke. So I ate my protein bistro box (fruit, cheese, egg) and drank my double-tall non-fat latte and thanked sweet baby Jesus that I couldn't smell the cesspool in my back seat. And naturally I took a picture of the puke and texted my BTFFs. They were thrilled of course. (I can send the pictures to you too, if you want.)
After I got some food in, I reluctantly got out of the car to clean up the mess. I had no towel, but I had a box of tissues and some poop bags. I normally have some baby wipes too, but I had apparently forgotten to restock them the last time they ran out. (Of course I had.)
That's when my friend Cherise walked up. She wanted to meet the foster dog. I got the foamy-headed foster dog out of the car (on my son's side), and as I opened the door, more puke spilled out of the car right onto my pants and feet. Apparently, she puked more than once in the back seat. (Of course she did.)
Fuck.
Cherise quickly stepped back and stammered out how sorry she was. She offered to escort my kids out to the car. And, thank sweet baby Jesus, she had some wipes.
So I tied the foster dog to a tree and got to work. In between long drags of my latte (pretending it was a G&t—the capitalization is intentional), I used tissue and poop bags to pick up most of the puke. It was on the car seats, on my son's booster seat, the floor, the doors, the windows and even inside the door pocket. (Of course it was.) I used the semi-dry wipes to wipe the rest of the dog puke bits out of my car onto the parking lot pavement.
There I was standing in the middle of the parking lot (with the foster dog tied up next to me) covered in sweat, dog drool, and dog puke bits. Feeling very Monday-y. Fucking Mondays.
I couldn't get the car completely clean, but at least I could get it good enough that the kids wouldn't notice. And I kept the doors WIDE open to air the damn car out. I worked furiously and finished just in time for the kids to come out and hop in the car. I put the drooly foster dog IN THE WAY BACK of the SUV, and we headed back to the pharmacy to pick up the Prozac. Fortunately, it was ready that time. And we all headed home for homework and deep-cleaning time.
So now my foster dog has a stash of drugs more impressive than mine. But I wonder who needs them more.
*Details for One Funny Motha: We still don't have dog insurance. The Prozac is also human Prozac that you can give to dogs (like the Xanax). With our AAA discount, we got a month's supply for about $20 (twice the price of the Xanax but there are twice the pills).
Follow Foxy Wine Pocket on Facebook and Twitter. You can also subscribe to my blog and never miss a new post. It's quick and easy! (That's what she said.)