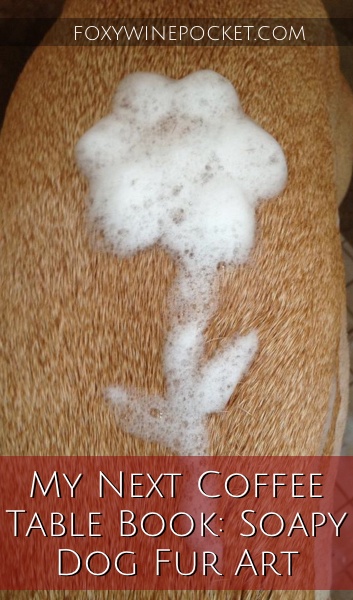 Like most people, I hate chores. But some chores I dread more than others. If I had to rank my chores from least hated to most hated, it would be:
Grocery shopping (At least I'm spending money.)
Cooking (Wine makes this a little better.)
Yard work (Mmmm, shower beers pull me through.)
Cleaning bathrooms (I'm out of silver linings.)
Laundry (WAY out of them.)
Cleaning out my kids' rooms (Holy hell, have you seen what's growing under the bed?)
But the chore I hate the most—the ABSOLUTE MOST—is giving the dog a bath. You might be asking, "Foxy, why don't you just send your dog to the groomers to get washed instead? That'd be way easier."
That would be way easier. And it would be awesome if I had that kind of money. But my dog has skin allergies, and she requires weekly baths with a medicated shampoo  (along with ridiculously expensive weekly injections). So I can't afford to send her to the groomers every week. Not if I also want my family to eat.
So, alas, I bathe her at home. She hates it. I hate it. We both hate it, but we do it every week. To make matters worse, I have to leave the shampoo on her fur for TEN FULL MINUTES in order for it to work its magic on her skin. So basically we hang out in the shower, staring at each other with looks of distain and resentment, for a REALLY FUCKING long time each and every week.
But because I'm crafty and shit, I decided to turn these showers into a chance for artistic expression. I transformed them into an opportunity to make soapy dog fur art.
Yes. This is how I entertain myself, people.
I've been doing this chore every week for a few years, and I've got an impressive collection of soapy dog fur art. I have so much original dog fur art, in fact, that I'm ready to publish my second coffee table book. ("Second?" you ask. Yes, I have my first coffee table book already in development.)
To help you imagine what this amazing book might look like on your coffee table, here are some highlights.
Because I consider myself an Oregonian at heart (living in California), and we put birds on everything:
Because I love pork: here is my soapy ode to a pork chop:
Because there's a drought in California, here's my version of a rain dance:
Because some weeks, I've got nothing. Absolutely nothing:
Because some days I have really annoying songs stuck in my head:
Because, just like Starbucks, I can produce seasonal chemical sludge:
Because sometimes you're inspired by your kid's character in the school play. This is Abe Lincoln's hat. Honest.
Because some days are rougher than others: Hashtag. Sad face.
Because, wine:
I know you're dying to pre-order this bad boy. Unfortunately, every publisher I've talked to so far has called the police. In the meantime, you'll just have to keep an eye out for the Coffee Table Book about Coffee Tables.
Follow Foxy Wine Pocket on Facebook and Twitter. You can also subscribe to my blog and never miss a new post. It's quick and easy! (That's what she said.)