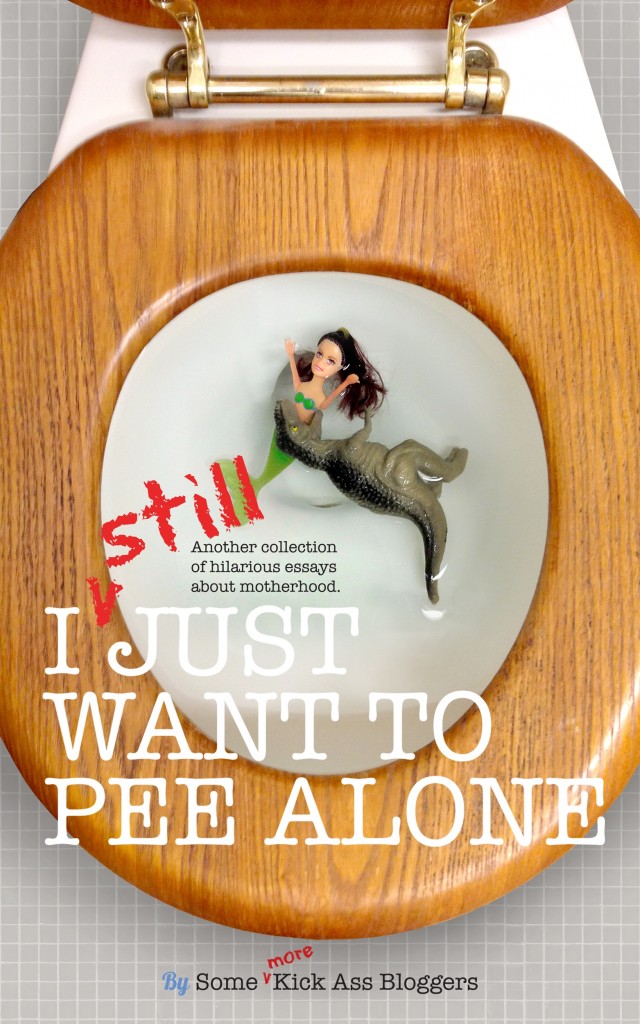 (This is not a post about golden showers.)
I actually don't need to pee alone. It's not that I don't like to pee alone; it's just that it's rare when I'm completely by myself while in the bathroom. Between my dog, my kids, and my husband, the toilet is like an office water cooler. (We don't drink from it.)
So I usually pee with an audience, and I'm okay with it. (Mostly.)
Why all the pee talk? Well, I'm pretty darn excited to announce that one of my essays will be included in the upcoming humor anthology, "I STILL Just Want to Pee Alone" from Jen Mann of People I Want to Punch in the Throat. This hysterical book is a follow-up to the national bestseller, "I Just Want to Pee Alone
."
The title of my piece is "Get the F*ck Out of My Shower." So it's a love story. Obviously.
Seriously, I'm honored to be included in this group of incredibly talented and hilarious writers. (I'm still not sure how my essay snuck in.)
Jen Mann of People I Want to Punch in the Throat
Bethany Kriger Thies of Bad Parenting Moments
Kim Bongiorno of Let Me Start By Saying
Alyson Herzig of The Shitastrophy
JD Bailey of Honest Mom
Kathryn Leehane of Foxy Wine Pocket (Oh hey. That's me.)
Suzanne Fleet of Toulouse and Tonic
Nicole Leigh Shaw of Nicole Leigh Shaw, Tyop Aretist
Meredith Spidel of The Mom of the Year
Rebecca Gallagher of Frugalista Blog
Rita Templeton of Fighting off Frumpy
Darcy Perdu of So Then Stories
Christine Burke of Keeper of The Fruit Loops
Amy Flory of Funny Is Family
Robyn Welling of Hollow Tree Ventures
Sarah del Rio of est. 1975
Amanda Mushro of Questionable Choices in Parenting
Jennifer Hicks of Real Life Parenting
Courtney Fitzgerald of Our Small Moments
Lola Lolita of Sammiches and Psych Meds
Victoria Fedden of Wide Lawns and Narrow Minds
Keesha Beckford of Mom's New Stage
Stacia Ellermeier of Dried-on Milk
Ashley Allen of Big Top Family
Meredith Bland of Pile of Babies
Harmony Hobbs of Modern Mommy Madness
Janel Mills of 649.133: Girls, the Care and Maintenance Of
Kim Forde of The Fordeville Diaries
Stacey Gill of One Funny Motha
Beth Caldwell of The Cult of Perfect Motherhood
Sarah Cottrell of Housewife Plus
Michelle Back of Mommy Back Talk
Tracy Sano of Tracy on the Rocks
Linda Roy of elleroy was here
Michelle Poston Combs of Rubber Shoes In Hell
Susan Lee Maccarelli of Pecked To Death By Chickens
Vicki Lesage of Life, Love, and Sarcasm in Paris
Kris Amels of Why, Mommy?
Mackenzie Cheeseman of Is there cheese in it?
Tracy DeBlois of Orange & Silver
The book will be available on March 27th so prepare yourselves. And maybe clear your bathrooms so you have some space to … read all by yourself.
Follow Foxy Wine Pocket on Facebook and Twitter. You can also subscribe to my blog and never miss a new post. It's quick and easy! (That's what she said.)