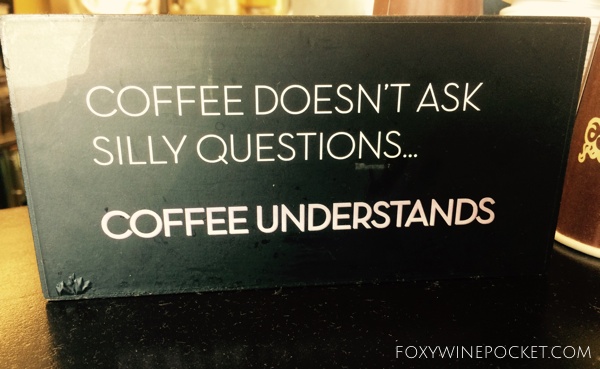 I'm a simple girl, with simple needs. Okay, that's total bullshit, but my caffeine needs are simple. I like coffee, and I like a lot of it.
I'm incredibly spoiled because Mr. Foxy makes a pot of magic brew every morning, which is a good thing because when left to my own devices, shit like this happens.
Recently I had coffee with my friend Andy from Almost Coherent Parent. He's also a writer. Only he's a much better one than I am. And he's super smart. (But somehow he still likes me. Hmmm, maybe he's not so smart…)
Anyhow, he's from out of state and I rarely venture out of my house so we were both at a loss for where to meet. We finally settled on a coffee house about midway between our two locations.
I was running a bit late so Andy got there before me and settled in the back. I couldn't see him or get to him because I was coffee-blocked by the line of customers. That was going out the door.
Holy shit, people. It's coffee, not a ride at Disneyland. (Actually, I avoid those lines as well.)
Once I finally got inside, I looked at the menu. And I cried.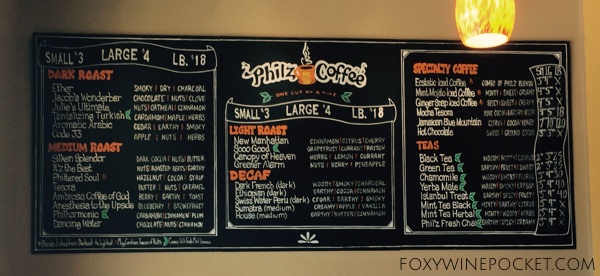 I mean, I just wanted a simple cup of coffee. With some milk so that the hole in my stomach doesn't grow quite so rapidly. I texted Andy from across the cafe, "There are too many fucking choices. Can't I just order coffee?"
No. No you can not.
Because there are a bazillion decisions that you must make first about your individually brewed cup. Regular coffee, specialty coffee, or tea? Dark Roast, Medium Roast, Light Roast, or Why Bother Decaf? Hot or cold? Chocolatey, earthy, or smoky? Hints of clove, weed, or camel-toe? Hell, they'll even put fresh mint in your coffee. (For the record, I have never heard of this mint phenomena. I think I must be old.)
Fortunately(?), being in a long-ass line, I had plenty of time to contemplate my endless choices. Honestly, it was like throwing a dart at a gun target. I eventually settled on the Tesora. Guess why?
After my ridiculously long selection process, I started to take note of the other customers. My eyes were assaulted by more skinny jeans, tattoos, ironic t-shirts, and facial hair sculptures than in Portlandia. Apparently this coffee establishment attracts a certain type of clientele … which does not include me. (Don't ever change, hipsters. I pink puffy heart you and your rockabilly ways.)
As I winded through the line maze and got closer to the counter, I could hear the (oddly) friendly interactions.
Bubbly Barista: "Hi-Ho! What can I prepare for you today?"
Picky Patron: "Hmmmm… I'm just not sure. This is just so difficult."
Bouncing Barista: "I'm here to make your coffee dreams come true." (I shit you not—they talk like that.)
Peevish Patron: "Blah. Blah. Blah. Blah." (Her voice was starting to grate on my pre-caffeinated nerves.)
Bursting Barista: "Well, what are you in the mood for?"
Petulant Patron: "I don't know. It's just … I just don't know what I should put in my mouth today."
Finally it was my turn to order. Only I did it wrong. After standing behind the counter for five million minutes and not getting any action, I erroneously assumed I was supposed to order at the register. The cordial cashier escorted me back to the barista.
Boisterous Barista: "Good morning, Friend! What can I prepare for you today?"
Murderous Me: "Uh, I'll have a large Tesora with an inch of milk."
Beneficent Barista: "Fabulous choice. Would you like whole, 2%, non-fat, goat, almond, breast, or unicorn milk?"
Fine. He didn't say that. But he did offer me way too many choices and then insist I try my beverage to ensure it was to my satisfaction. (After it was done … UMPTEEN MINUTES LATER.)
When I finally signed the loan paperwork paid for my drink, I was able to meet up with Andy at the table in the back. His 5 o'clock shadow told me I'd been in line entirely too long.
Me: "That took forever. Why is it so difficult to get a simple cup of coffee?"
Andy: "Yes, they've certainly fetishized coffee here. That seems to be a new trend." (See, I told you he was smart and shit.)
Me: "Blargh." (That's about all the smartness I could manage.)
Andy: "Indeed."
We enjoyed our coffee and conversation. Of course, a short while later I had to use the restroom. (Caffeine will do that to you.)  Fortunately, there aren't many options when using the toilet so my trip to the loo was without confusion or delay. Although I did notice these puppies in the tiny, window-less room.
Andy and I had a great discussion about the world of writing. We're both no-frills, straight-forward kind of writers. We just like to tell good stories. Only Andy likes to tell humorous stories with some sort of moral or lesson, whereas I like to tell funny stories with absolutely no point whatsoever. (Take this one, for instance.)
Fortunately, we can still be friends.
We got so busy talking, however, that we forgot to take an ussie. I tried to recreate one. Which do you like better?
P.S. For the record, the customer service really was outstanding and the coffee delicious. The caring cashier even took a buck off of my total because I was clearly an idiot a new customer.
Follow Foxy Wine Pocket on Facebook and Twitter. You can also subscribe to my blog and never miss a new post. It's quick and easy! (That's what she said.)