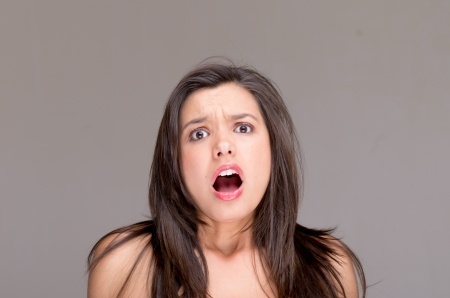 I found a black hair on my nipple* last week. A coarse black hair. On my nipple. Not one that was from another region and just happened to fly up to my nipple (hairs do that—you know they do), but one that was GROWING. OUT. OF. MY. NIPPLE.
I mean, come on. This growing old thing is getting out of control. I've learned to live with (and only moderately complain about) the laugh lines, the not-as-firm skin, the sagging breasts, THE ACNE THAT SHOULD HAVE GONE AWAY DECADES AGO, and other aspects of getting older. But black nipple hair? This. Is. Ridiculous.
Naturally, I grabbed my tweezers, plucked that fucker out, and flung it into the toilet with all of the hatred and fury my pre-coffee self could muster. Then I immediately texted my friend Ricki to tell her about this development:
Me: "I hate starting the week by plucking a black hair out of my boob. Overshare?"
Ricki: "Nope. I'd like to know why the fuck women have nipple hair at all. God's cruel joke."
And then she left me. Just disappeared. I guess she had better things to do than discuss my black nipple hair. I can't imagine what. Clearly, I was having a Black Nipple Hair Crisis, and I needed to discuss it with someone. I didn't think my husband would care to engage so I texted my other friend Lynn:
Me: "I started out today having to pluck a black hair from my boob. Not awesome."
Lynn: "I read somewhere that those breast hairs are produced by the same hormones that make you orgasm faster. Bright side?"
Bright side? Was there a BRIGHT SIDE to having coarse black hairs growing out of my nipples? I'm going to go with HELL NO.
But her comment did get me thinking. I already have a black nipple hair—so does this mean I naturally possess this hormone? Do the levels fluctuate? If I orgasm more and faster, will I grow MORE black nipple hairs? (BTW, picturing myself having sex with hairy nipples does nothing for me. In fact, it makes me ill.) Or does this mean that I will never be able to prolong the sexual experience because I possess this hormone that makes me orgasm faster—in addition to making black hair grow on my nipples?
Because—and let's be honest here—sex doesn't happen as frequently as it did in my and my husband's early dating/fornicating years, and quite frankly I don't need anything like the threat of black nipple hairs to discourage me from getting it on. I doubt my husband would really care (or notice?), but I'm completely horrified by this prospect. A hairy chest as a result of frequent and fast orgasms seems just seems like cruel and unusual punishment.
The bottom line is: getting old sucks. Perhaps I should be grateful that I'm not having a Grey Nipple Hair Crisis?
In other news, I just used a Sharpie to cover my grey roots.
*Technically it was on my areola, but that's not nearly as fun to say as nipple. NIPPLE. NIPPLE. NIPPLE. See what I mean?
Photo Credit: pxhidalgo / 123RF Stock Photo
Follow Foxy Wine Pocket on Facebook and Twitter. You can also subscribe to my blog and never miss a new post. It's quick and easy! (That's what she said.)