Thanksgiving is a joyful time to give thanks for all of our blessings and good fortune. It's an annual celebration of family, loved ones, and "the harvest," right? Sure. But it's also a time of family bickering, passive-aggressive comments, colossal fuck-ups, social faux pas, and domestic disasters.
To stay sane during these annual "celebrations," my husband and I have developed our own coping strategy. We call it the Dysfunctional Family Drinking Game. It is a secret game that only the two of us play, and it is designed to make us laugh at the foibles and follies during Thanksgiving and any large holiday gathering.
I describe how to play this game and give a COMPLETELY HYPOTHETICAL, 100% FICTITIOUS account of how this game might play out in our house in the hilarious anthology, Scary Mommy's Guide to Surviving the Holidays.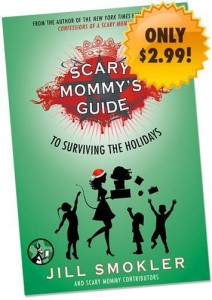 In addition to our drinking game, this book is full of easy recipes, hysterical stories, and fabulous gift ideas. So what I'm saying is that you should go buy it now. It's only $2.99, and it will fill your holidays with laughter and help you stay sane. It also helps a great cause—to feed hungry families at Thanksgiving. A portion of all sales will benefit Scary Mommy Nation's (an official 501(c)3 charity) Thanksgiving Project, striving to ensure that every Scary Mommy can celebrate Thanksgiving with her family. How awesome is that? Pretty fucking awesome.
Buy it now from Amazon, Barnes & Noble or iBooks.
BUT WAIT! THERE'S MORE!
I'm giving away a Starbucks gift card to one lucky book owner—so you can enjoy a delicious beverage or two while reading the book (you're responsible for your own coffee "additives"). Buy the book and leave a comment here telling me you bought the book. I'm working on the honor system, but I reserve the right to ask for proof should things seem hinky. (If they seem kinky, I'll leave them be.) I'll randomly pick a winner on November 22nd.*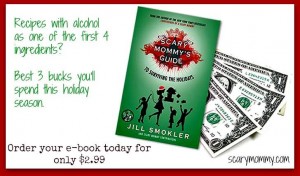 * Unfortunately the Starbucks gift card is only available to U.S. residents, but the hilarious book is available EVERYWHERE!
Follow Foxy Wine Pocket on Facebook and Twitter. You can also subscribe to my blog and never miss a new post. It's quick and easy! (That's what she said.)