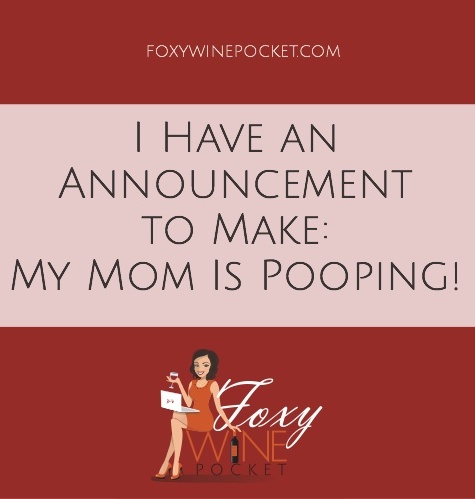 I should start by saying that, normally, I like pooping. I think it is one of life's underrated pleasures. It's such sweet relief to feel lighter, less clogged, and cleansed. My favorite is pooping right before getting into the shower—I feel like a new woman ready to take on the day. I even have an unofficial Poop Club with two of my friends in which we text each other after we've pooped. (I think I just broke the first rule of Poop Club.) We congratulate each other much like you might congratulate a child in the midst of potty-training. Sometimes we even send each other selfies while on the toilet. Yeah. I know. Not everyone gets it. My husband being one of them. He remains horrified by all discussions of pooping.
But, here's the thing: I don't love pooping all of the time. Let's face it, it's not always a pleasant experience. And it's not always at convenient times or places. I especially don't love pooping when people not in the bathroom know EXACTLY what's going on. And that's where this story comes in…
So I'm driving my two kids to my daughter's piano lessons when that distinct rumbling—that intense gurgling—in my abdomen starts. Ooooooohhhhhh, that's not a good feeling—like magma moving violently deep inside a volcano. My entire face involuntarily scrunches up, and I slowly shake my head back and forth. My palms get a little clammy, and my whole body cringes as the bowel cramps start. This is not going to be one of those pleasant poops.
If I were headed to Target or Costco, it would be one thing—you can poop fairly anonymously in their bathrooms. But I was headed to piano lessons in a tiny little music and dance studio. The bathroom is just across the waiting room. And the waiting room is always jam-packed with moms and grandmas (and the occasional dad) and little siblings waiting. Bored. With nothing to do. Not my ideal pooping location. Especially with the major earth catastrophe I'm sure is coming.
By the time we arrive at the studio. I'm sweating and shaking all over. I clench my butt cheeks to hold back the tsunami that's brewing. I'm walking very awkwardly but VERY rapidly across the parking lot to the front door. This isn't going to end well unless I get to the bathroom RIGHT NOW. The waiting room is full, OF COURSE, but I've got tunnel vision toward the bathroom. I bark at my kids to sit in the waiting area, and my son Colin announces he needs to go to the bathroom too. OF COURSE HE DOES. Fuck. I'm dying here. I don't have time for this. Normally I'd check the men's bathroom before letting him go in, but there was simply no time. I shove him toward the appropriate bathroom and make a beeline for mine.
I can not get my pants undone fast enough. I have to get on that toilet. I fumble with the button and zipper, but I make it. Just. In. Time. I'll spare you the details, but I let out a huge sigh of relief to open the flood gates. Unfortunately, this is clearly going to take some time. I'm guessing the berries I had for breakfast were overripe. Or, oh dear god, I've mistaken my regular green tea for the detox green tea. Whatever. I'm on the toilet now, and that's all that matters. I glance at my watch. My daughter has a few more minutes before her lesson starts. My son is in the other bathroom. The torrential downpour is relentless, but I've got some time, I think.
All of the sudden, I hear a very loud voice on the other side of the bathroom door: "MOOOOM! ARE YOU DONE YET?!"
It's Colin. Shit. (Literally.) He's less than 10 feet from the other parents in the waiting room. Shit.
Me (whisper-screaming): "No, Colin. I'm not done yet. Go sit in the waiting room with your sister."
I didn't think I'd been in there that long, but I'm not thinking entirely clearly at this point. My head is spinning a little bit as the earth seems to move inside of me.
Colin (just plain screaming): "HOW LONG IS IT GONNA TAKE YOU?!"
Me (still trying to whisper-scream through the sweat and pain): "I'll be done soon, Colin. Go wait with your sister."
I think I've bought myself some more time. I wipe down my forehead with some toilet paper. I focus on my breathing. I'm trying to hurry things along, but it's a fine line between expediency and hemorrhoids. A few moments pass. More violent eruptions.
Colin (still yelling): "MOM! YOU'RE TAKING A **REALLY** LONG TIME."
Oh my god. I can only imagine what the dozen or so folks in the waiting area are thinking. I might be mortified, but all I can feel is intense relief as this landslide flows out of my ass and the cramping starts to decrease.
Me (slightly hysterical at this point): "Colin. Go wait with your sister."
Colin: "SHE'S GONE WITH THE TEACHER. HOW LONG IS THIS GOING TO TAKE YOU?!"
Me (exhausted now but not quite done): "Colin. Just. Go. Sit. Back. Down. PLEEEAAASE."
A few more moments of peace. Well, you can't hear any voices anyhow. What's going on in the toilet is an entirely different matter.
Colin (slightly panicked): "SERIOUSLY, MOM. YOU'RE TAKING A REALLY LONG TIME. ARE YOU WASHING YOUR HANDS?"
Me (pleading and swearing under my breath): "Yes, Colin. I'm washing my hands. Go sit back down."
I bought myself just enough time to finish up (for now), wash my hands, and go join Colin back in the waiting room. I take a deep breath and summon up my courage to go face the audience waiting for me. They all know what's been going on. I mean, you can't even pretend to not know with all of the commotion Colin made.
I hug my son and thank him for waiting for me (he misses the sarcasm in my voice). Mostly I'm just thankful I physically survived that unnatural disaster. And I keep my head held high as I walk across the waiting room with all 13 or so sets of eyes staring at me. A little toddler looks at me and then whispers something to his mom (clearly he has more tact than Colin). The mom nods and shushes him. I walk all of the way to the only empty seat in the room, sit down, and just thank the pooping gods I didn't crap my pants in front of these people. Because that's about the only thing worse I can imagine at this point.
Time to teach Colin some more lessons on discretion. And throw out the detox tea.
Follow Foxy Wine Pocket on Facebook and Twitter. You can also subscribe to my blog and never miss a new post. It's quick and easy! (That's what she said.)