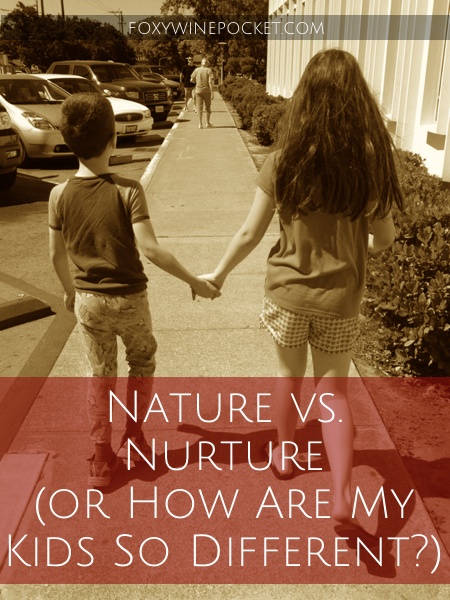 Nature versus Nurture is hot debate that scholars and scientists have had for hundreds of years. They like to make it super complicated, but it basically boils down to this: What has more influence on someone's traits and behavior—one's innate qualities or one's personal experiences? One's heredity or one's environment?
Now, I'm far too lazy to do any sort of research, but I am very interested in this discussion when it comes to parenting children. (In case you haven't noticed, I'm a parent of children.) I've got some really important questions to answer, such as:
How much is my parenting going to fuck up influence my kids?
Can I just write them off and say, "They were born that way?"
What undesirable traits can I blame on my husband?
[Read more…] about Nature vs. Nurture (or How Are My Kids So Different?)
Follow Foxy Wine Pocket on Facebook and Twitter. You can also subscribe to my blog and never miss a new post. It's quick and easy! (That's what she said.)