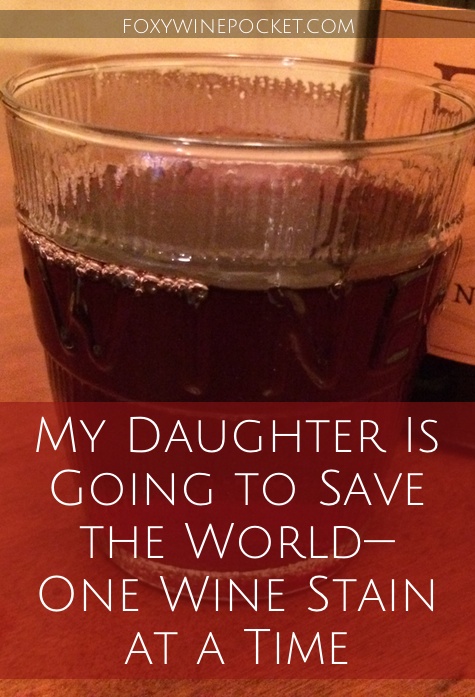 If you recall, my daughter Erin and I brainstormed ideas for her 5th grade science fair project earlier in the year. I threw out a few ideas based upon the science experiments we have inadvertently conducted in our house, and she had a hormonal meltdown and stomped off to her room.
After she settled down, she came back with one of the most brilliant science fair project ideas ever known to humankind:
"What Homemade Cleaning Solution Removes Wine Stains the Best?"
I know. She's a creative genius. (She gets that from me.)
I gave you a little preview of the science experiment, and then I left you hanging. That was mostly because she didn't get her report back until three weeks ago. But also because I was busy testing out sangria recipes.
Sorry about that.
I promised you the results of the science project, and I *will* deliver. Let me begin with my daughter's own words:
Purpose Statement
The purpose of my experiment is to find out which homemade cleaning solution removes red wine stains the best. I am interested in this experiment because we get stains in our carpet frequently. The information gained from this experiment will help others to determine the easiest way to remove red wine stains from their clothing and carpet using simple products that they have in their house.
So, from this statement, the reader can draw a few conclusions:
Someone in our house is a sloppy wine-drinking klutz. I have no idea who that would be.
Not only does that someone spill wine on the carpet, but she also spills wine on her clothes.
This scientist (my daughter) is going to save the world one wine stain at a time.
Erin had done plenty of research on what causes red wine to stain and the different types of chemical reactions that happen between various cleaning ingredients. Read: she watched a video of some kids making a foam volcano using hydrogen peroxide and dish soap combined with yeast and water. I kid. She did watch that video, but she also did a bunch of additional research. She's a smart cookie, that one. (Also from me.)
She came up with three homemade cleaning solutions (these changed multiple times throughout the planning process—this indecisiveness is from her father):
Solution A: Dawn dish soap and hydrogen peroxide
Solution B: Dawn dish soap, ammonia, baking soda, and warm water
Solution C: Dawn dish soap, hydrogen peroxide, and baking soda
Her hypothesis, based upon her research on the ingredients and their chemical reactions, was that Solution C would clean the wine stains most effectively.
She created a test surface using a piece of spare carpet taped off in a grid pattern. She carefully measured out 2 tablespoons of wine for each section of carpet.
She let those stains dry for a week. And then she carefully tested each cleaning solution three times. There was a shit-ton of soap in all of them so it took some time to determine the results, but here they are. Drum roll, please….
The cleaning solution… that took out the wine stains the best… was Solution A: Dawn dish soap and hydrogen peroxide!*
Of course, the experiment was only one part of the torturous science fair project. She still needed to write a report and create a project board. We had to spread this suffering out over a few days as we kept getting interrupted by meltdowns and crying fits. Not just from me.
While we were creating her project board (by that I mean she was whining and dragging her feet while I was shoving pieces of double-stick tape in her face and yelling at her to finish the frakking project already), I casually told her, "You know, I was a little surprised that your teacher was okay with this project. You know, the stains being wine and all."
Erin cocked her head and replied, "I'm not sure I told her that it was wine. Just that it was a stain."
SCREEEEEEEECHHHH!!!! Wait. Hold the presses. WHAT?!!
"Uhhhh, you didn't tell her you were doing WINE stains?!" I tried not to let my fear show. It was a long and painful road to get through this project;  the thought of failure or rejection made my head explode.
"No, just stains." she confirmed.
"Okaaaay. Let's just finish this torture project board." I suggested through clenched teeth.
As she worked on decorating her board, I silently brainstormed what I would say to the teacher if my daughter's (FINISHED!) project was rejected.
"Think of all of the health benefits of wine. Wine is essentially medicine."
"Wine is holy—it's the blood of Jesus!"
"What if the priest spills wine at mass? Won't this science project help everyone out?"
Much to my husband's and my relief, she finished the damn project.
It all turned out okay. My daughter got an A-. Her project was missing a graph (a graph that both my husband and I told her to include, but she threw a hormonally-induced fit instead of listening to us. Sucks when your parents are right, doesn't it?!), but otherwise she scored very well. She could have improved her… oh what the fuck do I care? The damn project is done. A+ in my book.
I never heard back from the teacher, although I imagine there was a lot of snickering going on in the Teacher's Lounge.
*Seeing as though this science experiment was conducted by a 5th grader and overseen by a "sloppy wine-drinking klutz" and the idiot who married her, I would highly recommended testing the cleaning solution before using on your fine carpets, high-end rugs, expensive fabrics, etc. Read: we are not responsible if you fuck up your shit.
Follow Foxy Wine Pocket on Facebook and Twitter. You can also subscribe to my blog and never miss a new post. It's quick and easy! (That's what she said.)