With a couple of modifications, Erin's 5th-grade science project was approved. After so much turmoil and distress, it was very welcome news. If you missed the story about Erin and me brainstorming potential projects, then you really should start there. You may pick up a few brilliant ideas for your child's own science project. (You can thank me later.)
Erin's teacher-approved science project is entitled, "What Homemade Solution Gets Stains Out the Best?" And guess what type of stain she is using? Red wine, of course. (I'm so proud. Or embarrassed. I'm still not sure.) In her background information, she states, "I decided to choose red wine stains because we get red wine a lot for family parties, and sometimes there are accidents." I'm sure I have no idea what she is talking about. Okay, truthfully, I'm just relieved she didn't report that her mom is an enthusiastic wine-drinking klutz.
Anyhow her investigation is going very well. She has researched exactly what causes red wine to stain carpet. She has researched various homemade solutions for removing such stains. And she has come up with three different homemade cleaning solutions to use for her experiment:
Dish soap, hydrogen peroxide, baking soda, and hot water
Dish soap, ammonia, baking soda, and warm water
Hydrogen peroxide and non-gel toothpaste
Erin also created her test wine stain carpet grid for the experiment.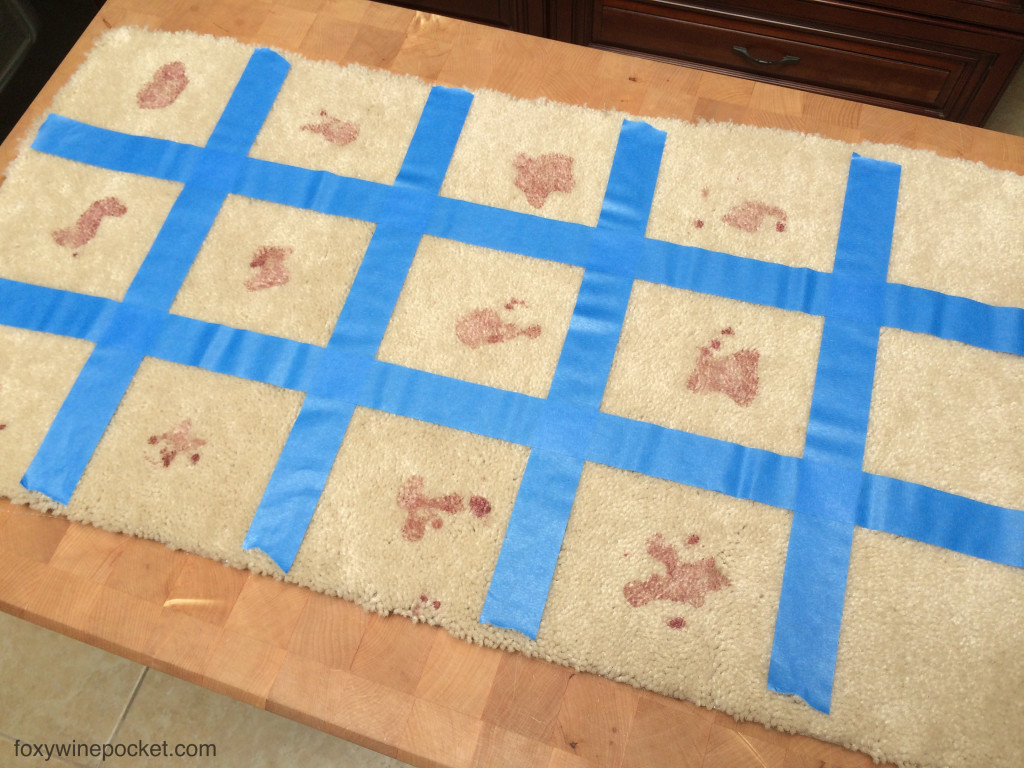 I wept a little when she measured out the wine for each stain and poured it on the carpet. Eventually, I had to leave the room because I was distracting her with my muffled cries. Fortunately, I gave her the dregs of a bottle of a not-fantastic Malbec so my grief was relatively short-lived. Still, it was no small sacrifice because, normally, I would have finished that bottle myself. But I sacrificed my wine LITERALLY in the name of science. Regardless of how her project does in the Science Fair, I should win some sort of award for that sacrifice.
Erin is now researching what reactions will occur with the ingredients in her three homemade solutions so she can come up with her hypothesis of which one will clean the red wine stains the best. And then she will perform her tests later this week. It's a very tense and exciting week here in the Fox household. I'll keep you posted on her results.
Are you going to be able to wait until the end of the month? Can you stand the suspense? Any guesses on which solution will clean the best? I know I'm very invested in the results of this project. However, it's highly likely, given the amount of Nature's Miracle I have around right now, that I'll just keep using that for wine stains. Not that I have any. Ever.
Follow Foxy Wine Pocket on Facebook and Twitter. You can also subscribe to my blog and never miss a new post. It's quick and easy! (That's what she said.)