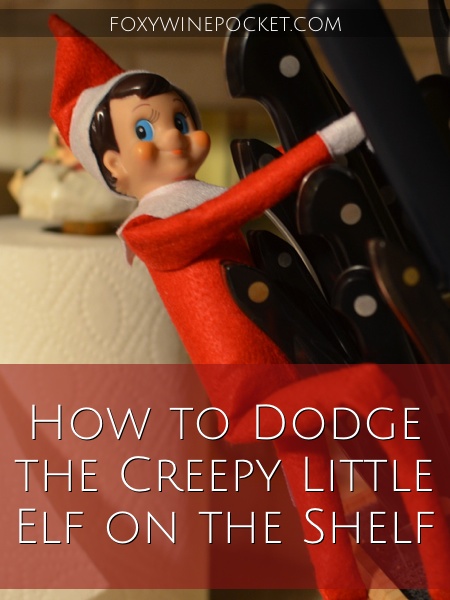 The other day my daughter and I overheard a dad enthusiastically talking to his kids about their Elf on a Shelf. They were discussing how cute the little guy was and speculating about where he would hide this month.
I gritted my teeth and silently cursed that father. Or rather, I cursed my proximity to that father.
My daughter looked at me with adorable pleading eyes and said, "Mom, I want an Elf on the Shelf too. Please? Can we get one? Please?"
"There's no fucking way I'm ever buying that creepy fucking elf. Do you know how much work it is?! Shit. You have to find a new place to put it every damn night. And you have to make it do creative things. I can't keep coming up with new ideas like that. AND IT'S CREEPY. I've got enough on my plate this month with cooking and cleaning and shopping and making other magical Christmas shit happen. And I've got WAY more important things to do at night—like drink wine, binge-watch Orange is the New Black, and fall asleep on the couch. No fucking way am I signing up for yet another holiday chore. I mean, come on. WHAT MORE DO YOU WANT FROM ME?!"
Of course I didn't say that to my daughter.
I replied in the most responsible and loving way possible, "Oh sweetie, we can't get an Elf on the Shelf. Your little brother would be terrified of it."
Yep. I lied. Or maybe I exaggerated a little bit—he actually does get freaked out by things like that. Regardless, I blamed my other child, and my daughter totally bought it.
And that, my friends, is how you do Christmas.
Photo Credit: "Elf on a Shelf Playing with Knives" by Michael Kappel is licensed under CC BY-NC 2.0. Cropped and added title graphic overlay.
Follow Foxy Wine Pocket on Facebook and Twitter. You can also subscribe to my blog and never miss a new post. It's quick and easy! (That's what she said.)