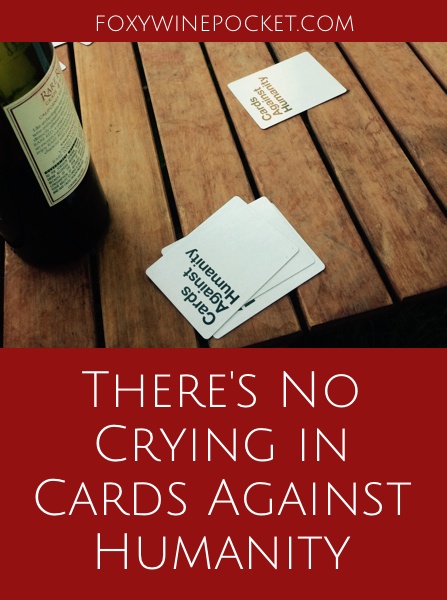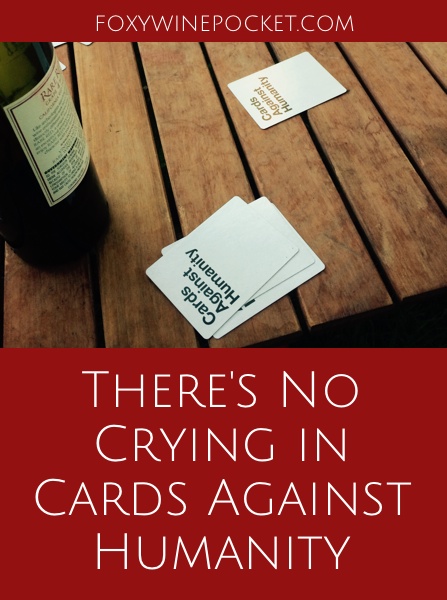 Recently I was at a friend's house playing my favorite game, Cards Against Humanity, with a group of friends and acquaintances. (I know, I know. I violated #1 from my own rules.) During one of the rounds, one player (an acquaintance) was upset by another player's answer. He went on to pontificate about why the card played was so offensive and then chastised the other player for playing that card.
Most of the rest of us looked around at each other with confused expressions. I didn't know the guy well enough to say anything, and I'm generally slow to process such responses. Eventually that guy calmed down, and the game moved on.
But here's the thing: there's no getting offended during Cards Against Humanity.
It's Cards Against Humanity. It's a party game for horrible people. For fuck's sake, it says so RIGHT ON THE BOX.
If humanity is the quality of being humane (i.e., showing kindness and benevolence), then by definition, all of the game revolves around the opposite of those things. The cards are going to be appalling. This is Cards Against Humanity, not Cards Blowing Rainbows Up the Ass of Humanity. You don't get to be surprised and upset when the cards end up being … well, offensive.
For example, if you are irrationally angered by dieting or body parts, this will likely be a winning hand during the game.
If poking fun at religion or the atrocities of the world is abhorrent to you, this combination will reign supreme.
If sex talk is off of the table, BOOM. This bit of terrible fabulousness WILL happen.
So you know what? Don't play the game if you're going to get your panties in a wad. Seriously. Go find something else to do. Like Apples to Apples. Or badminton. Or better yet, go play solitaire so that nothing that anybody says ever in the history of any game offends you.
You might have guessed that I'm not just writing this post to show you all of my winning CAH hands (although I was pretty fucking proud of those). There's a bigger message here.
There is so much to be offended by in this world: hunger, violence, inequality. Go be outraged by those things. Go scream and wail and protest about all of that. Go make a big scene. PLEASE.
But don't go around to places of entertainment you know you're going to hate and then piss and moan that the world is all kinds of wrong. (I'm talking about the Internet here, folks.) Stay away from the sites that have too-edgy-for-you humor or contrary views. Stay away from the places that upset you. Stay in your own little corner of happiness.
Or, if you find something that ruffles your delicate feathers, just walk away. Just close the browser window and WALK AWAY. There's no need to start a big fight. No need to cause a commotion. No need to look like a complete jack-ass.
Because this jack-ass over here is still trying to figure out what this card means.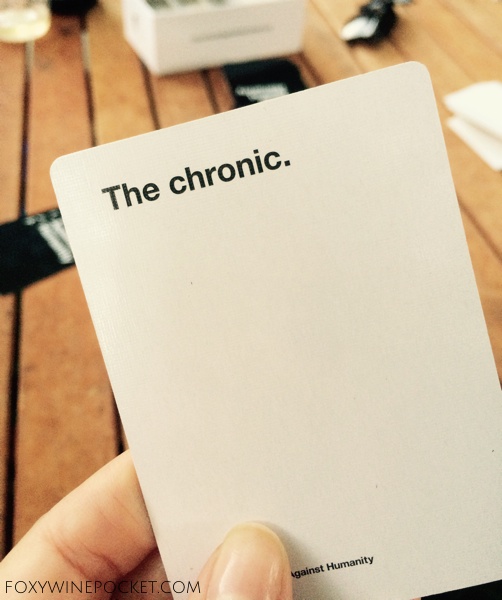 Follow Foxy Wine Pocket on Facebook and Twitter. You can also subscribe to my blog and never miss a new post. It's quick and easy! (That's what she said.)