I read a lot of books. Actually, that might be a bit of an understatement. I'm an insatiable reader and frequently spend my time reading when I should be sleeping or cleaning or exercising or playing with the kids or something more productive. Whatever. I'm not too picky either—I enjoy all genres: crime, historical fiction, memoirs, literary fiction, chick lit, non-fiction, young adult, you name it. I'd like to think I'm a professional reader. (Because that sounds better than professional avoider.)
Recently a friend suggested I read Bared to You. I was currently in between books so I figured I'd give it a shot. Yes, it's a smut read along the lines of the Fifty Shades series. I guess there are a lot of desperate-housewife types out there who like to escape in a nice, juicy sex story. It's not my favorite genre, but, hey, I'm an equal opportunity reader.
Frankly, I was disappointed with this book. Sure, the storyline was mildly entertaining and the sex scenes hot, but I had a problem with this little thing called suspension of disbelief. (Long definition here. Shorter one here. Or just read on.) Suspension of disbelief is where you look beyond the crap that just can't happen in real life so that you can enjoy the entertainment in front of you, whether it be a book, a movie, a magic show, etc. For example, you know the magician's bunny isn't actually shitting multi-colored scarves, but damn, that's just fun to watch.
So back to the book. I mean, I could get passed the ridiculous premise of a young, stunningly beautiful, New York socialite returning back to the big city because she landed a great advertising job right out of college. I could get passed the fact that she lives with her best friend who is a male model (who followed her across the country, but they've never hooked up) in a swanky pad that most rich people cannot afford. I could get passed the fact that she, when basically looking like crap, catches the eye of the owner of the building in which she works (he's a late-20-something, gorgeous, ripped, gazillionaire), and they fall instantly in lust. Oh, did I mention that she used to date a rock star who wrote a song about her? And that she is still red-carpet ready after getting down with her guy in the limo? But, whatever, I was totally fine with the whole redonkulous, fantasy-land storyline. That wasn't the problem.
Here's where I drew the line (and where the subject line of this article comes in—I warned you). Nobody, I mean, nobody likes giving blowjobs as much as the main character does. Seriously. No. One. And Eva, our gorgeous, rich, lucky-as-shit heroine, can't seem to get enough of it. That chick gave her guy, Gideon, a blowjob every single chance she got, and that's just not real life, folks. I can only suspend my disbelief so much.
You might say, "I don't know, Foxy. You do those sorts of things when you're courting—when you're trying to land your beautiful, tortured, rich guy." And, yes, I will give you that. There are things you do early on in the relationship, but that doesn't necessary mean that they are your very favorite things. But Eva, AKA Miss Blowjob, drools just thinking about Gideon's penis—every part and texture and taste. Holy cow, she's got nouns and adjectives for everything penis related. Really. She gets off on the whole thing. And, while most of us who still perform this favor from time to time try to figure out a way to transition to a different position before you-know-what happens, Eva greedily gulps that shit down. Doesn't even gag. Or use a mint to help drown out the nasty taste. Nope. I'm sorry. That just doesn't happen. Totally and completely unbelievable.
All that being said, I finished book one and book two in two days and have ordered the next one already. (Sorry, Dan, you're still not getting a blowjob tonight.)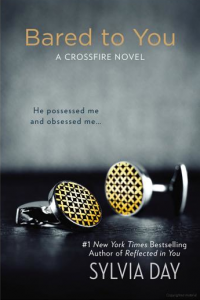 Follow Foxy Wine Pocket on Facebook and Twitter. You can also subscribe to my blog and never miss a new post. It's quick and easy! (That's what she said.)