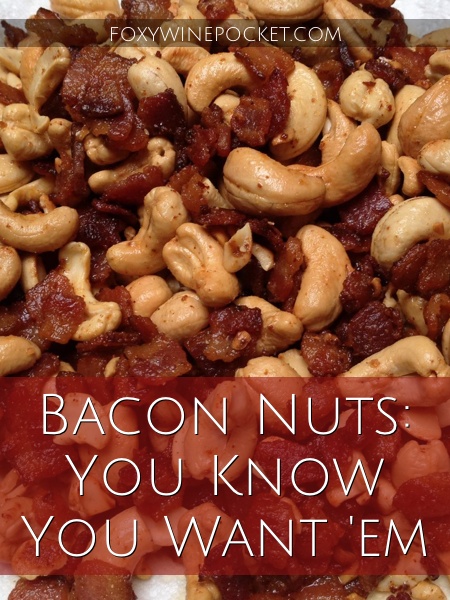 I was at a friend's cocktail party when I first encountered these amazing nuts. While I was inhaling the entire bowl, I badgered her repeatedly for the recipe. When she didn't respond, I told her I'd make out with her if she gave me the recipe. When she gave me a slightly horrified look, I told her I'd never make that joke ever again if she gave me the recipe.
And here it is. (She adapted the recipe from here.) But ours is better.
The recipe is actually much easier than I've made it seem here. But I like to take pictures. And babble. So you might be getting some fluff in here.
Ingredients:
9 strips of thick cut bacon, chopped (Mmmm, thick meat…)

3 cups of roasted, salted cashews (or peanuts or almonds or…)

1 teaspoon or so of sugar

⅛ teaspoon or so of cayenne pepper

I use the Uncured Apple Smoked Bacon from Trader Joe's because it comes in convenient 12 oz packages (about 9 slices), and it's nitrate free. So it's healthy for you, right? Right. I also use the cashews from Costco because those buggers are too expensive if I buy them anywhere else. I use a little less than a teaspoon of sugar and almost a ¼ teaspoon of cayenne. I like my meat and nuts more spicy than sweet. (Hear that, Mr. Foxy?)
Cook the bacon over medium low heat until it is almost to your desired doneness. (I like my bacon firm but not crispy. So I cook it until it's just about perfect for me.) This can take several minutes because you don't want to cook it too fast and have it burn. That would just be a tragedy. (Now THAT would qualify as Sorrow Bacon.)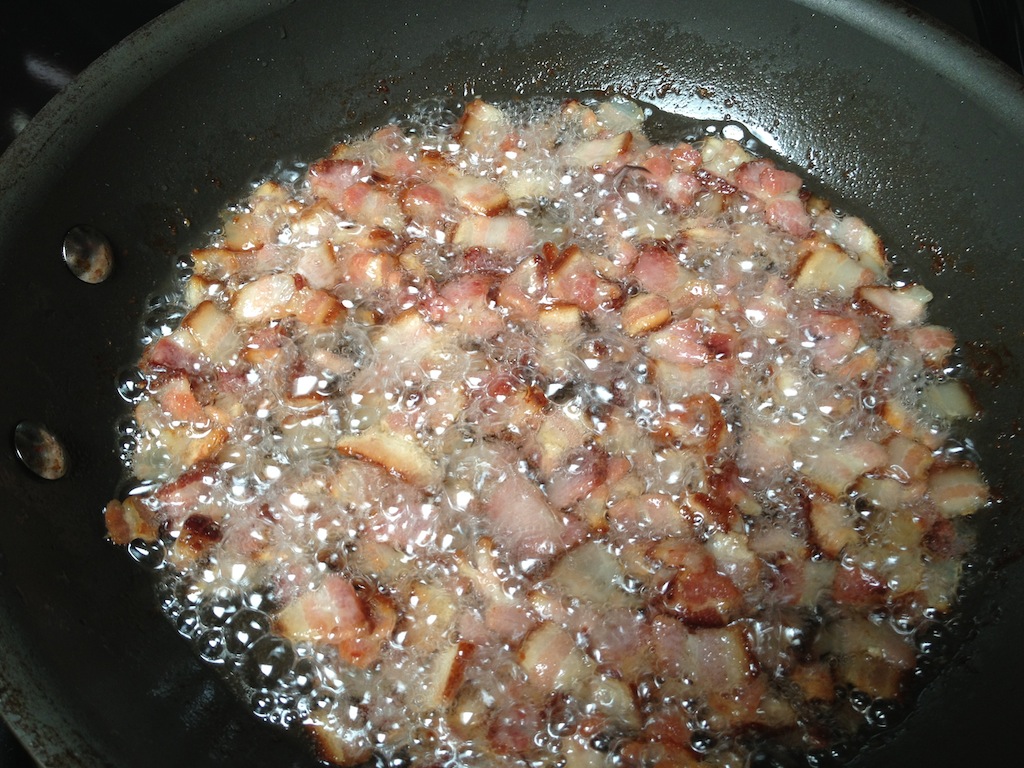 Stand really close to the bacon while cooking, and you'll have a lovely perfume for the rest of the day. Drain the almost perfectly cooked bacon on a paper-towel-lined plate and dump out the bacon grease. (I actually "harvest the bacon juice" and save it for later.) Dump the nuts in the same pan and stir and get them warm and a light brown. Dump back in the bacon. Stir. Sprinkle sugar-cayenne mixture over. Stir and let cook a bit—mostly to let the sugar melt. Don't burn, although some brown color tastes good.
Dump the whole thing back on the paper-towel-lined plate and let cool.* Try not to eat all of them before the party. Or eat the whole fucking batch if you were brilliant enough to make them for yourself.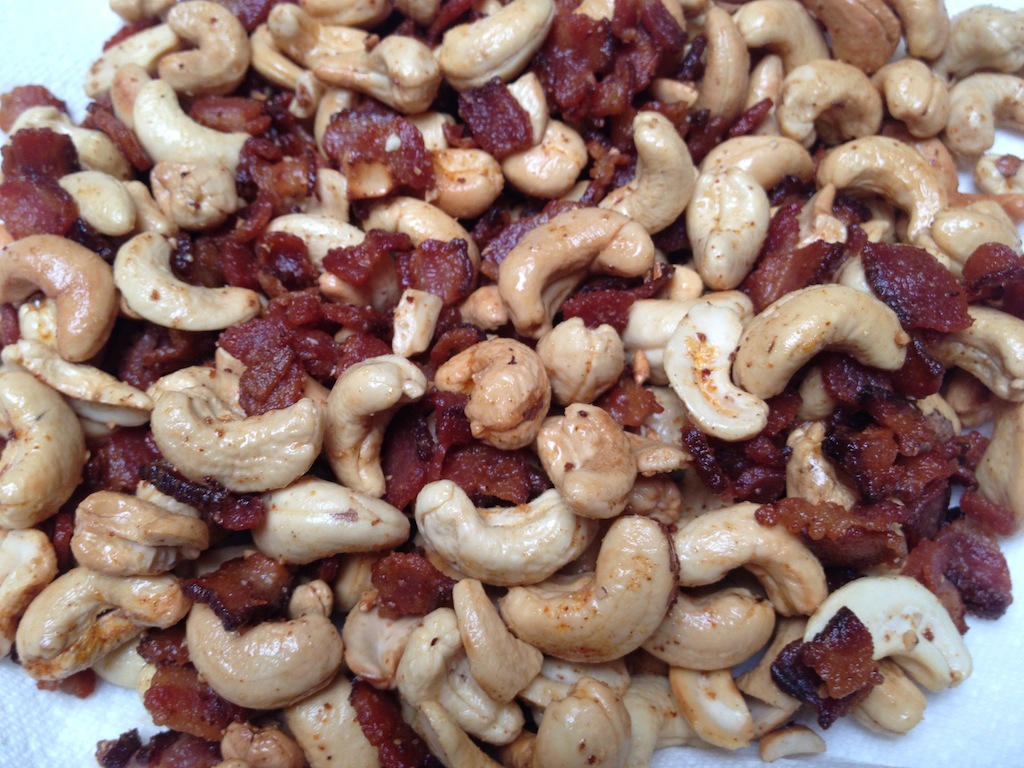 These nuts are great for just about any type of party. (Do inquire about any nut allergies though.) I even gave a jar of them to a friend and labeled them "Jeff's Nuts." See how much fun you can have with this?
You're welcome.
* Optional step for Jen of People I Want to Punch in the Throat: After nuts have cooled, add a cup (or more) of M&Ms.
Follow Foxy Wine Pocket on Facebook and Twitter. You can also subscribe to my blog and never miss a new post. It's quick and easy! (That's what she said.)