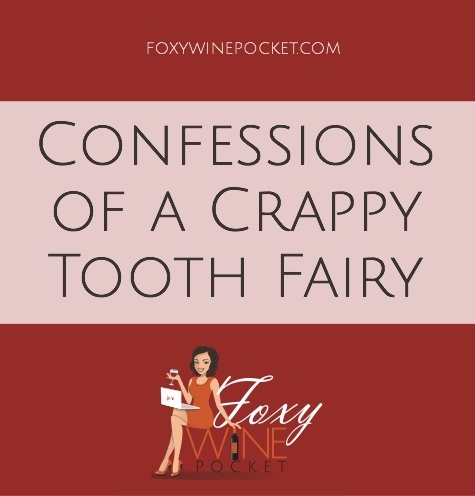 I read an article last week that stated that the Tooth Fairy is giving out an average of $4 per tooth. Seriously? 4 dollars PER TOOTH? What the fuckity fuck, people? Why so high? The Tooth Fairy in our family gives about $1 per tooth. And most people I know say the same thing. I can only assume some jerk wad is driving up the average price with some insane amount like $20 per tooth or something. It doesn't make you a better parent if you give so much money for each tooth—it just pisses off the rest of us.
I mean, really, it's a worthless and rejected tooth—the body literally pushes it out of the mouth—why in the world would you pay $20 for each one? You really need to start thinking ahead: with 20 baby teeth at 20 bucks a pop, that's $400. And that's just for one kid. Multiply $400 times the number of mouths in your house, and you'll have some serious cash to dole out. Save your money for the dentist or the orthodontist. Or a nice bottle of wine or something.
And what's with you parents giving out silver dollars or Presidential gold coins and toys and shit? I bet you went to the bank and got 20 special coins when your child was born so you'd have it ready once junior started losing teeth. Stop it. You're making it so much harder for the rest of us.
Admittedly, we are not the best Tooth Fairies in the world. I'm surprised Colin hasn't filed a formal complaint by now given just how much we suck. Oh yes, we started out with the best of intentions. When our oldest, Erin, lost her first tooth, we made a very big production of it. We had purchased one of those special Tooth Fairy two-pocket pouches to put her tooth in. We helped her ceremoniously put it under her pillow. We carefully checked every hour to see if she was asleep. And then once we were sure she wouldn't catch us, we slipped in a dollar and removed the tooth. "Look at us!" we exclaimed, "We've got this Tooth Fairy thing down."
Yeah. Sure. That was the first one. The rest of them didn't go exactly like that. Slowly but surely, the Tooth Fairy's performance went downhill. You can blame booze, sleep deprivation, memory loss, lazy parenting, or maybe some sort of combination of those.
There was the time Erin woke up sooooo disappointed because her tooth was still under her pillow, and there was no dollar. "Oh, the Tooth Fairy must have been extra busy last night," I explained. "Let's put it back tonight and see what happens." Feeling like complete assholes, we made sure to remember that night.
Then there was the time when I couldn't find the damn Tooth Fairy pouch under Erin's pillow and almost knocked her off the bed in a desperate scramble to do the tooth/money swap. When she woke up, I told her I was just making sure she remembered to put the tooth there. And I still had to remember to go back later that night.
Then there was the time we made the exchange, but the tooth must have fallen out of my pocket on the way out the bedroom because Erin found it on the floor in the morning. She was so sad that the Tooth Fairy didn't want her tooth. I told her it must have fallen out of the Tooth Fairy's pocket and suggested we put the tooth in a Ziploc bag. Now I don't know exactly how that would help an actual Tooth Fairy, but it gave me something to clutch in the middle of the night (possibly after a few drinks). It is also a lot easier to slide out a Ziploc tooth bag while simultaneously sliding in an identical Ziploc dollar bag than it is to slide out the special pouch, remove the tooth, put in the dollar, and slide back in the special pouch. Okay, when I type it out like that, it doesn't seem so difficult. But it's much harder in the middle of the night when you're exhausted (again, possibly after a few drinks).
The Ziploc bags really helped out, but dammit if that Tooth Fairy didn't keep forgetting to visit. We'd do fine for a couple of teeth, then—BAM!—we'd suck again. The problem is that between the time the actual tooth falls out and the time the Tooth Fairy visits, several hours have usually passed. That's several hours of other crap filling our heads. And once that Ziploc tooth bag is hidden under the pillow, it might as well be gone from the earth.
So we got smarter. After another Tooth Fairy failure, we told Erin that the Tooth Fairy must have a hard time finding her Ziploc tooth bag under all of those pillows and stuffed animals and that she should really leave the tooth bag out on her dresser so it's easy to find. Determined to be the best tooth loser ever, Erin happily complied. And that really did help us remember—most of the time.
By the time Colin started to lose teeth, we were set up for success. All teeth would be put in Ziploc bags and set on top of the dresser for easy access. (We're such lazy assholes.) We couldn't fail, right? Unfortunately our ineptitude apparently knows know bounds. Because we kept forgetting. Of course, we blamed it on the Tooth Fairy's busy schedule. Colin was skeptical but seemed to believe us only because Erin told him it had happened to her as well.
And then there was the morning that I went in to wake up Colin only to discover the Ziploc bag still on his dresser. (Facepalm!) I furiously tried to do the swap before he woke up fully, but I didn't have any cash on me. All I managed to do was shove the tooth bag down my pants before he fully opened his eyes. He looked to his dresser expectantly only to see… nothing. Immediately his face melted. I ran back to my bedroom and pulled a wad of cash out of my husband's wallet. "We fucking forgot again!!" I whispered like a maniac. Chucking the tooth at Dan, shoving a dollar into the bag, and then shoving the bag back down my pants (also the extra cash from Dan's wallet–I wasn't going to let that opportunity pass me by), I ran back to Colin's room and said, "I'm sure it's here somewhere, Colin. The tooth fairy wouldn't just take your tooth and leave nothing." (At least in better houses anyhow.) And I pretended to pick up a dollar bag from behind his dresser. "Oh, HERE it is." Happy child. Relieved Tooth Fairy.
Once Erin figured out that the Tooth Fairy was us, she had a lot of fun playing along for Colin's sake. She would make a big deal every time Colin lost a tooth and help us remember to do the tooth/money swap. It was fabulous… right up until the power went to her head. When she lost her first molar, she wrote a letter to the Tooth Fairy negotiating $5 for this special tooth. I would have been totally pissed if I wasn't so damn impressed with her genius.
At this point, I think we've had 30 chances to get this right. And I'm guessing we're only at a 60-70% success rate. To further illustrate our crappiness, when Erin lost her last baby tooth, instead of making a huge deal out of it, we completely forgot to do the tooth/money swap (again). Seriously, we suck. She came in to our room to report, in a resigned fashion, "Dad, the <air quotes>Tooth Fairy</air quotes> didn't come last night." Dan hung his head and just handed her a dollar—directly from his wallet.
The magic is officially gone. But what the fuck do you expect for a reject tooth only worth a dollar?
Follow Foxy Wine Pocket on Facebook and Twitter. You can also subscribe to my blog and never miss a new post. It's quick and easy! (That's what she said.)