My daughter Erin has always been a terrific sleeper. She slept long, uninterrupted stretches from a very young age. (It's okay—you can hate me a little.) Shortly after she turned 2, we encountered one of our first challenges regarding her lengthy sleeps. After sleeping 12 hours straight (I know, you still hate me), she would wake up ferociously hungry, and she would turn into a little, screaming, nonsensical monster. This was a dramatic change from her normal sweet, easy-going self.
At first we wondered if we'd had hit the terrible 2s and were just fucked for the next year or so. After enduring the pain and torment for a couple of weeks, we noticed that the blood-thirsty demon disappeared after breakfast, and we finally put together that she was just really fucking hungry when she woke up. Desperate Clever parents that we were, we discovered that if we left a sippy cup of milk and a bowl of snacks in her room before she woke up, she could consume these before she left the room to find us. And we would never need to face that little barbarian on wheels again. We referred to this chore as "feeding the beast."  ("Dan, did you feed the beast yet?" "Foxy, it's almost 7—you had better feed the beast before she wakes up!")
That brilliant strategy worked great when we were dealing with a hungry 2-year-old. Simple problem and simple solution. Fast forward 8 years, and we are now dealing with a hormonal 10-year-old. We've got bigger problems when she turns into a monster now. Every so often, Erin, who is still sweet and easy going, turns into a frantic, crazed maelstrom of emotions. There's a lot of screeching and wailing and general hysteria, which leads to storming up to her room, slamming the door shut, and locking herself in her room. For hours. With lots more shrieking and stomping. Once again, it took us awhile to realize that there was a pattern to her behavior—we figured out that these wild outbursts occur monthly. Sigh… Her tween is starting to show.
Last weekend, Erin and Dan had words about the status of her homework. That is to say, Dan asked if she was done (she wasn't). She immediately flew off the handle and went into a ridiculous rage—complete with tears, screaming, and pre-teen attitude. Later, when Dan went to check on her, this was posted on her door: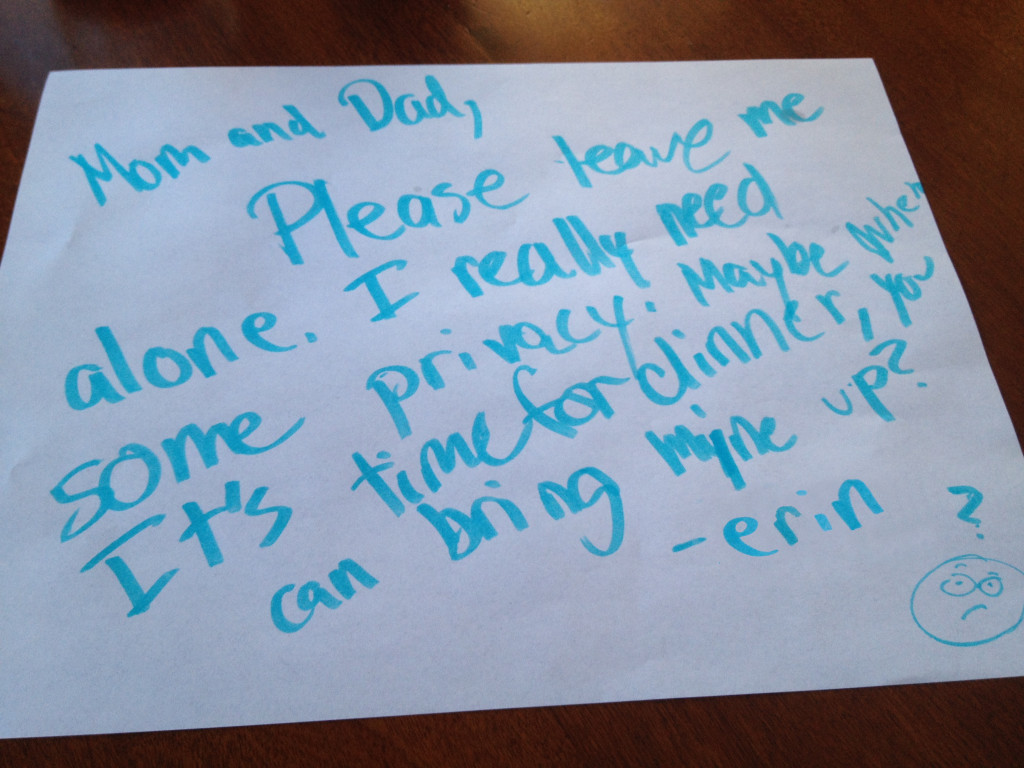 Oh. Shit. At least she said "please"?
We are in a whole new league here, folks. Let's just say milk and graham crackers aren't going to fix this one. So I'm slightly panicked about what this means for our future, but here's what I'm happy about today:
She recognized her need for space and asked for it.
She asked for it politely.
She's communicating with us even though she's upset.
I realize that this communication won't last forever. And I know it's going to get much worse than before it gets better. But I'll try to be satisfied with this particular exchange and start gearing up for future battles.
We're gonna need a bigger notepad.
Follow Foxy Wine Pocket on Facebook and Twitter. You can also subscribe to my blog and never miss a new post. It's quick and easy! (That's what she said.)