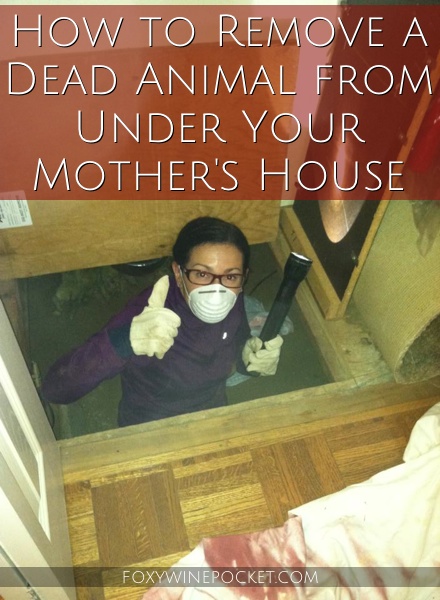 Last summer, my mom was complaining about a bad smell coming from under her house. She complains about a lot of things so I didn't think much of it at the time. But when Mr. Foxy, the kids, and I were at her house, my husband could smell it too. He said it smelled like horrible rotting garbage. Still, I ignored it. I mean, I couldn't smell it so it didn't exist, right?
Then she started complaining a bit (a lot) more loudly, so in an effort to shush her, I told her I'd take care of it. I waited a few days. I debated calling a professional, but they are pretty expensive. I debated calling my brother who lives nearby, but that's a hilarious joke. I debated making my husband do it, but he already does so much for my mom. And he can actually smell things that rot. So I finally realized that I couldn't put it off much longer, and I needed to just get it done.
That Sunday, I suited up for the task: jeans, Mr. Foxy's socks pulled over my jeans, hiking boots, and a long-sleeved-high-necked running shirt. I also packed some clothes to change into after and headed over to my mom's house.
When I got there, she asked me what supplies I needed. Not having ever done this before, I figured: gloves, a mask (I couldn't smell but I didn't want to breathe in that shit), some garbage bags, a flashlight, and a shovel. She brought me all of the items, and I put them all, except the flashlight, in one of the garbage bags. Everything fit fine, including the hand shovel. I also tossed in my mobile phone—you know in case I needed to call for help at any point.
Now, I didn't know where the object of unusual smell (OOUS) was in her crawlspace, nor did I know what it was. So I had to go in and investigate. The entry to the crawlspace was in her hall closet. I moved chairs out of the way and opened up the space. I lowered myself in and squatted WAAAAY down to look around and take in my surroundings. Although I've had dreams about hidden rooms and extra floors in my childhood home, I've never actually been in the crawlspace so I had no idea what the space was like.
I looked around with the flashlight but couldn't see anything offensive in the immediate vicinity—just dirt, wooden beams, concrete blocks, ductwork, and pipes. In order to get into the main crawlspace, I had to crawl-climb over a beam. I sorta rested my stomach on that beam to get a feel for the space. And that was about when I remembered that I'm a little claustrophobic. So I sat there (or awkwardly kneeled-leaned—you know, kneeling but leaning over because the crawlspace is only like 2.5 feet high) for a few minutes. Just taking deep breaths and working myself up to do the deed.
My mom was standing above me in her hallway helpfully wondering out loud what was taking me so long to get going. I muttered a few choice words under my breathe and then carried on. I tossed the bag of supplies over the beam and crawl-climbed over the beam while holding the flashlight into the first area. That's when I discovered just how ouchy the ground was—it was hard and rocky and pointy. It hurt my hands and my knees. Waaaaa.
So then I kneel-leaned to get a good view of the entire crawlspace. I was hoping the OOUS would be close-by so I didn't have to crawl around, but sadly, that was not the adventure for the day as it would have been way too easy. I shined the flashlight across the entire crawlspace but still couldn't see the OOUS. It must have been behind the beams or pipes or ductwork somewhere.  So I moved on.
My mom's crawlspace is actually well done as far as crawlspaces go. There is a system of shallow trenches that have been dug under the beams and ductwork so you can get around more easily to the different areas.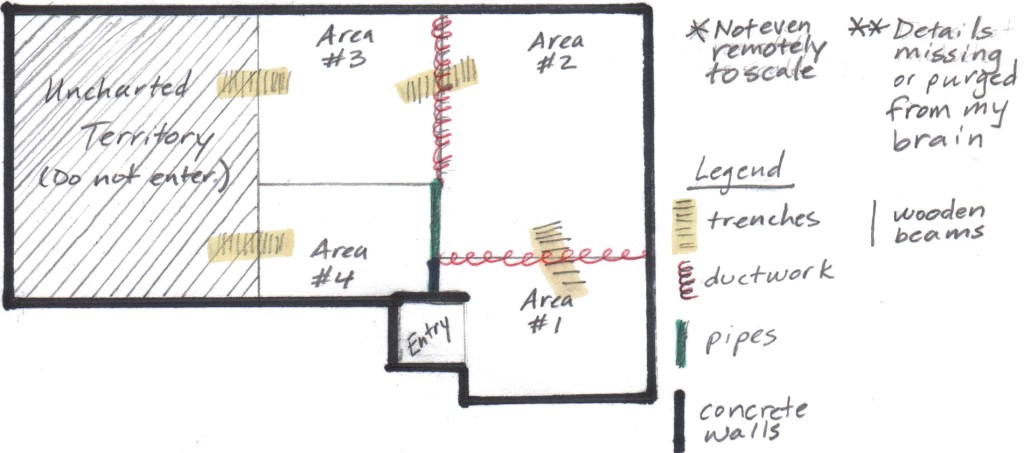 I army-crawled under the first set of ductwork to area #2. I thought about the relative ease with which my son army-crawled when he was a baby. Clearly, he didn't get that from me. I lamented that I was only wearing a thin running shirt. The rocks were sharp and pokey and scratchy on my stomach. Waaaaa.
Once I was in area #2, I did another sweep of the entire crawlspace in hopes of finding the OOUS. Nada. Nothing. I was forced to move on.
The trenches naturally lead me under another set of ductwork. I removed my mask because it was getting hot and fogging up my glasses, and I started slowly army-crawling my way under the duct. I got about halfway under when I decided it would be a good idea to look around area #3. And it was a damn good thing I did because not two inches in front of me was the decomposing remains of something dead. I didn't know what it was, but I knew it was very dead. And big. And dead. I simultaneously yelped and frantically backwards-army-crawled back under that duct as fast as I could. (I'm really glad there were no video cameras down there.)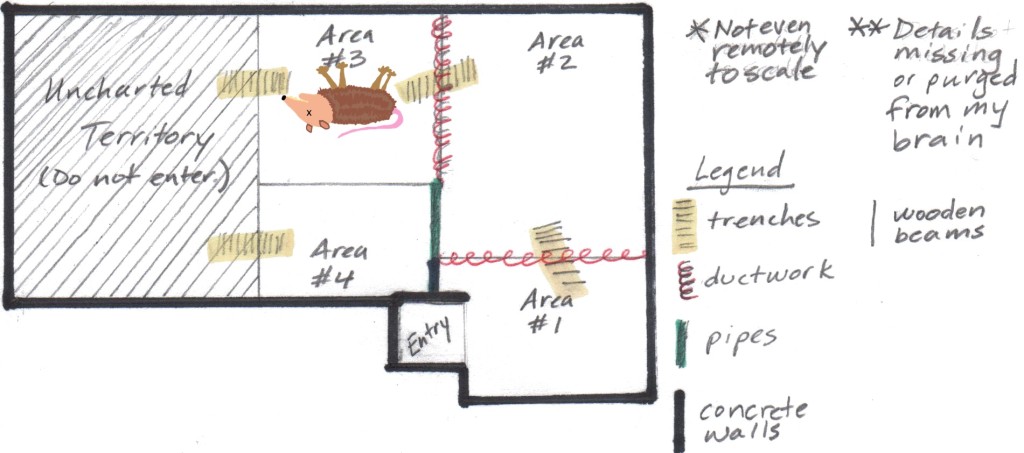 I laid on the ground in area #2 to calm down and figure out what I was going to do next. Shining my flashlight back under the ductwork, it was clear I couldn't go through that way. The (now confirmed) carcass was right at the top of the trench. I still didn't know what it was or exactly how big it was, but I knew I wasn't crawling on top of it.
The only other way around was over a water pipe into area #4. It was a really tight spot, and I wondered if I could make it. I tossed the supply bag over and carefully climbed over the pipe. My butt only caught on the wooden beam above me twice. Luckily, the giant splinter didn't pierce my ass. Even more luckily, I didn't get stuck and have to call the fire department to dislodge my ass from between the pipe and beam.
After I made my way into area #4, I could get a better look at area #3. I leaned on the beam separating the two areas and directed my flashlight at the carcass. My glasses were steamed over from breathing so hard so I had to wait a moment for the fog to clear. I took a good look at the carcass, took in the size, and said Roy Scheider style, "You're gonna need a bigger shovel." With no one around me except the carcass (and it was dead), I had to laugh at my own joke until I realized that meant I had to crawl back out of this death-trap to get one myself. Fuck.
So I crawled over the pipe from area #4 to area #2, army-crawled under the ductwork from area #2 to area #1 and over the beam from area #1 to the entryway—all while carrying my supply bag and my flashlight. Just in case you were wondering, I did not look like Catherine Zeta-Jones from Entrapment. I looked more like … this.
I peeked out of the crawlspace entry and called for my mom. She didn't immediately reply so I started hollering. She came running in a slight panic so I assured her that I was okay—I just needed a bigger shovel. I gave her the hand shovel, and she went looking around her house. She came back with a pooper-scooper shovel, and I started laughing. "No, I need a full-size shovel—the biggest one you have."
She went out to the garage and returned with her gardening shovel. What I really needed was a snow shovel. But this is the California Bay Area, and we don't have those here. The gardening shovel would have to do.
So now I had to traverse the crawlspace with the flashlight, the supply bag (minus the handshovel), and the gardening shovel. I would toss the shovel ahead of me, carry my flashlight, and reach back to grab the supply bag.
Over the beam into area #1, under the ductwork to area #2, a quick evil glare at the carcass in area #3, and over the pipe to area #4. With all of the supplies. Once I settled into area #4, I emptied the supply bag and took stock of my situation. I immediately decided the first thing I needed to do was take a picture of the carcass because, duh. My hands were shaking from all of the exertion, and I had to hold the flashlight in one hand and take the picture one-handed with my phone. But I managed to get a blurry picture of the carcass. (I'll spare you.)
The carcass was big. Really big. How was I going to get that thing into the bag with the shovel? I figured I just had to give it a go. I leaned over the beam to place one of the garbage bags to the side of the carcass. I opened the mouth of the bag as wide as it would get and glanced at the carcass—only to discover that it was moving. HOLY SHIT, IT WAS MOVING!
I jerked back—hitting my head on the subfloor and scratching my stomach on the wooden beam as I crashed down. I paused while perching on the beam to take a good hard look at the carcass. It wasn't moving; it was the thousands upon thousands of maggots that were moving. Maggots. Fucking great. When I was able to slow my breathing back down, I realized that I could actually hear the maggots as well, eating their way through the decomposing flesh. (Side note: the sound guys on Bones should earn a grammy or something 'cuz they do excruciatingly accurate sound effects.)
So there I was under my mom's house staring at a large decomposing carcass being eaten by maggots. Remember, the crawlspace is no more than 2.5 feet high so I couldn't sit up. I couldn't kneel exactly. I had to kneel-lean, and it was not very comfortable. Anyhow, I pulled the shovel over and leaned back over the wooden beam to try and shovel the carcass into the open bag. Only I couldn't get much leverage in a space so small. I tried scooping up the carcass. Damn, that fucker was heavy. I kept trying but just couldn't get it at the right angle. I leaned way over the wooden beam and tried again. I was able to get most of the carcass on the shovel so I kinda flipped it onto the open bag like a large, hairy, decomposing, maggot-ridden pancake. But, of course, it didn't land in the middle of the bag. Of course not.
I'd have to deal with that after I dealt with the pile of slime and maggots that was still on the ground where the carcass had been. So I scraped the ground with the shovel, trying to scoop up as much of the horror as I could and dump it back on the carcass. I did the best I could (for reals) and then took a long rest.
Then I had to figure out how to get the carcass in the bag. I shined the flashlight on the carcass and quickly determined that the bag it was on was just going to be a stretcher. And I had to pick it up and put it in another bag.
I've never been so happy to have anosmia. Seriously.
So I grabbed the edge of the bag and dragged it closer to me. I picked up the edges and slid it into the opening of the other bag. All of this while leaning over the wooden beam. Then I tied the second bag tightly and put it in a third bag. And tied that one tightly too.
Then I leaned-sat next to my bagged friend and rested for a bit before I started the long journey back to the crawlspace entry. Only then I had an extra bag and a slimy shovel, in addition to my supply bag and flashlight. I very slowly made my way back—my biggest concern keeping the slimy shovel away from my body and my path. Push, climb over, pull. Shove, crawl under, drag.
Fun fact: Did you know you can hear maggots inside multiple layers of garbage bags? Yep. You can.
Push, climb over, drag. Emerge.
I gave the supplies to my mom. Put the carcass bag in the garbage. Stripped in the laundry room. And took a really long, really hot shower. Drove home very fast and made the biggest GG&t I've ever had.
To answer your questions, it was a possum. A very large, very dead possum. Also, I did a little research and determined that it was in a stage of Active Decay.
The sound of maggots eating soupy flesh? That never leaves you.
Follow Foxy Wine Pocket on Facebook and Twitter. You can also subscribe to my blog and never miss a new post. It's quick and easy! (That's what she said.)