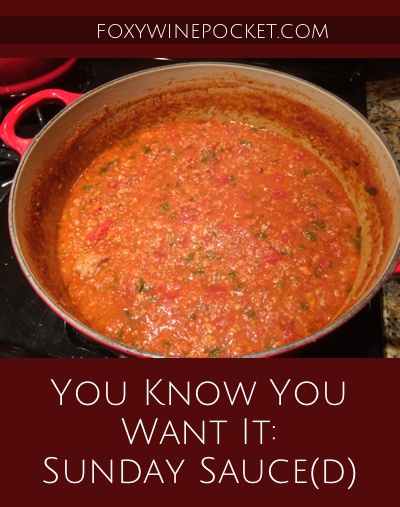 I love a good meat sauce. 'Cuz I LOVE meat. (That's what she said.) But, seriously, a good meat sauce is so versatile, and if you make a big batch, you can freeze some for quick meals later. Unfortunately, I don't have the recipe that my Italian grandmother used for her delicious sauce. So for the past year, I have scoured the Internet and experimented with various recipes in order to create the perfect Sunday Sauce. (Foxy Sauce just sounded wrong.)
Each time I'd try a new recipe, my husband and I would enjoy the sauce, but we weren't quite elated. We wanted more. We wanted a sauce that people would talk about for days. Or at least one that our kids would eat. (Just kidding. They don't eat anything normal.) So we sat and brainstormed. I wrote down all of the things about each recipe that I loved, and we tossed around different ideas looking for that one magical ingredient. And then, one historical day, my husband had a flash of brilliance. (It doesn't happen very often so I'm documenting it here.)
Are you ready for it? Add ground pancetta to the sauce.
PANCETTA.
(FUCKING. AMAZING.) A new mythical, magical meat sauce was born.
Because I over-share on all sorts of topics, I figured I'd share my sauce recipe as well. After all, what's a little sauce between friends? (Hopefully, she didn't say that.)
Pork(ed) Three Ways Sauce
Here's what you'll need (ISH. This recipe is flexible.):
1 large onion, cut into large-ish chunks
2 large carrots, cut into large-ish chunks
3 ribs celery, cut into large-ish chunks
4-6 cloves of garlic, finely chopped (Go for more. Always more.)
Extra-virgin olive oil
Kosher salt
Freshly ground pepper
Red pepper flakes
1.5 pounds ground pork
1 pound spicy Italian sausage
0.5 pounds ground pancetta
1 6-ounce can tomato paste
2 28-ounce cans crushed tomatoes (or fresh tomatoes if in season)
1/3 to 1/2 bottle hearty red wine (Something you'd drink because you'll drink it while you're making the sauce. Duh.)
2-3 cups chicken stock
Small handful of chopped fresh thyme
Large handful of chopped fresh basil
Regular handful of chopped fresh parsley
Here's the thing. I sent my husband out shopping for these ingredients. I love sending my husband grocery shopping, but it's always a double-edged sword. He usually brings home something(s) delicious that wasn't on the shopping list, but he also usually gets something wrong. And that happened here. You'll see.
Step 1. Drink some wine. Every good recipe starts this way. Especially if your husband messed up the shopping.
Step 2. In a food processor, blend onion, carrots, and celery into a coarse paste. The "paste" really adds a great consistency to the sauce; it's never watery. When pulsing the veggies in the food processor, try to play Beethoven's 5th symphony.
Step 3: Coat a dutch oven with oil over medium heat. Add the veggies and season generously with salt. Cook the veggies until all the water has evaporated and they become nice and brown, stirring frequently, about 15 to 20 minutes. Mid-way through cooking those veggies, add the chopped garlic. Sing The Garlic Song.
While the veggies are cooking, drink some more wine and prepare your meats, if you haven't already. You can have your butcher grind the pancetta for you, but I find this too expensive because you have to buy more than a half pound in order to end up with a half pound because some of the meat gets stuck in the grinder (biting tongue to not make a joke about meat getting stuck). A food processor works just fine. Do a rough chop on your pancetta, and then "grind" it in the food processor.
Step 4: Add the meats and season again generously with salt. Brown the meats, cooking another 15 to 20 minutes. I also like to add the red pepper flakes at this point, but I like things a little spicy. *winks not at all subtly*
Step 5: Make a joke about cooking the sausage. Laugh by yourself because everyone left the kitchen when you started singing. Then add the tomato paste and cook until brown-ish, about 5 minutes. 
Step 6: Add the red wine. Cook until the wine has reduced by half, another 5 minutes or so. Drink wine while you wait. Also, sing 80s songs at the top of your lungs and bust out a few dance moves.
Step 7: Add tomatoes, thyme, and stock. Let it cook for an hour or so, stirring occasionally. Now you can go make comments on all of your friends' Facebook pages. Because wine and social media go very well together.
Step 8: Spill some sauce on the burner controls. Blame your husband.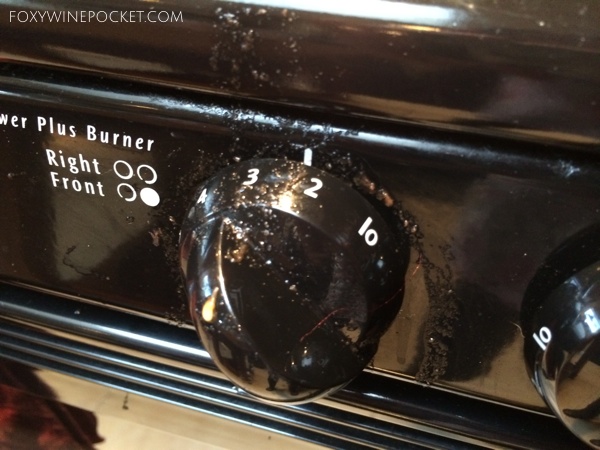 Please note that my husband brought home this herb instead of thyme. (He's an idiot.) I used it anyhow. It was still delicious. But I still called him an idiot. I'm sure that had nothing to do with the wine.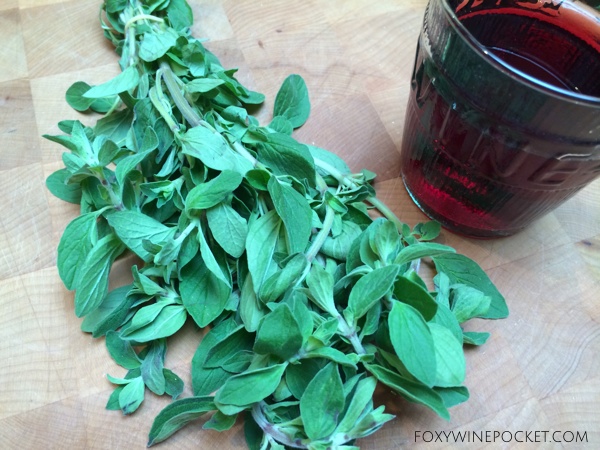 Step 9: Add a handful of chopped parsley and a large handful of chopped basil. Let the sauce cook until desired consistency. I like it thick. (That's what… oh nevermind.) The longer it cooks, the better it gets (yeah, baby). Taste and adjust seasonings. Salt. Pepper. All that stuff. Exclaim to no one in particular that you are a fantastic cook. Ask the dog, "Do you like zee sauce?"
Yeah. I had consumed too much wine to remember to take a picture of the other herbs going in the pot.
Serve the sauce over pasta or veggies or use in a lasagna. I sometimes just eat it as a soup. My favorite is to roast a delicata squash and pour the sauce over it. I put delicata squash on the shopping list that day, and this is what my husband came back with.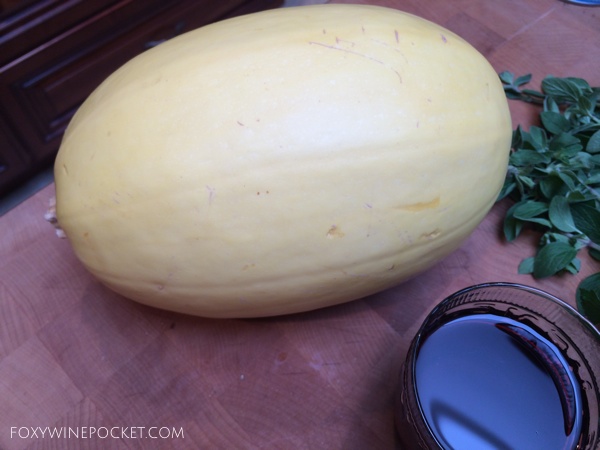 Me: "Uhhhh, that isn't a delicata squash."
Him: "But that's what the sign said."
Me: *drinks wine to avoid insulting husband*
Follow Foxy Wine Pocket on Facebook and Twitter. You can also subscribe to my blog and never miss a new post. It's quick and easy! (That's what she said.)