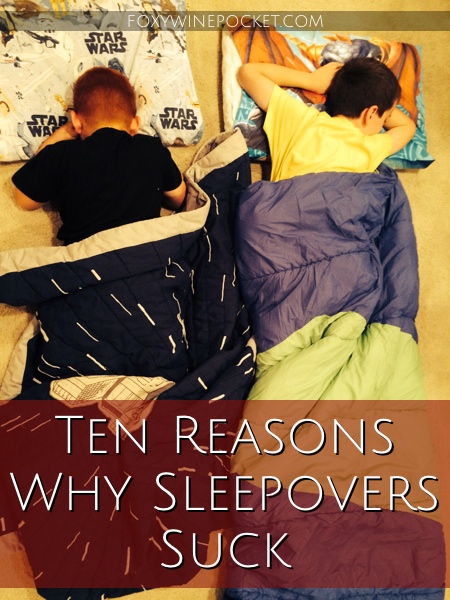 Your kids are getting older, and bedtime battles are a thing of the past (maybe). The small people go to bed willingly and actually sleep through the night (mostly). You're just starting to enjoy regular REM cycles and solid stretches of sleep and feel almost human again (barely).
And then you decide to fuck it all up.
I'm talking about sleepovers.
Who the hell invented sleepovers? Parents can barely survive the night with their own kids, why should they take in more?
Nonetheless, you are having a sleepover with four kids, your younger son and your older daughter and two friends (even though something deep down is telling you that this is a terrible idea). The evening will start out great because you will serve pizza and ice cream—classic sleep-over food.
All four kids will then spend the evening playing cards and Apples to Apples and watching Frozen (because that brand of torture never ends).
By 9:30 p.m. you will get them started on their bedtime routine (i.e., you will force them to floss and brush their teeth and change into clothes that aren't covered in chocolate sauce and ice cream).
By 10:00 p.m. the kids will be downstairs with their sleeping bags ready for a campout.
And here are 10 reasons why the night will go horribly wrong.
At 11:00 p.m. when the sleepover kids are quiet, you and your husband will doze off quickly in your bed, thanks to all the wine you drank. But it will last a mere 23 minutes.
At 11:23 p.m. a muffled whisper will wake you up (muffled because you wear earplugs to bed because your husband snores like a lumberjack with a megaphone duct-taped to his mouth). The barely audible whisper will come from your son. He and his friend will be thirsty, and you will direct them back downstairs to get some water because, DUH.
You will awaken again at 11:47 p.m. by the whines of your son standing next to your bed with his friend who's now "too hot" to sleep. You will leave the comfort of your bed to get a fan, bring it downstairs, and plug it in. Mind you, the family room will be a pleasant 65 degrees (and for some reason the boy's sleeping bag will be a high-performance bag rated for Mount Everest). Having gotten out of bed, you will find it more difficult to fall back asleep this time. Also, your husband's snoring will have reached a new decibel level. But it will be just after midnight, and you will be damn tired, so you will fall asleep again after about 15 minutes.
At 12:43 a.m. you will be woken up again, this time by a finger repeatedly poking you in the back. The finger will belong to your daughter, who is now your son's friend's keeper because your son will have fallen asleep. The "friend" will still be unable to sleep. Through clenched teeth, you will suggest warm milk (which he won't want) and that your daughter read the friend a book (which she'll begrudgingly do because she's a nicer person than you are).
You will be awakened at 1:12 a.m. by four peering eyes and the strained voice of your daughter who will have just read several stories to the child who could not fall asleep. She will be at the end of her rope and will not appreciate the irony of a younger child keeping her up all night. You will be running out of ideas.
You will get kicked out of your own bed in order to let the still-awake at 1:30 am child who can't fall asleep downstairs or in your son's room co-sleep in your bed, which might not be a bad thing because your husband's snoring vibrates the entire bed and walls like a T-Rex trying to sneak up on Jeff Goldblum.
Somehow, the child will fall asleep in 30 seconds, and you will be forced to sleep in your son's room in a tiny bed surrounded by a minefield of Legos and Hot Wheels vehicles. Under the superhero sheets, at long last, you will fall asleep. For exactly 12 minutes.
At 2:14 a.m. your son will wake up, change his mind about the group camp-out, and kick you out of his bed, a bed that smelled like sweaty socks and foul morning breath. And you will miss that bed.
You will end up sleeping in your daughter's pink princess canopy bed with matching blankets and so many stuffed animals you will end up with two feet of sleeping space. You will angrily toss and turn and yawn and sigh, trying to combat the fact that you are now overtired to the point of insomnia. You will get approximately 2 hours of uninterrupted sleep before your damn alarm announces that it's time to make breakfast for the kids and a gallon of coffee for yourself.
Your husband will wake up with a small human sleeping next to him and then go downstairs and walk into the kitchen with a confused look on his face, like a person with a hangover trying to piece together the sketchy details from the previous night.
And the moral of the story? Put off sleepovers as long as you can. Or, better yet, ban them altogether. Because, let's face it, nobody sleeps during a sleepover. Nobody.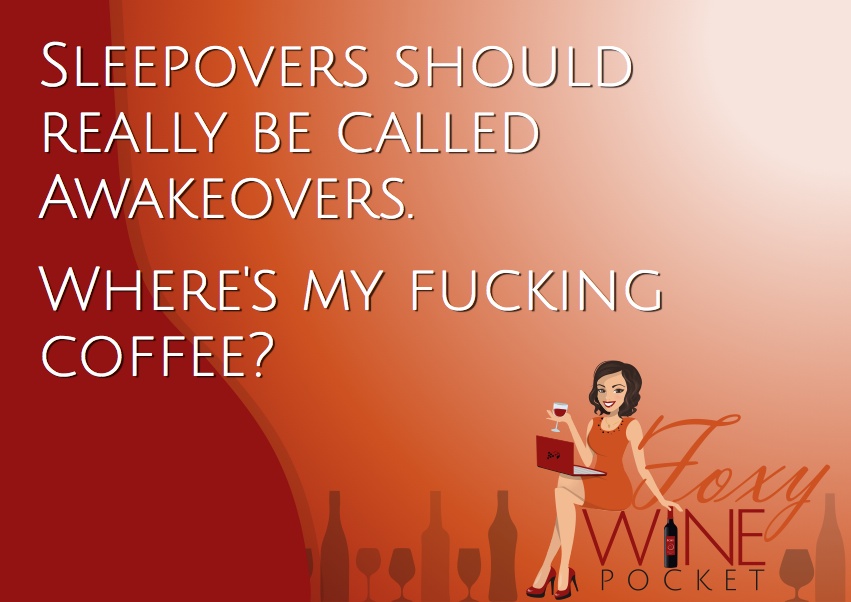 Follow Foxy Wine Pocket on Facebook and Twitter. You can also subscribe to my blog and never miss a new post. It's quick and easy! (That's what she said.)