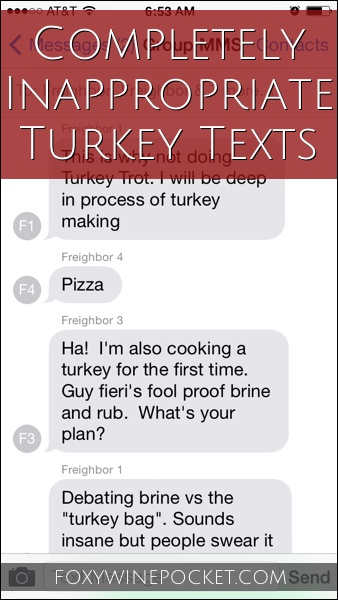 This morning I was awoken by the buzzing of my phone before 7 AM. Normally that wouldn't be a problem as I get up pretty early, but this was one of my few days to sleep in. (Don't hate me because my kids are self-sufficient in the morning.)
Apparently, one of my freighbors (friend + neighbor) was worrying about making her first turkey ever and that it might not go well. So she texted a group of us (nine in total) about it.
It was 6:43 AM.
Now, I love my freighbors—I really do. But 6:43 in the morning is way too early for discussions about turkey.
The worst part? The group text kept going. Another freighbor chimed in, and the two of them kept texting. Then, BAM! BAM! Two more freighbors chimed in.
All before 7 AM.
Hoping to shut them up, I sent the link to my favorite turkey recipe, which is foolproof (and includes bacon, natch). Unfortunately, that didn't work. They just kept talking turkey tips and exchanging recipes and cooking methods.
I tried to ignore the whole thing and go back to sleep, but then the tone got more interesting because of freighbor #6:
"Ladies, just because it's big, don't be intimidated. ;-)"
Naturally, it quickly went downhill from there. My freighbors don't disappoint:
"Oh, it's not the size. It's all about getting the right rub."
"As long as it is hot and moist, all is good."
"I can't wait for my husband to stuff it."
"I hear it likes to be massaged before you stuff it. Just an FYI."
So many freighbors. So much inappropriate turkey humor. You can probably see why I love my street so much.
But still. It was early. I couldn't participate; I just wanted to go back to sleep. Apparently I wasn't alone in my thoughts. A seventh freighbor finally chimed in:
"I love you all, but I was up until 3 AM. Just shove it in the oven already and let me go back to bed."
That was it. I was laughing so hard I finally just got out of bed. Which was fine because I had my own turkey to prepare.
Later, freighbor #7 made a great observation:
"I think I should sleep with the phone between my legs on vibrate so I won't be so annoyed when I wake up."
YEP.
So today (and everyday) I'm grateful for my freighbors. Because they're inappropriate. And awesome. (Even if some of them text way too early.)
I'm also grateful for Mr. Foxy because this morning he showed me how to set the "Do Not Disturb" setting on my phone.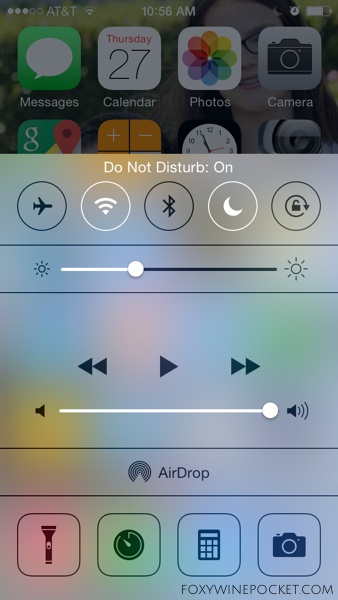 You're welcome. And Happy Thanksgiving!
Follow Foxy Wine Pocket on Facebook and Twitter. You can also subscribe to my blog and never miss a new post. It's quick and easy! (That's what she said.)