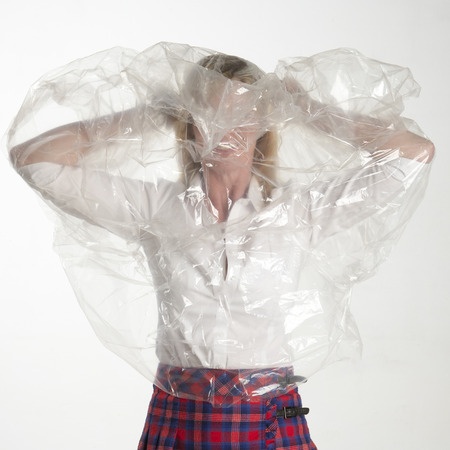 I nestled my head deep into my soft pillow, already savoring the luxurious taste of impending sleep. My newborn son, wrapped tightly in his flannel blanket, had finally passed out in his crib after a marathon nursing session.
My limbs melted into the mattress. My eyelids succumbed to the heaviness. My jaw went slack. This stretch of sleep was going to be absolutely delicious.
Somewhere on the periphery of consciousness, my mind registered our sweet, maternal dog hop up on the bed. She had followed me back from the nursery. Without opening my eyes, I recognized the pattern of movement as she circled repeatedly, making the perfect resting spot.
As her 65-pound body finally collapsed in an exhausted heap next to my pillow, I felt heavy, warm raindrops splatter my face and upper body.
Rain … inside my house … Oh, how nice and relaxing … I thought, still under sleep's seductive spell.
Suddenly, violently, it dawned on me: That wasn't rain. That was DOG SHIT. I had just been sprayed with liquefied poop … FROM MY DOG'S ASS.
What. The. Fuck. My brain screamed, but I was paralyzed by the warm goo oozing down my eyelid.
My incredible dog had been my constant nursing companion for the past week and needed sleep just like me. She was innocent. My husband, on the other hand, was not. That bastard had been sleeping soundly for hours. I woke him without regret.
I whisper-screamed,"The dog just shit on me!"
"What?! Huh?!" he stammered.
"THE DOG JUST SHIT ON ME." I repeated, venom spraying from my mouth. The jerk would bear witness to my horror.
"What are you talking about? There's no shit on the bed," he seemed to question my sanity, which only mad me angrier.
I took a deep breath in, stopping only because of the stench, and slowly spelled it out for him, "Brandy's stomach has been nervous because of the baby. She just laid down by my pillow. When she plopped down, SHE SPRAYED SHIT ON MY FACE!"
"I don't see anything," he responded, moments from his own murder.
"Look. At. My. Face. There is shit running down my cheek," I stammered, still not opening my eyes.
I could feel him moving close. "What the fuck? Oh. Wow. You better take a shower."
"I'm supposed to be sleeping," I wailed. "The baby is sleeping, and I should be too. This was my only chance to sleep. You wouldn't understand—you've been sleeping. YOU'RE ALWAYS SLEEPING!" Tears mixed with poop and ran down my face. "If I take a shower, I won't be able to go back to sleep, and then I'll miss my opportunity," I bordered on hysteria.
"Go take a shower. I'll change the sheets. You can then go back to sleep. I'll take the next shift with the baby."
He probably wasn't aware of it, but he had just saved himself from being murdered by a poop-splattered crazy person.
. . .
If you liked this WTF story, you will LOVE the one I wrote in the hilarious and heartwarming new anthology, Martinis and Motherhood: Tales of Wonder, Woe & WTF?! The book pairs up short and relatable stories of motherhood with customized martini recipes inspired by the tales themselves. I wrote about my boobs. They put it in the WTF?! section, naturally.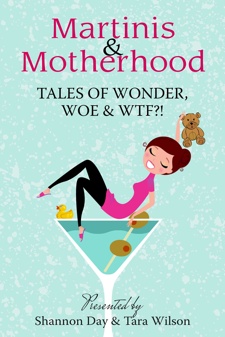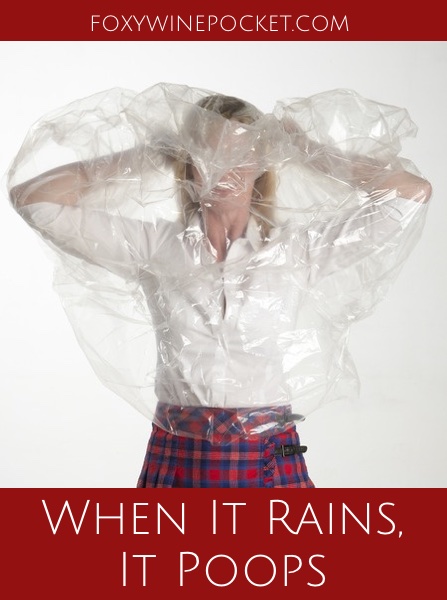 Photo Credit: petertt / 123RF Stock Photo
Follow Foxy Wine Pocket on Facebook and Twitter. You can also subscribe to my blog and never miss a new post. It's quick and easy! (That's what she said.)