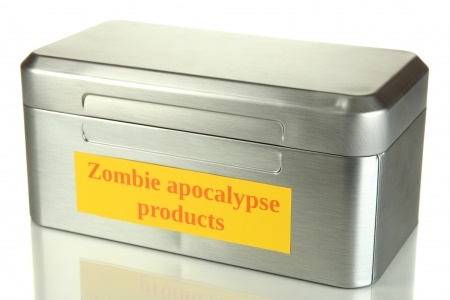 At my kids' school, we are required to put together an emergency snack-pack for each of our children. The packs are intended to provide comfort and nourishment for the kids in the event of an emergency or natural disaster that might cause a delay in our arrival to pick them up from school. Here's what we need to gather for each of our kids:
1 can of juice
1 granola or energy bar
1 pack of crackers or wafers
1 fruit roll-up
1 pack of beef jerky
1 small pull-top can of fruit with a spoon
1 small pocket-sized pack of tissues
1 family photo
1 handwritten note of reassurance
Honestly, it's a pain in my ass to find all of the right items (mostly because I'm lazy as fuck), but it's completely worth the time and effort. I live in earthquake country, and that natural disaster is a very real possibility. I love the thought that my kids' teachers would have the supplies readily available to take care of my kids. My picky eaters won't eat most of the items, but they can just clutch their cans of fruit for comfort.
Assembling these emergency snack-packs for my kids got me thinking: what about the teachers? Who would take care of them? What supplies do they need in case of emergency? What would provide them with comfort and nourishment?
Clearly we can't rely on the kids—all hopped up on juice and fruit roll-ups—to alleviate their distress. So I've brainstormed a list of items they would need in their own emergency kits:
1 dozen mini bottles of wine and liquor
1 box of high-end chocolate
1 set of ear plugs
1 bottle of pain relievers
1 bottle of acid/heartburn reducers
1 fully-charged iPad with videos and back-up charging devices
30 self-contained, non-messy art projects for the students
1 large bottle of deodorizer (especially important for the 5th – 8th grade teachers)
1 full-sized box of high-quality tissue
1 more box of high-end chocolate
1 photo of a tropical paradise
1 handwritten note of reassurance
Here's what the handwritten note of reassurance would say:
Dear Teacher,
Thank you for all you do for my child. Seriously. I don't know how you do it, and you have my utmost respect and eternal gratitude. I'm sorry for [Insert whatever my kid does that is annoying. Believe me, I'm sorry for it.]. You are amazing, and I love you. But not in a creepy stalker way.
I promise I am trying to get to the school as soon as I possibly can. In the meantime, hang in there. I won't judge you if you break into the mini bottles of booze. Seriously, if I can still parent after a few drinks … But that's cool if you wait for later too. Legal issues and all. 
I hope the rest of the supplies serve you well.
All the best, Foxy 
Do you think that would work? Would they appreciate it? What did I leave out?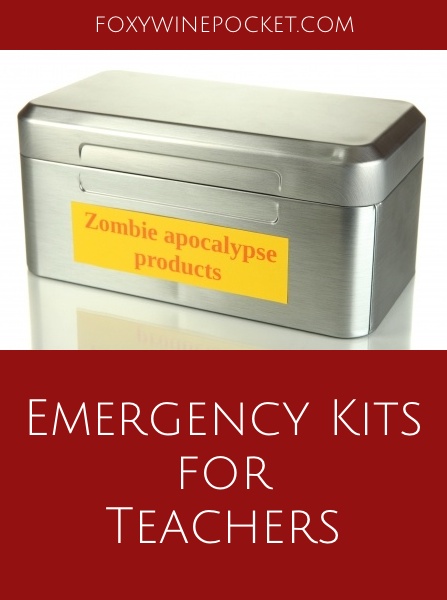 Photo Credit: belchonock / 123RF Stock Photo
Follow Foxy Wine Pocket on Facebook and Twitter. You can also subscribe to my blog and never miss a new post. It's quick and easy! (That's what she said.)