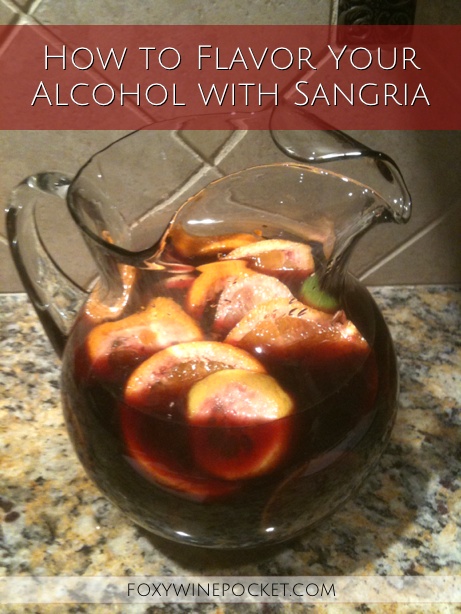 Every once in awhile, I post a recipe on here. I should note that I only post my most favorite eats and drinks—so they're worth checking out, IMHO. Speaking of which, have you tried Bacon Bar Nuts yet? If not, you're missing out. Seriously missing out.
Anyhow, the weather is getting warmer, and folks are gearing up for party season. So I thought our recipe for sangria would be especially appropriate. It's delicious and refreshing, and it packs a certain punch. (Get it? Punch? Okay, I'll stop.)
This sangria goes by several different names. We change it up depending on the occasion. In honor of Harold Camping's predicted Rapture and Judgment Day, we had some friends over, made a small batch, and called it "Rapture Juice." Because we love the television show Parks & Recreation, we had a party, made a larger batch, and called it "Snake Juice." When Mr. Foxy turned 40, we made a GIANTFUCKING batch, and called it "Fountain of Youth Juice." (My freighbor told me that, while she enjoyed it immensely, it actually aged her a few years.)
My husband, who fancies himself a bartender, created this very special sangria recipe. His entire goal was to make the most alcoholic sangria ever that stills tastes good. He studied a bunch of different recipes and picked his favorite ingredients from each of them. And then, because he wanted to ensure that every single liquid in the sangria was alcoholic, he came up with the pièce de résistance for the carbonation—Mike's Hard Lemonade.
To make a small* batch, you need the following ingredients:
1 bottle of red Spanish table wine (I've got a white wine recipe too!)
1 orange, sliced
1 lemon, sliced
1 lime, sliced
¾ cup of triple sec
½ cup of blackberry brandy
½ cup of peach schnapps
1 bottle of Mike's Hard Lemonade
Step 1: Mix the wine and the sliced citrus fruit in a glass container and let sit in the refrigerator for 24 hours.
Step 2: To the wine-citrus mixture, stir in the triple sec, blackberry brandy, peach schnapps, and Mike's Hard Lemonade. Adjust quantities to suit your tastes.
Step 3: Consume responsibly. This sangria will fuck you up. If you aren't careful, you might end up in Stage 6 or 7 on my 7-Point Scale of Drunkenness.
Step 4: Watch the hilarity that ensues. Or be the hilarity that ensues.
You're welcome.
*Here are the quantities in case you want to make larger batches. Because, sangria.
Sangria (medium vat)
3 bottles of red Spanish table wine
2 oranges, sliced
2 lemons, sliced
2 limes, sliced
2 cups of triple sec
½ cup of blackberry brandy
½ cup of peach schnapps
3 bottles of Mike's Hard Lemonade
Sangria (large vat)
5 bottles of red Spanish table wine
3 oranges, sliced
3 lemons, sliced
3 limes, sliced
750 mL of triple sec
¾ bottle of blackberry brandy
¾ bottle of peach schnapps
4-5 bottles of Mike's Hard Lemonade
Follow Foxy Wine Pocket on Facebook and Twitter. You can also subscribe to my blog and never miss a new post. It's quick and easy! (That's what she said.)