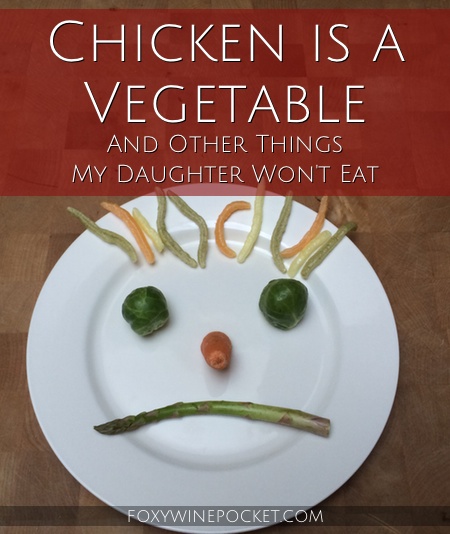 Over the summer, my 11-year-old (and very picky) daughter announced that she'd become a vegetarian. Except for bacon. She'd still eat bacon. I laughed at the irony. I cried at her ever-expanding-pickiness. And, naturally, I had to tweet about it.
My 11-year-old declared herself a vegetarian. Except for bacon. Nothing like a magical pork product to help you compromise your convictions.

— Foxy Wine Pocket (@FoxyWinePocket) July 12, 2014
This tweet led to a pretty humorous discussion with my Twitter pal, Brian. (He writes a blog, Brian's Beer Googles, that you really should check out. Mmmmm… BEER.) Apparently, he's a lot like my daughter:
@FoxyWinePocket @KateWhineHall I'm a vegetarian too. Except for bacon. And ham. And pork chops, steak, prime rib, burgers….. — Brian Vandenbroek (@BVandenbroek) July 12, 2014
Well, except for the fact that he's nothing like my daughter minus the bacon connection. (Bacon: Bridging folks together… Everywhere… Forever and ever… Amen.) And clearly he's not as picky as my daughter. I agreed with him and added lamb chops and chicken to our list. Because I really love meat. (That's what she said.) But, mid-tweet it occurred to me that chicken is more like a vegetable than real meat. It's far too healthy and lean to be meat, and it is so bland and omnipresent. Not like a REAL meat at all. So I posed the question back to Brian:
@BVandenbroek @KateWhineHall And lamb chops. And chicken… Oh wait. Chicken's a vegetable, right?

— Foxy Wine Pocket (@FoxyWinePocket) July 12, 2014
Naturally Brian agreed with me. And then my friend Kate from Can I Get Another Bottle of Whine… chimed in (because we'd been blowing up her phone with Twitter notifications—totally her fault for retweeting me [please don't stop retweeting me, Kate]), and all three of us declared chicken a vegetable.
@BVandenbroek @FoxyWinePocket I had to come see what all these notifications popping up on my phone were about. Yes, chicken is a vegetable.

— AnotherBottleofWhine (@KateWhineHall) July 12, 2014
Congratulations, chicken! You are now a vegetable. So now millions more people can enjoy your not-really-palatable-until-you-add-some-serious-spice flavor. Well, millions of people except for my vegetarian-with-bacon-benefits daughter. Who won't eat chicken. Ever.
And that brings me back to the point of my story: my very picky daughter.
Once upon a time (when she was a baby), my daughter ate most things that we gave to her. Then she did the typical toddler thing and became very selective about what she ate. Alarmed, I talked to our pediatrician who told me NOT to turn food into a battle, especially with a girl because that can lead to eating disorders. She promised me my daughter would come around.
That was about 8 years ago. I'm still waiting for her to come around.
Additionally, about 5 years ago, she was diagnosed with some sensory issues, which means she's very sensitive to textures (including food textures). What does that really mean, you ask? That really means she vomits whenever she tries to eat a grape or a blueberry or a bean or anything slightly firm on the outside but mushy on the inside (plus 13,589,453 other textures).
So her list of acceptable foods was already pretty narrow. Then she had to go get some "convictions" and become a vegetarian. And now she won't eat chicken, pork, beef, or seafood either. (Not that she ate too many of those to begin with, but at least she ate some of them.)
Her favorite foods include:
Pasta with butter and parmesan (It must be freshly grated parm—none of that canned crap.)
Rice with parmesan (NO BUTTER!! I CAN'T BELIEVE YOU WOULD PUT BUTTER ON RICE!!)
Cheese pizza (Also, from time to time, pepperoni is a vegetable. Apparently.)
Grilled cheese (Only on sourdough and with American cheese because that crap her parents eat is sub-par. Bonus points if her Grandma makes it.)
Cereal (There might be 3 or 4 different ones she'll eat.)
Waffles (Eggo Homestyle. Not whatever waffles you're serving, I'm sure.)
Peanut butter and jelly sandwiches (Sourdough, creamy peanut butter, and marionberry jam only from Oregon, thankyouverymuch.)
Pancakes with 100% Grade A maple syrup (Made by Dad, and Dad only. No other pancake will do.)
Any sweet delicacy, foreign or domestic, including ice cream, chocolate, cookies, cake, doughnuts, candy, pudding, brownies, fudge, marshmallows, s'mores, gum, lollipops, etc.
There are other foods that she will eat, but the list above represents her favorites. The list of foods she won't eat is way too long to bother. That would be like trying to catalog all of the stars in Milky Way galaxy. (She will eat Milky Way candy bars though.)
You can give me all of the advice that you want. You can tell me it's my fault. And tell me to let her go hungry. And to have her cook with me. And shop with me. And shove it down her throat. And blah, blah, blah, blah. Believe me, I've tried it all. And I will continue to try it all some more. But I'm not going to make it a battle. I'm not going to force her to eat. She'll come around when she comes around.
And I firmly do believe that. She WILL come around eventually. Do you know how I know? Because something will be coming along very soon that will change everything…
A BOY.
Follow Foxy Wine Pocket on Facebook and Twitter. You can also subscribe to my blog and never miss a new post. It's quick and easy! (That's what she said.)