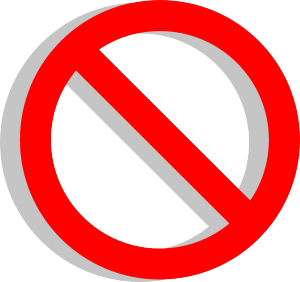 I recently received some hate mail feedback on my ridiculous book "review" (you might want to read that, if you haven't already) implying that, clearly, I must just suck (pun intended…always) because women don't hate giving blowjobs as much as I stated. The feedback went on to imply that if I were a better wife, I'd be giving my husband blowjobs daily. At that point, I started to suspect Mr. Foxy was creating fake email addresses just to send these email comments to me. But whatever.
In my defense, I never said I hated giving blowjobs; I merely stated that most women don't enjoy them as much as the protagonist in the book. But I lacked hard data to support this statement so I decided to conduct a very scientific research study on what women really think about giving blowjobs.
Now, I used to work at a high tech company designing needs assessments, audience analyses, and all sorts of professional (and very expensive) research projects. I'm an also expert in developing psychometrically-sound certification exams as well. Probably, you haven't heard of psychometrics (don't click that link–you'll fall asleep) until now. But I seriously used to do that shit. Just believe me when I tell you that this was a very sound study*. It was painstakingly designed to collect unbiased data on women's enjoyment of blowjobs.
Research Subject #1
Me: "Your thoughts on blowjobs. Go."
RS #1: "Quicker than sex."
Me: "Would you say you enjoy blowjobs?"
RS #1: "Enjoy might be too strong a word. I definitely don't mind them and can fake that I enjoy them very well and very easily. I definitely use them as a way to get out of sex. And of course, they're always part of foreplay."
What I really love is that RS #1 didn't even bat an eyelash when I sent her this text. She answered me as if this is the way we talk everyday. (Okay, so it's the way we talk everyday.) But so far so good. I had collected important feedback and was pleased to see that it corresponded with my original assertions. But I wanted some stronger, irrefutable data.
So I moved on to Research Subject #2.
Research Subject #2
Me: "Doing some research. What do you think of blowjobs?"
RS #2: "I love them."
Me: "Huh. You're skewing my data. I'm going to delete this text."
Unfortunately Research Subject #2 wasn't home when I called so I contacted Research Subject #3.
Research Subject #3
Me: "What's your position on blowjobs?" (HAHA–position–get it?! I'm full of fun and giggles.)
RS #3: "If I want something…a girl's weekend or a new purse, it's a handy tool."
BINGO. This was exactly what I was looking for. I was very much enjoying RS #3's answers. I dug even further.
Me: "Do you enjoy them?"
RS #3: "WTF? Who actually enjoys that shit? Although I did hear that if the guy eats pineapple, it make the experience 'sweeter.'"
(Gagged a bit. Took a couple of deep. Regained my composure.)
Me: "So you actually swallow?!"
RS #3: "Ah HELL NO! I was just giving important information. LOL. [My husband] is too polite."
(Oh, thank god. I knew we were friends for a reason.)
Me: "Thank you for your input. As it coincides with my opinion, I will allow it into my research project."
At this point, I knew I had great stuff, but I felt like I needed to collect just a wee bit more data in order for this study to be sound. But I don't have that many friends with whom I can discuss blowjobs via text message. So the research study stalled for a bit.
A week later, on an outing with our kids (who were out of earshot, I swear), I ambushed interviewed Research Subject #4.
Research Subject #4
Me: "Alright, this may seem intrusive, but I need to know what you think of blowjobs."
RS #4: "It's a necessary evil."
Again, I've got to hand it to my friends. They don't even pause or get uncomfortable or take the slightest offense at my invasive questions.
RS #4: "I mean, it's the quickest and easiest way to get it done and then I can go to bed."
And there you go. Yep, exactly my point.
Now one of the great things about text conversations is that you can end them at any time, and you aren't distracted by facial expressions and other odd noises that people make when talking about sex. Since this live conversation went on for quite some time and I had to disclose additional information about myself and my opinions, I think it's safer for everyone to not include the rest of the transcript. And, really, I had collected all of the data necessary for this scientific and statistically significant research study.
Summary
Honestly, I think the data speaks for itself, and there is no need to analyze this further. But in case it's not clear: women don't enjoy giving blowjobs as much as the protagonist of the book (and men might want). It's not that we hate them; we just don't enthusiastically jump at every chance to give them. And we certainly don't swallow if we don't have to (at least not without a mint or something). We still love our partners, I promise. Especially when they give us purses and let us go to sleep.
Coming Soon: Blowjobs Part III (The One Where I Ask You What You Think)
*To maintain the integrity of the data and thus the validity of the entire research project, I have removed all names. It has absolutely nothing to do with any husband potentially taking offense to the responses. Really.
Follow Foxy Wine Pocket on Facebook and Twitter. You can also subscribe to my blog and never miss a new post. It's quick and easy! (That's what she said.)