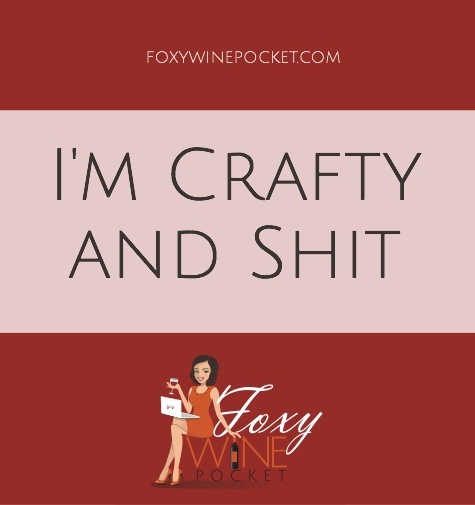 Last week I was delivering a beautiful crocheted blanket from my aunt to my mom. My friend Nicole happened to get a glimpse of what was in my bag, and she gave me a very perplexed look.
"You didn't make that, did you?" she challenged.
"No, I'm just the delivery service," I admitted.
"'Cuz I was gonna say—you don't strike me as the crocheting type. Or really the crafty type at all," she continued.
I had to stop her right there. "Now stop right there," I ordered. "I'm crafty and shit."
"No way. I don't believe you."
"I make tons of crafty shit."
"Name one project you've made. And a vase filled with wine corks doesn't count."
Crap. She had me. I had to think for a bit. I had to go waaay back. "In college, I made a sculpture with melted wax. It was mixed media. And very avant-guarde."
"You're lying."
"Am not."
"Picture or it didn't happen."
So, later that day, I sent her the following picture with the words, "In your face, bitch."
Later that night, I started to really think about my crafty side. And I put together a mental list of the artsy and crafty shit I've done. I mean, I'm not going to start my own DIY Show (unless it's about making drinks), and I'm probably not going to make any non-sarcastic craft boards on Pinterest any time soon. But I'm crafty. I'm handy. I can do shit.
And I've got the data to support those statements.
Household Décor: I designed this arrangement myself. And color coordinated it. And used a drill to install it without any help from anyone.
Christmas Décor: Hey. It took a lot of measuring and cutting and shit to get that dental floss the right length. And, again, it's color coordinated.
Wall Décor:  I tried to hang a picture. Okay, this may be a non-example. But I patched that up and rehung the picture ALL BY MYSELF. And now you can't even see the hole. (That's what she said.)
Recycled Art: What do YOU do with the fur that comes out of your dog after a grooming session? I make beautiful dog fur art, of course. Best thing about this art piece? It's interactive and can be made into any shape. And then vacuumed up.
Ink Drawings: Look at this beautiful artwork. I sent it to my graphic designer, and it inspired her to design my beautiful header graphic at the top of this blog. Clearly, she couldn't have done it without me. Clearly.
Food Crafts: You saw these right? (Now I'm adding Pastry Chef to my resume.) The first craft was almost too pretty to eat. But I ate it anyways. Times five.
I didn't make this cake, but I made the beautiful, inspired cake-top decorations.
Body Art: One night, I noticed an interesting constellation of freckles. So, of course, I had to connect them. OF COURSE I DID.
Gratuitous Cork Collection:
 I threw this one in just for Nicole. Look at this beautiful collection. And the bow perfectly compliments the corks.
See how crafty I am? I mean, do I really need to present any more evidence? I think not. In fact, I rest my case. Now I'm off to try painting with wine (the wine is recycled from a spill on the table).
Follow Foxy Wine Pocket on Facebook and Twitter. You can also subscribe to my blog and never miss a new post. It's quick and easy! (That's what she said.)