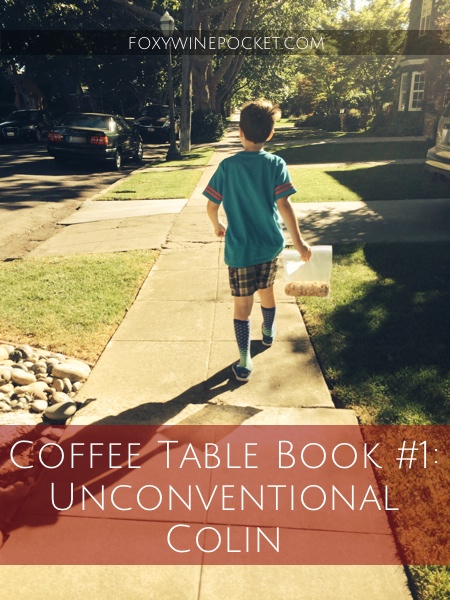 When Kramer (you know who Kramer is, right? RIGHT?!) created his coffee table book about coffee tables, I fell in love with the idea of making a coffee table book of my own. So simple. So elegant. So few words necessary.
Over the years, I've kept a mental list of all of the coffee table books that I would make. As I am one of the best procrastinators of all time, I recently started sketching out some of these coffee table book ideas instead of working on my actual book (the one with lots of words). It's a delightful distraction, and it doesn't feel as much like cheating as watching YouTube videos all day.
One of my coffee table book ideas is centered around my son Colin. If you've been around here long, you know I love to write about the quirky conversations that he and I have. He's fabulous: very smart and extremely sweet. He's also a bit unusual. He's been compared to Sheldon Cooper and Dr. Spencer Reid. (Yes, we're constantly working on his social skills and "street smarts.")
Colin is a great kid.
One of the many things that I love about Colin is that he is totally unaffected by other people's opinions and standards. He likes what he likes, and he doesn't care what anyone else thinks. He's quite confident and steadfast in his own beliefs.
So with that introduction, I present to you the proposal for my first coffee table book:
Unconventional Colin: A Pictorial Tribute to a Boy Who Loves What He Loves and Doesn't Give a Shit What You Think
Colin loves his iPod touch. (Of course he does.) Rather than use it comfortably in a chair, Colin finds a nice spot on the cold, hard floor by a wall. In a room full of chairs and tables.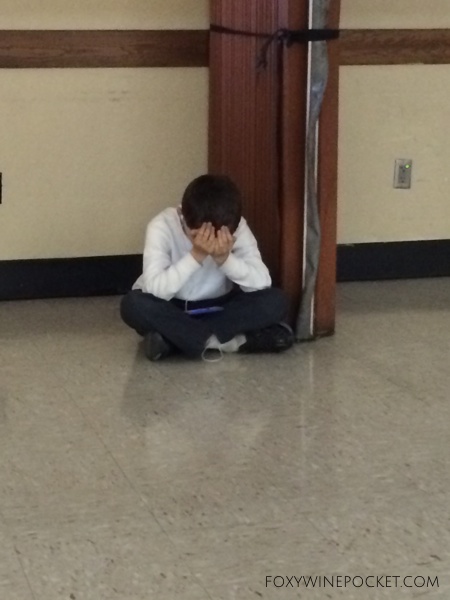 Colin loves trucks. While some kids push trucks around on the floor or on a table, Colin chooses to examine this truck a little more closely. A little more intimately. (I think he's mentally redesigning the engine.) Clearly, he's quite comfortable in this office waiting room.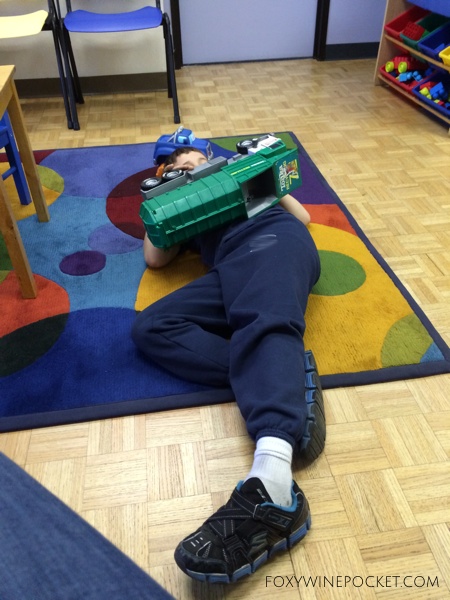 Colin loves Legos. Never mind that they are pointy and scratchy and hurty. He loves them so much he sleeps with them.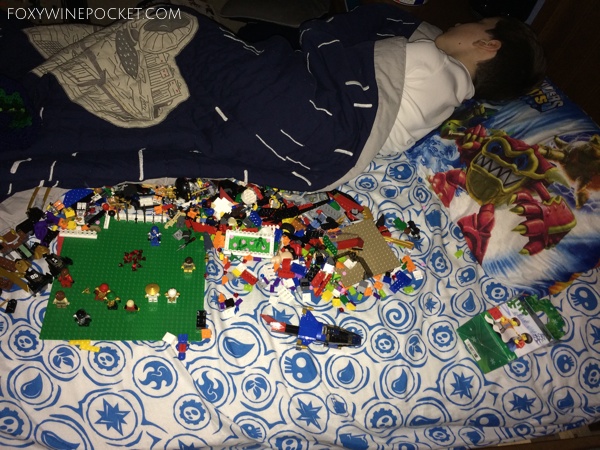 Colin loves looking at the toys in Target. He does not, however, love looking at toilet cleaner. Here he patiently waits for me to select a toilet cleaner so he can go look at the toys.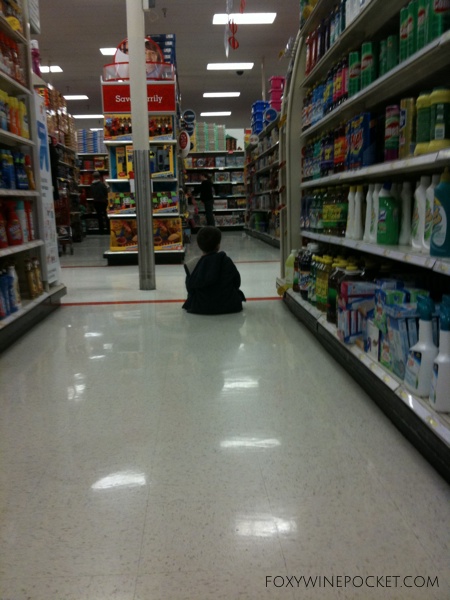 Colin loves pajamas. Any time. Any place. Here he is wearing his pajamas on an errand to the post office with his sister. (Actually, I could do an entire coffee table book about the places Colin has worn pajamas—berry picking, bowling, at the airport, at the pool…)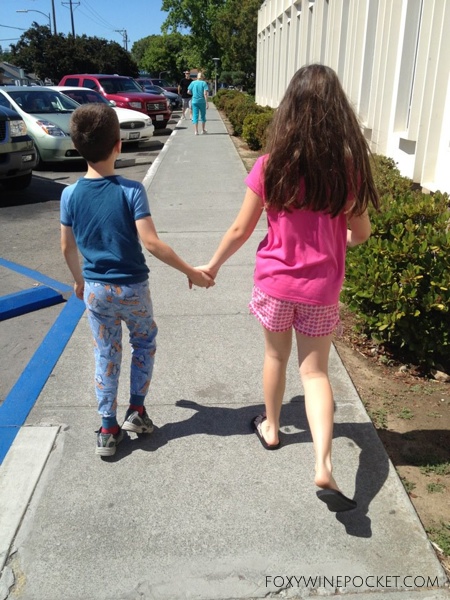 Colin loves to sleep, and he loves to go to bed wearing strange things.  Here he is wearing pajama bottoms as a hat and sunglasses. (Not included is the picture of him cuddling with a rubber chicken.)
Colin loves love and pretty things. When his sister didn't want her heart pillow any more, he happily took it and put it in his own room.
Colin loves color. When the girls were painting their nails for an 80s party, he joined right in.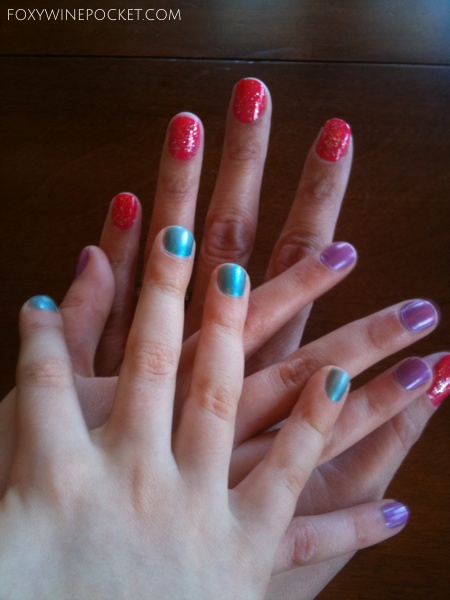 Colin likes to wear bowls on his head. Don't question it.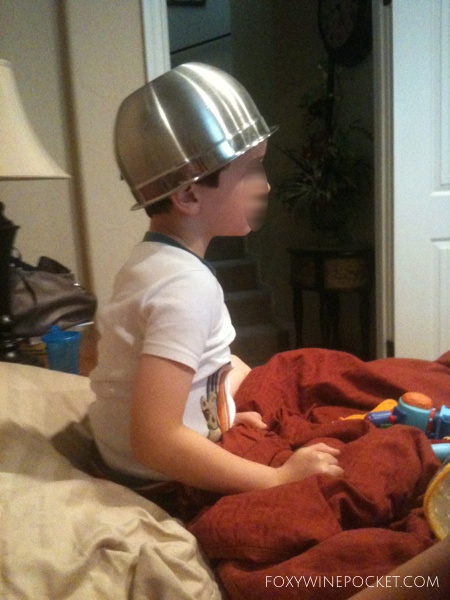 Colin loves his stuffed animals. He likes to play with them. And, apparently, he likes to sleep on them too. (He later woke up, having peed all over those stuffed animals so I actually hate this picture. Maybe I shouldn't include it in the book.)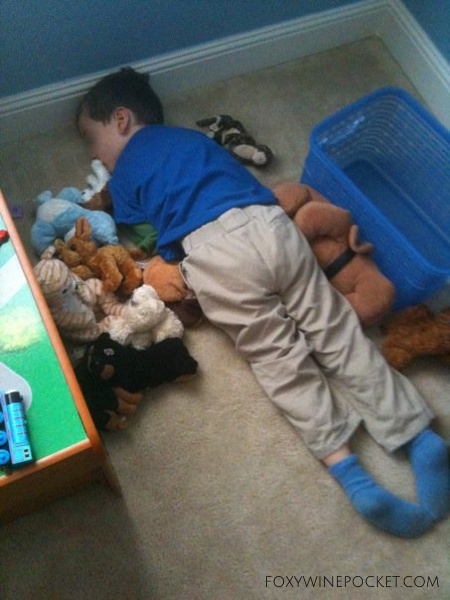 Colin loves water. But he doesn't like to swim. But he loves pajamas (remember?). Here he combines his love of water, pajamas, and naps.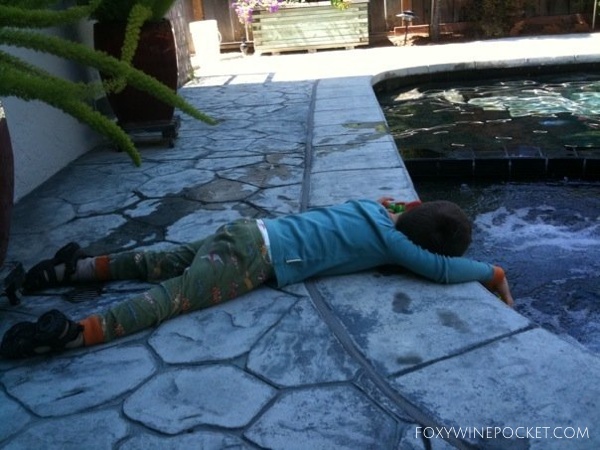 Colin loves what he loves. And he loves to put everything that he loves together. Here he is in the car scoffing at the fashion standards of the world. Even his face tells you, "I don't give a shit what you think."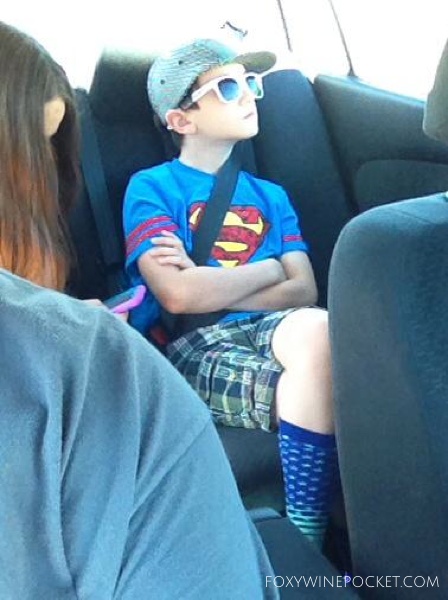 We could all learn a lot from Colin.
Follow Foxy Wine Pocket on Facebook and Twitter. You can also subscribe to my blog and never miss a new post. It's quick and easy! (That's what she said.)