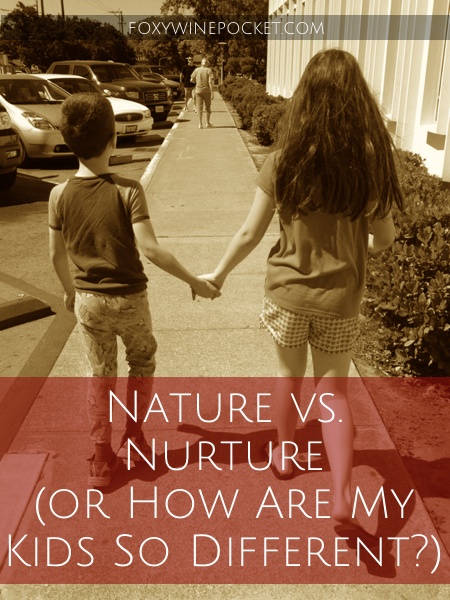 Nature versus Nurture is hot debate that scholars and scientists have had for hundreds of years. They like to make it super complicated, but it basically boils down to this: What has more influence on someone's traits and behavior—one's innate qualities or one's personal experiences? One's heredity or one's environment?
Now, I'm far too lazy to do any sort of research, but I am very interested in this discussion when it comes to parenting children. (In case you haven't noticed, I'm a parent of children.) I've got some really important questions to answer, such as:
How much is my parenting going to fuck up influence my kids?
Can I just write them off and say, "They were born that way?"
What undesirable traits can I blame on my husband?
I love to sit around and think about these BIG ideas (especially when I can't sleep because the lesser half of the genetic contribution is snoring). My children have the same two parents, and they have had relatively the same upbringing. Sure, we change our approach to suit each child's unique needs, but for the most part—their nature and their nurture are pretty much the same. So shouldn't they behave similarly?*
Nope. No fucking way. My two children are a study in contrasts. They are quite the opposites. Nature beat down nurture in a dramatic sibling smack down.
Don't believe me? Let's take a look at how my children reacted in six different scenarios.
Scenario #1
I was leaving for an overnight trip to San Francisco. As I was saying my good-byes, I told the kids that I would miss them and would see them the next day. Their reactions:
My Daughter: "Have a wonderful time, Mom! I'll miss you too."
My Son: "But Ziggy the Dog will still be home, right?"
(It's good to know THE DOG is an acceptable replacement for me.)
Scenario #2
Several months ago, I backed my car into another car while trying to maneuver on a narrow street. I was very angry at myself, and there may have been some tears and cursing involved. Their reactions:
My Daughter: She wrote a beautiful card telling me that we're all just trying our hardest, and sometimes even the best of us make mistakes. And that she loves me.
My Son: The next day while backing the car out into the street. "Try not to hit a car today, okay Mom?"
(Thanks for the advice, Son.)
Scenario #3
As I picked up the kids one Friday afternoon, I suggested we celebrate the end of the school week with ice cream sundaes.
My Daughter (hugging me): "YES! That's a great idea, mom. You're the best!"
My Son (looking at me dubiously): "I'll eat the ice cream, but I'm not celebrating anything related to school."
(Okay, I'm totally with my son on this one.)
Scenario #4
We were at the zoo eating ice cream. I wanted to document my parental achievement the memory so I asked them to pose for a picture.
My Daughter: Leaned in close to her brother and smiled nicely for the camera.
My Son: Leaned away from his sister and gave me the dirtiest look imaginable. 
(Yeah, I'm with him here too.)
Scenario #5
Nowadays kids don't make individual valentines for their classmates. They make 25 generic ones and sign them with their name. How did my kids handle this?
My Daughter: She addressed all of the valentines to "My Friend."
My Son: He addressed them to "Classmate."
(Guess which one I would have signed.)
As you can clearly see, my daughter and my son are very, VERY different. One is ruled more by her heart and emotions, and one is rule more by his head and reason.
Let's look at one last example:
Scenario #6
While eating a tri-colored popsicle the other day, my daughter had a Mary Apparition. That is, she saw the Virgin Mary in her popsicle. Take a look: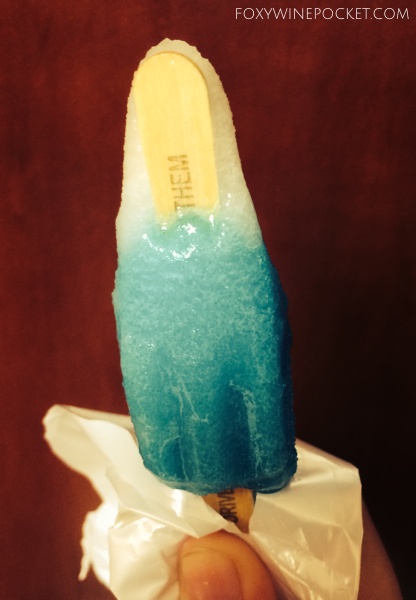 I smiled and told her that it did indeed look like Mary.
And then, because I knew it would be fun(ny), I asked my son what he saw. I thought for sure that he would reply, "a partially-eaten popsicle." BUT HE DIDN'T. What did he see?
"A stick with Benjamin Franklin hair and a blue coat."
Yes, that. That's EXACTLY it.
SOOOOO, nature won over nurture. No doubt about that. My kids are so very different. But they are who they are, and they're both fantastic kids. They make me crazy happy.
*Okay, yes. I know I'm oversimplifying here. But when I drank some wine, this sounded really good in my head.
Follow Foxy Wine Pocket on Facebook and Twitter. You can also subscribe to my blog and never miss a new post. It's quick and easy! (That's what she said.)