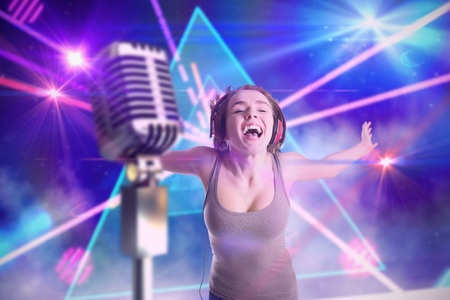 I have an amazing super power. It's the ability to remember the lyrics to every single theme song from popular shows in the 70s and 80s. Even some from the 90s, but things are fuzzier because I turned 21 I didn't watch as much television then.
WKRP in Cincinnati? Love Boat? Facts of Life? Punky Brewster? Silver Spoons? OH HELL YEAH—I've got them all rattling around my brain like caged monkeys just waiting to be freed. All you have to do is start humming the tune, and I'll start singing the song at the top of my lungs.
Mr. Foxy is not impressed with this super power.
It's possible that he wishes I'd remember more important things like my PIN number or my social security number—hell, even his mobile phone number would be helpful. NOPE. I remember theme songs. It's a gift, really.
Personally, I've always wanted my own theme song. I mean, who wouldn't? Theme songs are really important; they represent the heart—the essence—of the show. Why can't one do the same thing for a person?
For the longest time, I use to play the theme song to the $25,000 Pyramid in my head whenever I needed a boost. Ohhh, I can rock that song. (Badly.) Then when I met Mary from Outmanned, she told me that she would forever think of Garth's Foxy Lady when she saw me. You know, because Foxy. The only problem was that song really and truly belonged to Garth's dream woman. Sadly, it didn't belong to me.
Last weekend, Mr. Foxy gave me the most amazing gift a husband can give: he wrote me my very own theme song. MY VERY OWN THEME SONG! Seriously. Have a listen. And imagine me bursting through a door and promptly falling on my ass, with the camera zooming in on my smiling face (and the unspilt glass of wine) and an 80s television font showing my name. (Lyrics at the bottom.)
I swear, I'm not gloating. I'm just trying to demonstrate that everyone should have her/his own theme song. Whether you pick a song that's already written, write your own, or have someone like Mr. Foxy write one for you, tell me about your theme song in the comments below.
The Lyrics: She's Foxy!
Picking up the kids from school
In space cat yoga pants.
You can't find her at her house
She's out with her great aunt.
Jason Bateman is her favorite.
She thinks he's oh so fine
But I am
So glad she's mine.

She's foxy!
With her magnum of pinot.
She's foxy!
With her tall cappuccino.
She's foxy!
She's a quarter Latino.
She's rad!

She has a favorite nut bowl.
She will confess.
Stashes wine from a wedding
In the pockets in her dress.
She loves those John Hughes movies.
Jake Ryan is so fine.
But I am
So glad she's mine.

She's foxy!
Shot of cold limóncello.
She's foxy!
Lucky to be her fellow.
She's foxy!
Shots of vodka and Jell-O.
She's rad!

She's foxy!
Stole my favorite beard trimmer.
She's foxy!
Made her pubic hair thinner.
She's foxy!
Likes sushi for dinner.
She's rad!
(I know. I'm sad it's over too. If you still don't want to go back to work, check out this AWESOME list of the 40 best theme songs of all time.)
Photo Credit: wavebreakmediamicro / 123RF Stock Photo
Follow Foxy Wine Pocket on Facebook and Twitter. You can also subscribe to my blog and never miss a new post. It's quick and easy! (That's what she said.)