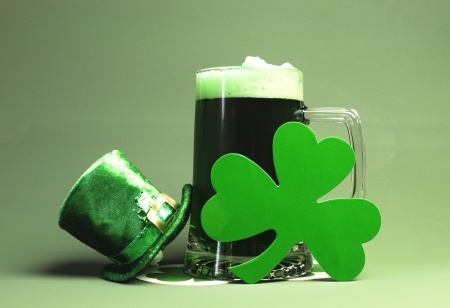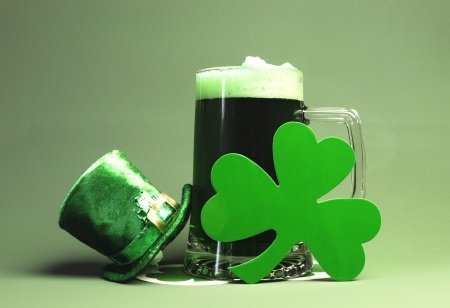 When I was growing up, we celebrated St. Patrick's Day by wearing green, pinching people who weren't (and some who were because, HELLO CUTE BOY!), and running home only to be assaulted by the disappointing stench of steaming cabbage and Leprechaun tears emanating from the kitchen.
Simple pleasures, people.
So what do I think these days when I see overzealous Pinterest Moms making elaborate, eco-friendly, St. Patrick's-themed crafts and baking organic, naturally-green-colored, shamrock-shaped snacks and then showcasing their accomplishments all over social media?
AWWW, HELL NO.
I mean, I love the Irish as much as the next person. Heck, I even married an Irishman. But this holiday has gotten completely out of control. So if you've memorized "1,000 St. Patrick's Day Traditions, Crafts, and Treats" or are currently cutting bell peppers in preparation for shamrock stamp making, then this post is not for you. Besides—and I ask this with all sincerity—who has time for that crap?
Not this mom. No, this mom is a very lazy busy mom, and I've perfected celebrating this non-holiday holiday by making the day just special enough for my children but not going insane in the process. Because, on top of all the other chores I have to do this week, I just don't have the energy for anything more.
Here are the supplies you'll need. Most of them you have already. The others you can grab at the grocery store when you curse loudly because you realize you're out of milk.
Green food coloring
Green markers (if those are dried out, grab blue and yellow)
Paper
Lucky Charms cereal
Any Irish beer or liquor
And here's how you "celebrate" the holiday:
Gather all of the supplies in a secret location. Make sure your children can't find the items otherwise the surprise will be ruined.
Forget where you put them (the supplies, not the kids) and desperately search the entire house.
Find the holiday goodies, your missing sunglasses, and enough loose change to buy a cup of coffee tomorrow.
Wait until the kids are in bed so they don't witness the shenanigans.
Yell for the umpteenth time, "GO TO SLEEP!" and then fall asleep on the couch watching Netflix.
Wake up after midnight in a wet spot of drool and frantically try to remember where you are.
Breathe a sigh of relief and collect your supplies.
Put the box of Lucky Charms on the breakfast table. BOOM! Breakfast is ready.
Put some green food coloring in the milk. Shake to mix. (Remember to secure the lid tightly first.)
Put some green food coloring in the toilet. (Leprechauns pee green, you know.)
Flush accidentally. Curse and repeat step 10.
Hide the food coloring in a very safe place. You don't want your kids to discover your secret, nor do you ever want to arm them with that weapon of mass destruction.
Go to sleep knowing that you are the greatest mom ever.
Wake up because you have to go to the bathroom around 3 a.m. Curse when you realize you've flushed away the Leprechaun pee once again.
Try to remember where you hid the food coloring. Locate and repeat step 10.
The next morning, take immense pleasure in waking up the grumpy kids by screaming, "HAPPY ST. PATRICK'S DAY!" At the top of your lungs.
Marvel with your offspring over the green pee in the toilet.
Serve Lucky Charms cereal for breakfast, lunch, and dinner. (Bonus points for Mint Chip ice cream for snacks and desserts.)
If you have enough energy, go outside to hunt for shamrocks and four-leafed clovers. Fall asleep on the lawn because you were up too late the night before.
Throw some markers and paper on the table and show your progeny how to make shamrocks. Or Leprechauns. Or rainbows. Whatever. It doesn't matter. IT'S A HOLIDAY-THEMED CRAFT. Post that shit on Facebook and proceed immediately to the final step.
Make yourself a drink and celebrate being a lazy fabulous mom.
Me? I'll be having a Guinness (or four). What about you?
Photo Credit: amarosy / 123RF Stock Photo
Follow Foxy Wine Pocket on Facebook and Twitter. You can also subscribe to my blog and never miss a new post. It's quick and easy! (That's what she said.)