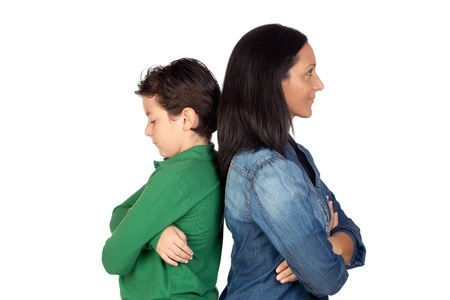 Some days I've got a shorter parenting fuse than others. Last week was one of those times. I went into my daughter's closet to find a particular item, and I was knocked over by an avalanche of clothing and toys and random crap that she had stuffed in there.
I threw my angry face in her direction and snapped, "WHAT. IS. THAT?! You were supposed to clean your room this weekend."
I pointed at the carnage and waited for a response.
My daughter stammered and gave me some lame excuse about how she did clean her room. And how she likes her closet that way. And how it's her room not mine. And, and, and… A pre-teen hormonal meltdown ensued.
So I put my hand out, and she put her iPod touch in it. I told her that she could have it back when her room was clean. No iPod touch or any playtime until it was spotless. I walked out of her room before the meltdown escalated.
About fifteen minutes later, the kids and I left for school. As we are driving on the expressway, my son told me, "Mom, you forgot to print out my pictures for Student of the Week."
"I forgot? **I** forgot?!" I coughed out. "No, YOU forgot. You forgot to ask Dad to help you do it. You were supposed to do that this weekend."
"It's okay. I don't really need them today anyhow," he rationalized.
"No, it's not okay. You were supposed to do that this weekend, and you didn't. You played Minecraft instead of doing the homework that you were supposed to do."
I was getting pretty worked up. I wasn't yelling, but my voice was definitely louder than normal as I declared, "That's it. I'm cancelling fun today. No playtime for either of you."
Both of them were silent. They may not always listen to me, but they know when to shut up.
"Neither of you can use your iPod touches. Or the computer. Or the Wii. Or the television. No fun for you," I continued.
They remained silent, and drop off was pretty somber. After all, I had just cancelled fun.
I went about my day feeling mildly guilty for losing my patience. But, I decided, there had to be consequences for not doing what they were supposed to.
Still, I cancelled FUN.
At school pick up, I was waiting for my son outside of his classroom. As he emerged, the pensive look on his face revealed that he had been thinking about the "Cancelled Fun" situation all day.
He walked right up to me, and before he gave me his usual hug, he said, "Mom. You may have cancelled fun today and taken away all of my toys, but there's one toy you can't take away."
And then he pointed right to his head.
Smart little fucker. He got me. (And I should cancel fun more often.)
Photo Credit: gelpi / 123RF Stock Photo
Follow Foxy Wine Pocket on Facebook and Twitter. You can also subscribe to my blog and never miss a new post. It's quick and easy! (That's what she said.)