I'm giving away a bag of dickeys. Want some?
I guess before any dickey transactions, I should give you a little warm-up. See, when I was in junior high, I wore a lot of oversized sweatshirts and Cosby sweaters (wait—are we still allowed to use that phrase?). Underneath these garments, I always wore turtlenecks. Not because it's cold here in the mild-weather-capital of the world. Because that's what we did in middle school. It was The Look.
So I'm getting ready to attend a conference in Baltimore, and one of the parties has a Middle School to the Max theme. Naturally I thought of my sweatshirt and turtleneck combination. But it will be June in Baltimore—two layers would turn me into a sweaty, melty mess. (Not unlike when I discovered my 8th grade boyfriend had kissed another girl, but I don't want to repeat that look.)
Clearly, I had to get my hands on a dickey. (That's what she said.)
Now, I don't foresee myself donning a dickey often, so I really didn't want to spend a lot of money. I only needed a single white dickey to reenact my horror glory days, but the cheapest one I found came in a multi-pack.
Four dickeys for less than $8? THOSE DICKEYS WERE MINE.
But there I was … with three extra dickeys in my hands. I wanted to spread my dickey-filled joy with my conference-going friends so I posed a very serious offer on the attendee board: "I just bought a 4-pack of dickeys, but I only need the white one. I'll bring the extras with me—in case anyone wants a navy, grey, or black dickey. One size fits all."
(Of course) Mike from Papa Does Preach was the first to respond, "I feel like there is a joke in here somewhere."
WHAT? This was no joke. I wanted serious dickey discourse. I replied, "I have no idea what you're talking about, ‪Mike. BTW, I can't tell from the pictures if the dickeys are ribbed or not."
Fortunately Karyn from picklesINK.com asked a very interesting question to help move the dickey discussion forward: "Foxy, I might be interested, but I have some concerns. Would you recommend any sort of protective covering for your dickeys? I wouldn't want to have any accidental spilling or staining."
Good point. I didn't think these dickeys needed protection; rather I figured she might need some protection for the dickey itself, so I responded, "Well, one reviewer stated that the dickeys were a bit itchy. I'll wash them before I pack them."
To which Kathleen from Middletini added, "Nothing worse than an itchy dickey."
I had to agree. But even with my promise of clean dickeys, no one wanted them. Then Tracy from Orange and Silver made the BIG demand: "You know, this isn't usually the way I roll, but could we get a dickey pic?"
Oh. I'm ALL OVER dickey pics.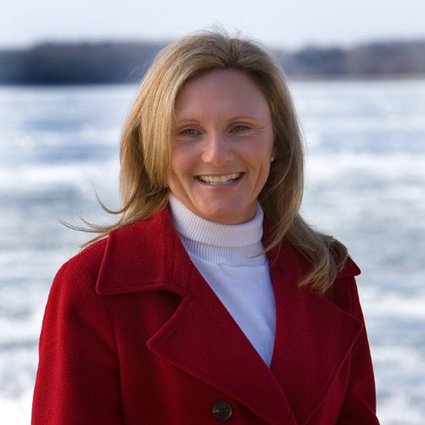 BOOM. See? The lady seems quite pleased with her dickey. And that picture really seemed to get the dickey juices flowing:
Karyn: She definitely seems to be enjoying her dickey.
Tracy: If I didn't know better, I'd say that was afterglow. Actually, don't know better, so it still could be.
Kathleen: She looks quite satisfied. I guess it was a good dickey.
Karyn: The fit seems snug but comfortable.
Kathleen: You don't want it to be too loose. A little friction is ideal, but if it's all floppy and rubbing around too much, you could get blisters or worse.
But still, I didn't have any dickey takers. Apparently, they were more concerned with one much more important aspect:
Karyn: Okay, this might be a little off-color, but just visually, is there any major difference in size between the white and the black dickey?
Kathleen: It's not the size of the dickey, it's how you use it.
Karyn: It's funny, isn't it? I mean, visually, just on their own, dickeys aren't really all that much to look at, but when you use them just right, they can really have a lovely effect.
I was trying to keep my very serious conversation going. After all, these dickeys needed to be placed in good homes. So I sent them another visual, "Here are the dickeys all lined up. No noticeable difference in size. Although one reviewer noted the neck on the gray one was slightly shorter."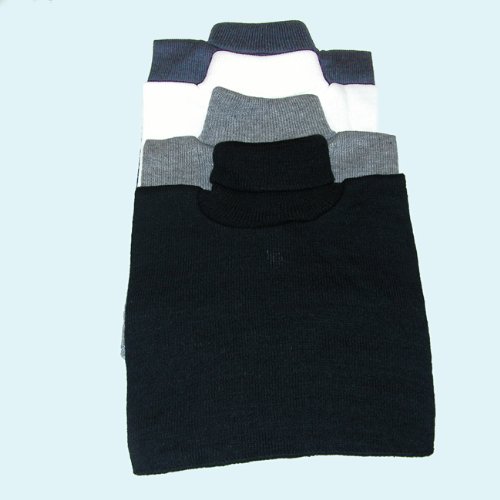 In response, they first discussed the grey dickey:
Tracy: Perhaps the grey one is older?
Kathleen: I'm sure the grey one still works. It just might need a little more TLC.
Karyn: I'm not sure about the grey one … I like a dickey that's ready when I need it. I'm not interested in one that needs a lot of special care.
Kathleen: Sometimes the grey ones have other ways of compensating that can be quite pleasurable. From a fashion perspective, I mean.
Then they questioned the blue one:
Kathleen: I'm very concerned about the blue dickey.
Karyn: I'm with Kathleen. The blue one looks a little lop-sided. Has it always been like that? Because if it's a recent change, that could signal a dickey issue.
Kathleen: And it's blue. It's really not supposed to be blue. Maybe it just hasn't been used in awhile?
Man, these ladies were picky about their dickeys. I mean, I was offering FREE DICKEYS. I would think their first reply would have been, "YES! YES! YES!"
Because I was still concerned about their dickey satisfaction, I suggested they read the comments on the product page: "One customer bought the dickeys for her mom, and 'she loves them.' But another one said that they were 'thicker than expected.' So, be careful when you're selecting your dickeys."
So Karyn and Tracy took my advice to heart and checked out those comments. They selected some of the most helpful ones:
"It is somewhat small, but that is the way I like it. I am very petite and for me it is perfect!"
"Some are a tight squeeze, but not bad, after in place, very comfortable."
"I am 80 years plus old and am experimenting"
"Too small for me and not enough length and width"
Then McCall from McCall of the Wild just flat out rejected my dickeys.
McCall: These dickeys seem like a lot of work. Seems easier to just stick with my own V neck.
Tracy: I don't know—some things are worth working for. There are a lot of very positive reviews about these dickies. So many people enjoy them—men, women, old, young. They seem quite universally pleasing.
McCall: I'm sure they're great. It's just I'm used to my V so I can get it on and off with very little effort.
Kathleen: That's true—a V on its on can be very easy to get off.
(She had a valid point.)
I also discovered that there is a whole group of women who are dickey experts (and they have the photos to prove it). Kerry from HouseTalkN, whom I now affectionately call Queen Dickey (I'm hoping she'll bestow the title Princess Dickey on me), very astutely observed, "Dickies come in all shapes and sizes. I'm a bigger framed gal, so I like the big dickies." (I think my dickeys are too small.)
Clearly, they didn't need my dickeys either.
Come to think of it, I probably should have asked if anyone had a spare dickey before I went out and bought a whole pack of them. SHAME ON ME.
Oh well. I guess you can never have too many dickeys.
P.S. In the process of locating middle school pictures of myself, I found a picture of me WITH A REAL LIVE DICKEY.
Dickey product pictures from amazon.com.
Follow Foxy Wine Pocket on Facebook and Twitter. You can also subscribe to my blog and never miss a new post. It's quick and easy! (That's what she said.)