Every New Year's Eve our fabulous freighbors (friends + neighbors) throw an equally fabulous party. It's the one #nottomiss. There is always a ridiculous theme, incredible food and drink (and some more drink), and—most importantly—our wonderful freighbors. Oh, and no kids. Did I forget to mention that part?
NYE 2012's theme was Movie and Television Characters. That year Mr. Foxy and I dressed up as Ron Swanson and Tammy 2 from Parks and Recreation. We planned our costumes very carefully. My husband shaved his goatee and grew the appropriate Ron Swanson mustache and wore an amazing collared sweater that even Ron would envy. I donned a tight animal print cardigan and equally tight black skirt and slapped myself with beef jerky all night. We were fucking amazing.
The problem was we didn't actually get to attend the party together. Our babysitter got sick so we had to take turns at the party. To further complicate matters, I was under the false impression that I was drinking champagne during my turn at the party. I never actually got my own drink and didn't realize the champagne cocktails had shots of lemon-basil vodka in them. So three glasses later, I stumbled home to relieve Mr. Foxy, and I promptly passed out on my bed. Missing midnight. Missing the rest of the party. I did get to eat the beef jerky the next day though. Delicious.
NYE 2013's theme was Dead Celebrity, which I happen to think it is the best party theme ever. Honestly, I don't think we can ever top it, but we're going to have fun trying. Here was the invitation:
"Please help us ring in the new year by dressing up as your favorite DEAD CELEBRITY.  Poke fun or pay tribute, any era or point in time… no limits on your imagination.  Just come prepared to give your celebrity's own eulogy."
So folks were to dress as their favorite dead celebrity (or just any they thought they could pull off). That part seemed easy enough. But the contest—delivering your own eulogy? Shit just got real.
Mr. Foxy and I pondered many a night what dead celebrities we should be. We tend to prefer going as a couple (not a requirement) so that was part of our consideration. We'd brainstorm, get distracted by something, and drop the topic for weeks at a time. Then one day while I was rifling through the crap piles organizing the garage, I stumbled upon an outfit my mother had given me about a decade ago. It was a spectacular hunter-green jumpsuit from the late 60s. Complete with tassels and ENORMOUS bell bottom pants.
That jumpsuit served as my inspiration for my Dead Celebrity: Janis Joplin. Not terribly original, I realize, but I was going to more than make up for it in authenticity. We quickly decided that my husband should be Jerry Garcia. And we went to work. We researched and acquired the appropriate sunglasses for each of us. Mr. Foxy bought a wig and selected some very simple clothes (plain t-shirt, jeans, and simple suede jacket). I found the most amazing fringe vest to go over my jumpsuit. And the most awesome coat. And ridiculous amounts of beaded and metal jewelry for my neck, arms, and fingers. And a feather boa for my hair.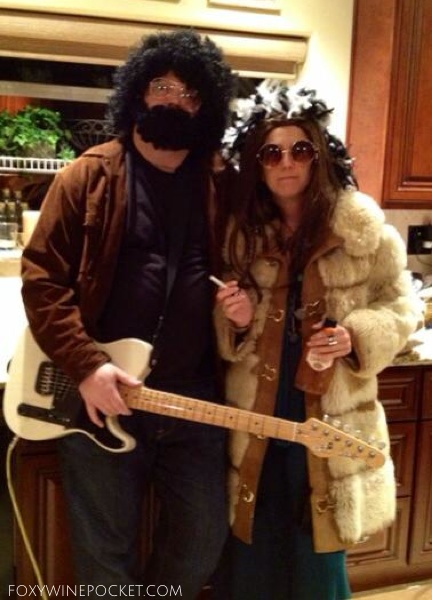 And then there were the details. The tiny, almost unnoticeable details: I carried a bottle of pills (remember the Xanax that didn't work for the foster dog?), a syringe, cigarettes, and a fifth of Southern Comfort around with me. Mr. Foxy drew Janis' tattoo on my left arm. And some track marks. And I stopped shaving a month or so prior to the party. So I had leg hair and armpit hair for everyone to see. And you can bet that I showed everyone. Several times.
But the best part of my costume? It required no makeup or shoes. Messy hair was preferred. And I had to keep drinking to stay in character. Sometimes I think I'm fucking brilliant.
In case you were wondering, here are some of the other dead celebrities that attended the party:
Farrah Fawcett
Fred Astaire and Ginger Rogers
Amy Winehouse
Another Janis Joplin (I told you my costume wasn't original, but the Janises had an amazing night together.)
MCA
Jacquie Onassis
Hedy Lamarr
Sir Charles Sedley and John Wilmot, 2nd Earl of Rochester (Yeah, I didn't know them either.)
Bob Denver
Mitch Hedberg
Walt Disney and Annette Funicello
Charlie Sheen (who should be dead, right?)
Everyone looked fabulous, and there were no clear-cut winners in my mind. Just a bunch of ridiculously fun and silly freighbors having an epic party.
Oh, yeah! The eulogy part. Naturally, Janis Joplin and Jerry Garcia sang a song for their eulogies. Mr. Foxy has actual musical talent so he played the guitar while I screamed my Bad Poetry Thursday-style lyrics. And here they are (sung to "Piece of My Heart"):
Oh, come on, come on, come on, come on!

Wasn't I born in Port Arthur Texas—where no one belongs! YEAH!
And wasn't I unpopular until I screamed some really loud songs?
Honey, you know I was!

And each time I tell my band that I, well I think I've had enough,
And I'm gonna show you, baby, that a solo can be tough.

I want me to come on, come on, come on, come on and shoot it!
Shoot another little gram in my vein now, baby!
Oh, oh, shoot it! Shoot another little gram in my vein now, darling, yeah, yeah, yeah.
Oh, oh, have a! Have another little gram in my vein now, baby,
I know I got it when it makes me feel good.

Oh, yes indeed. Oops. 

(Falls over and overdoses on heroin.)
Fortunately for me, Mr. Foxy and I were the first ones to deliver our eulogies so no one had their recording devices ready. (It's safer for everyone that way, believe me.) BUT someone did capture my untimely death.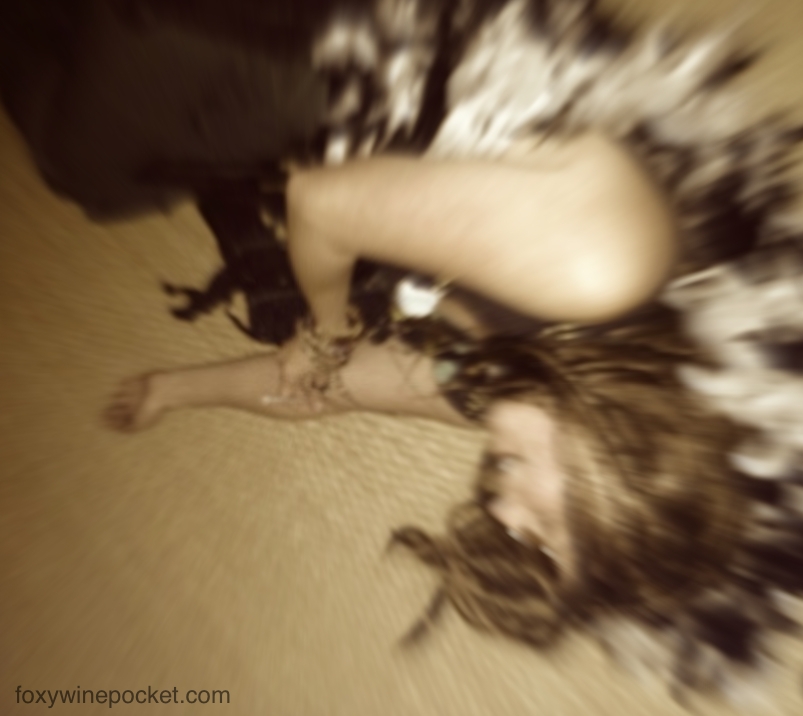 (That's a syringe "sticking" out of my arm.) Well, there you go, Joy @ ComfyTown Chronicles. You wanted the details. Better late than never, right?
Follow Foxy Wine Pocket on Facebook and Twitter. You can also subscribe to my blog and never miss a new post. It's quick and easy! (That's what she said.)