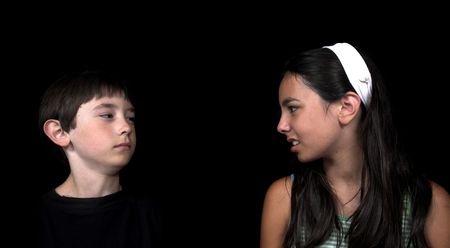 Siblings fight. It's a fact of life.Unfortunately, I've known this from a very young age. I grew up with four brothers and one sister, and that house was a constant state of bickering and hitting and biting and screaming. As the youngest, I was often the loser.
I actually consider myself pretty lucky that my kids don't fight more often than they do. Mostly, my daughter and son just bicker. Mostly. And I've found a great new strategy for ending the bickering immediately. Are you ready for it?
I sing "Ebony and Ivory" at the tops of my lungs.
You remember that fabulous song, right? (Please tell me you do, or I'll feel old.) I sing the song VERY LOUDLY wherever we are. We could be at home or in the car or at the store. Doesn't matter to me. But it most certainly matters to them because they stop bickering immediately and become absolutely silent (in awe or horror?). I have one of the worst singing voices in the history of the world; it kills houseplants and small animals. Match that with the ability to remember song lyrics from three decades ago, and I've got the perfect parenting weapon.
EBONY AND IVORY,
LIVE TOGETHER IN PERFECT HARMONY,
SIDE BY SIDE ON MY PIANO KEYBOARD,
OH, LORD, WHY DON'T WE?
This strategy may not last very long, but I'll use it while I can.
Photo Credit: fredgoldstei / 123RF Stock Photo
Follow Foxy Wine Pocket on Facebook and Twitter. You can also subscribe to my blog and never miss a new post. It's quick and easy! (That's what she said.)