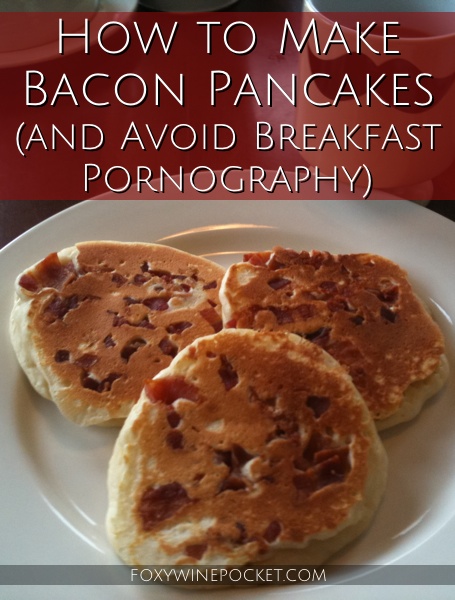 It's no secret that Mr. Foxy and I love bacon. We have a pretty steamy love affair going on in this house. We make bacon at least once a week, preferably in the panini press that we only use for bacon; hence, it is called the bacon press.
I make delicious bacon bar nuts, which are a hit at every party (if they make it to the party). I've found that just about every food can benefit from meat sprinkles. I pride myself in including bacon (or another pork product) in every dish on Thanksgiving. I. Love. Bacon.
So when I saw this picture on the Internet, I knew we had to try it.
Since Mr. Foxy is the pancake maker in this house, I just gave him the picture one Saturday and told him to do it. (Actually, I use that tactic for a lot of things.) I helped him out by cooking the bacon, but he did most of the work.
Here's how the first batch came out:
We called that batch "Labia Cakes." The Labia Cakes were absolutely delicious, although it seemed vaguely wrong to be eating them in front of the children. My friend commented on that picture: "The adjacent mustache is somewhat disturbing in that context." I had to agree.
Also, practically speaking, the strip of bacon made the Labia Cakes a bit harder to cut. You couldn't just use your fork; you needed a knife as well. Finally, the ratio of bacon to pancake in each bite was slightly out of whack; the bacon just wasn't evenly distributed. These were not the bacon pancakes we were looking for.
So we brainstormed, made some adjustments to the design and preparation, and came up with this:
Adding the meat sprinkles to the cooking pancakes was definitely the way to go. There were multiple problems solved here:
You can easily cut the pancakes with a fork and do not need a knife.
The bacon distribution throughout the pancake is more consistent.
You are no longer starring in your own breakfast porno.
And there you have 'em, folks: bacon pancakes. You're welcome. You can thank me by sharing this post with all of your bacon-loving friends.
Follow Foxy Wine Pocket on Facebook and Twitter. You can also subscribe to my blog and never miss a new post. It's quick and easy! (That's what she said.)