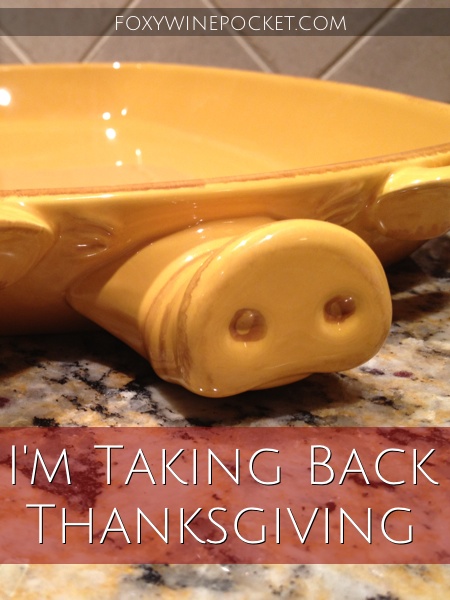 I readily admit to hating all of the artificially-flavored pumpkin crap that assaults my senses before, during, and after Thanksgiving. I also roll my eyes at some of the "I'm thankful for…" posts on Facebook (not yours, of course). But, honestly, I love the Thanksgiving holiday itself. LOVE. IT. It is—by far—my favorite holiday. I get to sit around with people that I adore (and some other people too), eat delicious food, and drink too much wine. (And then drink some more wine.) All of this while being thankful for loved ones, food, and wine. I mean, really, what's not to love about this holiday?
Unfortunately, most retailers across America would like to bypass the Thanksgiving holiday altogether and go straight to Christmas. As if Black Friday wasn't bad enough (what happened to a day of rest after being so gluttonous drunk gassy thankful?), far, FAR too many stores are now opening on Thanksgiving itself. Really?! Can't we all agree to not shop for just one day so everyone can take a day, or at least a moment, off to be thankful? Joining the retailers, my kids hate the Thanksgiving holiday as well. I suspect it's because they're picky-as-shit eaters, and they don't get any presents like the "good" holidays.
Well, fuck 'em. Fuck 'em all. I'm taking back Thanksgiving. I'm taking it by the balls, and we're going to celebrate it ferociously. In order to do this, I have come up with a three-part strategy. It includes:
Fabulous Thanksgiving Decorations
A Special Thanksgiving Menu
Beautiful Thanksgiving Carols
The Decorations
I find Thanksgiving decorations so incredibly ugly. (That really means that I couldn't find any because Target doesn't sell them anymore.) My favorite decorations are the cute art projects my kids have made in school over the years. So I plaster those all over my kitchen. Here's one of my favorites from my daughter:
I also have some special decorations that I've made myself, and I'd like to share them with you for inspiration.  Since cranberries are so special for the holiday, I keep this beauty out all month long.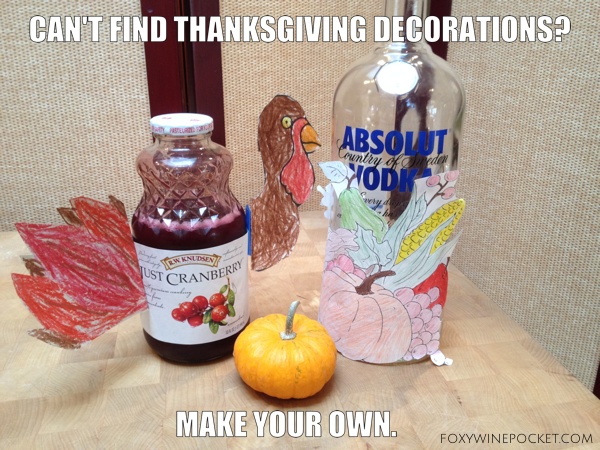 I mean, how much better can this get? I've put the kids' art projects to good use, and this particular art installation is interactive. INTERACTIVE, folks!
Next, we celebrate the turkey—the delicious, delicious turkey.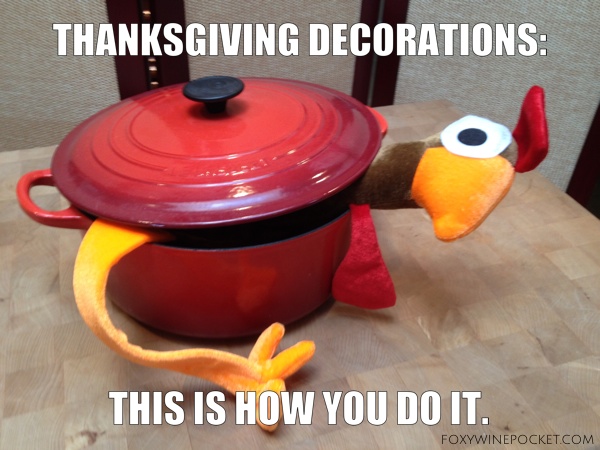 Unfortunately, I have to take down that particular decoration when I actually start cooking, but then I just wear the turkey on my head. BAM! A mobile art installation. I'm an artistic genius!
The Menu
Speaking of turkey, that brings me to my special Thanksgiving menu. Food is, after all, one of the focal points of this holiday. How do I make Thanksgiving dinner even better? Include the magical pig, of course. I pride myself that every single dish I make—every one of them—includes a pork product. Here's a list of what I'll be serving. I've even included links to the recipes (where applicable):
I don't actually eat dessert (I drink it, natch), but I offer a bacon-bourbon caramel sauce to slather over the desserts I serve. I use a very simple recipe and put in meat sprinkles at the end. It's versatile and delicious.
The Songs
Finally, I used my extraordinarily bad poetry skills to create some very special Thanksgiving carols to enjoy throughout the entire Thanksgiving season. I even got Mr. Foxy and the kids to sing them in a special Thanksgiving medley. (Okay, I totally had to pay the kids to do this so I'm out $20 bucks.)
Have a listen. (Lyrics are at the end of the article.)
However you decorate (or don't), whatever you cook (or eat), whatever you sing (or listen to), do join me in taking the time to actually celebrate Thanksgiving. Pause for a moment and be thankful for all of your blessings—whatever they are. I know I am.
Joy to the World

Joy to the World!
The turkey's done!
Let all the eaters eat!
Let every mouth receive it's food.
And tummies and tastebuds sing.
And tummies and tastebuds sing.
And tummies and tummies and tastebuds sing.
Eat All Night

Well the weather outside is frightful,
But the stuffing's so delightful.
Even though our pants will be tight,
Eat all night, eat all night, eat all night!
Oh Turkey Leg

Oh turkey leg, oh turkey leg,
You have a built-in handle.
Oh turkey leg, oh turkey leg,
You have a built-in handle.

Your meat is dark and juicy.
Your skin so light and crispy.
Oh turkey leg, oh turkey leg,
You have a built-in handle.
Dinner Bells

Dinner bells, turkey smells,
Stuffing looks so great.
I drank too much while cooking
So dinner will be late!

Dinner bells, turkey smells,
Stuffing looks so great.
I drank too much while cooking
So dinner will be late!
Oh Pumpkin Pie

Oh pumpkin pie
Your taste is so delightful.
It is the best of Thanksgiving time.
Long last the whipping cream and caramel topping.
I need some more to cover all the pie.
The thrill of dessert all my peeps rejoicing,
When pie is gone then we are so sad.
Bonus Track

Mashed Potatoes

Mashed potatoes, mashed potatoes,
Mashed potatoes on my plate.
Topped with butter and with gravy,
I just love you; you're so great.



Follow Foxy Wine Pocket on Facebook and Twitter. You can also subscribe to my blog and never miss a new post. It's quick and easy! (That's what she said.)