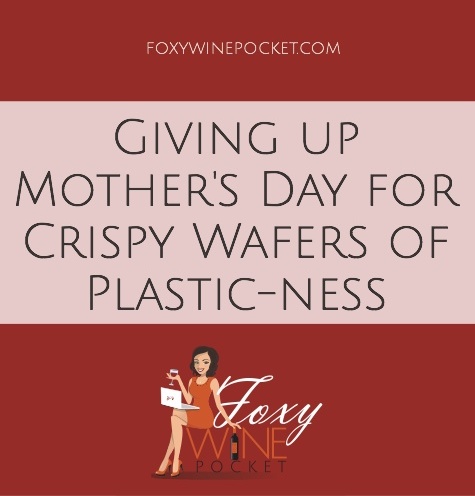 I spent my Mother's Day at an overly long and uncomfortable mass and then hosting a celebratory brunch at my house for my mom, mother-in-law, and a bunch of other folks.
This is not how I typically like to spend my Mother's Day. Normally, after sleeping in and eating a breakfast I didn't make, I like to spend the day with my girlfriends.
But there's no need to feel sorry for me. I actually chose this hell joy myself.
See, my son's First Communion* and Confirmation** were this year (yes, in our church they do the sacraments at the same time), and the options for masses were Saturday or Sunday of Mother's Day weekend. No other weekend. The Saturday masses were PACKED because most moms didn't want to spend their Mother's Day forcing watching their children receive the sacraments. But the Sunday mass was on Mother's Day—my traditional day of leisure. Honestly, neither day sounded particularly good to me.
I went back and forth and finally decided to gift my son the shorter mass (after all, he was doing this whole thing for me) and give my mom and my mother-in-law the best Mother's Day gift ever: watching their only grandson receive his sacraments, followed by a delicious brunch that they didn't have to cook. (Yes, I'm an ass-kisser, but I do make a mean frittata. Also, I bought a shit-ton of champagne.)
The day lived up to my (extremely low) expectations.
First, I woke up with GINORMOUS bug bite on my ass.

Which basically meant I was going to be scratching my butt the entire day. In my new orange dress. (I have three other orange dresses, but none of them was right for the occasion.)
Over breakfast, my husband and I placed bets on how long it would take my mom to comment on "how orange" my dress was (she has a thing against color). My husband's guess? "2 seconds. Before she says 'hello' or 'Happy Mother's Day.'" (She surprised us both by looking me up and down and saying, "Pretty dress." I guess this was her Mother's Day gift to me. I wonder if her tongue was bleeding from biting it.)
We got the house and ourselves ready and proceeded to get our kids ready for the big day. Mr. Foxy's mom had left VERY EXPLICIT INSTRUCTIONS to get a picture of Colin EXACTLY how Mr. Foxy and his dad had been photographed for their First Communions. IT HAD TO BE EXACTLY THE SAME. "IT'S A TRADITION!" Only this picture required sitting Colin down on a bench with a little bible. We didn't have either.
Mr. Foxy and I (half) joked about giving Colin a Lego or Minecraft book to hold because, honestly, those are his bibles. But our ticket into heaven daughter saved the day and loaned us her small bible. Which she actually reads. And we got the required picture taken. Thank goodness. I could get back to my list.
I was running around like a squirrel on fire only to be interrupted by the need to poop. I ran to the bathroom, and… false alarm. Just a fart. Fine, I went back to my list of chores.
I had done a Jillian Michael's workout that morning (the day was already going to suck—why not throw horrible exercise in the mix?), which proved to be a big mistake because my arms were still shaking as I went to put on my makeup. Between that and the copious amounts of caffeine in my system, my eye liner was overly thick from covering up the squiggly lines. I didn't even bother with lipstick. I didn't need to look like Suzanne from Night of the Demons.
I was still running around cleaning things up, setting up the dining room table, and prepping the brunch foods when I felt the need to poop again. So I went to the bathroom. But, NOOOOOO, it was another false alarm. Great. Now I'm going to be farting AND scratching my ass during the overly long and uncomfortable mass.
My list mostly complete, I turned my attention to the primary focus of the day: my son and his special day. Colin, whom we've already established is not as spiritual as my daughter, was not exactly overjoyed by the whole prospect of receiving his sacraments. He didn't find it very special at all. Part of it was that the preparatory classes were fairly boring. Part of it was that he's just not that into religion. While digging through his paperwork the other week, I discovered another part.
But my son did manage to find a few silver linings about the day. Here's what he was excited about (he gave me a list—I wonder who he gets that from):
Of the three masses, he knew the Mother's Day mass would be the shortest.
He didn't have to drink the wine. (After listening to him complain endlessly about not wanting to drink the wine [I know, RIGHT?!], I finally told him he didn't have to do it—that he could just bring the cup to his mouth and drink it symbolically.)
He heard a rumor he might get money. (He was practically singing this song, which might be my fault because Spinal Tap is one of my favorite bands.)
So he kept his mouth shut and went through the motions. He wanted his cash holy gifts.
As we pulled into the parking lot of the church, I said a little prayer to myself:

I'll spare you the details of the whole mass (it was long), and just note that Colin was fidgety and uncomfortable the entire time. Additionally, his allergies were really bad that day, and he kept sneezing and then wiping his nose on his suit jacket. Then, after snuggling a little too close to me, he got my deodorant on the shoulder of his suit jacket too. He looked great.
After he received his first communion (i.e., ate the round disc of crispy plastic-ness), he came back to me and whispered, "That tasted REALLY weird."
I refrained from high-fiving him and responding, "I know, RIGHT?!"
Two milliseconds later, he whined, "How much longer until this is over?" As you can see, the gift of the Holy Spirit really moved him.
At the church reception, he ate a doughnut and a piece of cake with more awe and enthusiasm than he had shown the entire year of sacramental preparatory classes. We took a picture with the monsignor. We collected his certificates. And then we all went home feeling blessed (to be done) and hungry.
The brunch went off without a hitch. My husband and I are professional brunch throwers. We enjoy having the family over for a delicious meal (BACON!) and then kicking them out and enjoying the rest of the day by ourselves.
As I was cleaning up brunch, I came across a First Communion prayer box that Colin had made at school. Inside, I found three prayers:
In case you can't read those, they say:
"Dear Lord, please help me pass my hard times. Amen." (Do you think his "hard times" included this mass?)
"Dear Lord, please make [friend's name] be nicer. Amen."
"Dear Lord, please make [teacher's name] less strict."
Those are pretty good prayers for a 2nd grader. Heck, they're pretty good prayers for an adult.
Long story short, my son has completed his sacraments. I don't have to drag his ass to the preparatory classes anymore. I never did poop that day, but at least I didn't fart (audibly) during mass. And I scored brownie points with my mom and mother-in-law by giving them the best Mother's Day gifts ever.
I just hope no one expects me to do this again next year.
*For the non-Catholics, this is the first time you drink the Kool-aid and eat the witch doctors' organs.
**This when you receive the gifts of the Holy Spirit, a saint's name, and a lifetime of guilt and shame.
Follow Foxy Wine Pocket on Facebook and Twitter. You can also subscribe to my blog and never miss a new post. It's quick and easy! (That's what she said.)