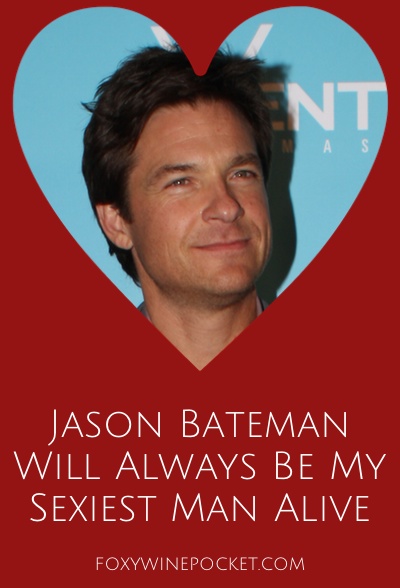 My obsession with love for Jason Bateman is no secret. I proclaim it loudly and proudly. (As you might have guessed, I'm really loud.) I make no apologies to anyone, not even my husband. He knew about this infatuation when he married me. And while most of you (except the really awesome ones) are going, "WHAT?!" I assure you, I'm confident in my celebrity crush.
Recently Jenny from the Blog had a Gen X Heartthrob Smackdown. Jason Batemen was in Round 1, and he won his heat. (Naturally.) Unfortunately, he lost the overall Heartthrob Smackdown, despite my write-in votes and repeated insistence that he should win ALL ROUNDS, even ones he wasn't in. (Fortunately Jenny didn't ban me from her page.) I don't even remember who won. It doesn't matter. Jason should have won. HE WAS ROBBED.
You might be saying, "Okay, fine. He looks good now, but he didn't always look that good." Blasphemy. When I discuss my attraction to this man, I'm not just talking about modern-day Jason Bateman. My love goes all the way back to grade school. In 4th grade, as a class assignment, we had to write a letter to a celebrity. I wrote my letter to Ricky Shroder. (I know it's Rick now, but back then it was Ricky.) One of my classmates wrote to Ricky too. She told him that he was dreamy and that she loved his blonde hair and that she'd like to ride on his train. That was not a euphemism; his Silver Spoons character had a train in his house, remember?
I, however, wrote to Ricky and told him that I enjoyed his show and that I really enjoyed the character of Derek Taylor. (Which if you didn't already know was played by Jason Bateman.) And that it'd be great if Derek could be in more episodes. A LOT MORE. There was something about that mischievous brunette that I could not stop thinking about—I had to have more. (I guess pining after bad boys starts young.)
After Silver Spoons, I stuck with Jason through his awkward phase (e.g., Teen Wolf Too) and cheered him on through some of his best-known roles (e.g., Valerie). Sure, I may have stolen furtive glances at some other brunette actors (Rob Lowe and Andrew McCarthy) when Jason wasn't working as much, but my heart always came back to him. ALWAYS.
Some people just don't get it, and, honestly, I don't get them. I mean, have they even watched one episode of Arrested Development? Didn't they see Jason Bateman in Juno? Admittedly his character was a little creepy in Juno, but that's part of Jason's charm. (I might be defending my own creepiness here.) He's self-deprecating, hilarious, and BEAUTIFUL. His dry wit and one-liners steal any scene for me. He's comic genius, I tell you. Humor and smarts will get you everywhere with me. (See? I've evolved from the bad boy.)
Recently, my freighbors (neighbors who are also friends) and I were hanging out playing a game called "Actors, Musicians, Sport Figures" or something like that. The deal was you had to pick which famous person you'd hook up with in each category. (It's possible they devised this game to get me to stop answering "Jason Bateman" every time we'd play "Hall Pass.")
Question #1: Actors
Freighbor #1: "Okay, Foxy, which actor would you do?"
Me: "Jason Bateman. NATCH."
Freighbor #2: "WHAT?! Are you kidding me?"
Me: "Jason Bateman. Did I stutter?"
And all three of them proceeded to thrash me for this response. They tried to convince me of someone else like Hugh Jackman, Ryan Gosling, or who's that guy from Maroon 5?
No, I insisted. Jason Bateman. I threw out words like "dry wit," "smart," "brunette," "blue eyes," "smattering of freckles," but they remained unconvinced.
Question #2: Musician
Freighbor #1: "Which musician would you do?"
Me: "Jason Bateman."
Freighbor #2: "He's not a musician."
Me: "Jason Bateman."
Freighbor #2: "YOU CAN'T KEEP SAYING JASON BATEMAN! HE'S NOT A MUSICIAN!"
(It's possible I like to rile up Freighbor #2 a bit.)
Me: "He sang on Yo Gabba Gabba!"
Freighbor #2: "That doesn't count."
Me: "Sure it does."
Freighbor #2: "That was a one-off. Try again."
Me: "Fine. He sang that Mumford & Sons song with the other Jason and some other dudes." (I'm apparently not hip to pop culture.)
Freighbor #3: "Wait. You mean 'Hopeless Wanderer?' He was LIP-SYNCING."
Me: "Whatever. He's still a musician."
Freighbor #2: "YOU CAN'T PICK JASON BATEMAN."
Me: "Fine. Jack Johnson."
Freighbor #1: "Who?"
Me: "Jack Johnson. He sings. He surfs. He does good shit for the world. Here's a picture."
Freighbor #1: "Okay. He's not bad. Wait. He looks an awful lot like…"
Me: "JASON BATEMAN. Except Jason Bateman is hotter."
Question #3: Sports Figure
Freighbor #1: "Which sports figure would you do?"
Freighbor #2: "And you can't say JASON BATEMAN."
Me: "But Jason Bateman played sports when he was younger. And there was all that boxing in Teen Wolf Too."
Freighbor #2: "No. Just NO."
Me: "Just pick someone for me. Someone who looks like Jason Bateman. Maybe a soccer player."
Freighbor #3: "David Beckham."
Me: "Who? Just kidding. Okay, fine, David Beckham. But he's no Jason Bateman."
I think they threw something at me after that last response. But the details are a little fuzzy. Because, wine. And Jason Bateman.
We had another neighborhood gathering shortly after in which celebrity crushes were brought up again. Freighbor #2 immediately pounced on me, denouncing Jason Bateman and shoving (what she considered) unflattering pictures of him in my face.
I calmly replied, "You can't show me anything that will dampen my love for him."
She was about to come down on me full force when Freighbor #4 rescued me: "I used to have a crush on Pat Sajak."
And we all died laughing.
That took the heat of off me. And Jason Bateman. At least for the time being.
Who's your celebrity crush? And you can't say "Jason Bateman." 'Cuz he's mine.
Photo Credit: "Jason Bateman" by Eva Rinaldi is licensed under CC BY 2.0. Cropped from original, with title graphic layover.
Follow Foxy Wine Pocket on Facebook and Twitter. You can also subscribe to my blog and never miss a new post. It's quick and easy! (That's what she said.)