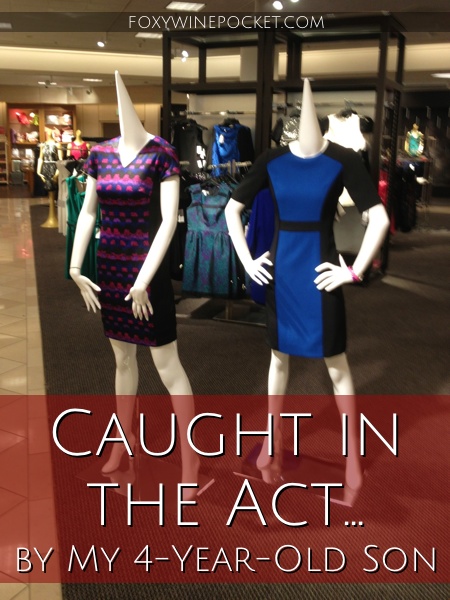 When we bought our house, we spent every last dollar of our savings on the down payment and closing costs. We were completely and totally out of money. 100% out of money.
Like no cable (really, NO cable), no newspaper, no long car trips (because, gas) out of money.
Like no take-out, no dining out, and (REALLY) cheap wine out of money. (No wine was not an option.)
And this part was specifically for me: No clothes shopping out of money.  NO. CLOTHES. SHOPPING. AT. ALL.
But here's the thing. While I understood this, there's a part of me—the part that needs to shop. The part that loves to feel fabric between my fingers. The part that gets a little high from looking at clothes and shoes and accessories. The part that feels a thrill at getting a good deal. I had to put that part of me away for awhile.
But it was only a matter of time before I cracked.
I was really good immediately after we moved in to the new house. I stayed away from all of the clothing stores—even the discount ones. And, honestly, I really wanted toilet paper holders and towel racks (the house had been remodeled, but no one put those in) more than I wanted a new dress. So I was good, and I avoided all temptation.
Then one day I discovered that my favorite discount clothing store was right around the corner from my daughter's new school. And my son Colin and I had an hour to kill before pick-up. So what was I to do? Check out the store, of course.
I walked in, and the buzz was immediate. I could feel it in my fingers and toes. My eyes devoured racks of colors and fabrics and patterns. Rows of dresses and shirts and skirts. SHOES AND PURSES AND ACCESSORIES.
And I had a little conversation with myself:
Me: "You can look around, but you can't buy anything at all."
Myself: "OH! Look at this dress! And this top! It would work well with your (now deflated) boobs and your (soft mommy) tummy. And what a lovely color!"
Me: "BACK AWAY from the shirt."
Myself: "But you can just try it on. There's no harm in that."
Me: "Maybe I'll just try it on. But not buy it."
Myself: "You've got some cash in your foxy pocket, you know."
Me: "It couldn't hurt to try it on, right?"
So Me and Myself brought the top and my son to the dressing room. I shouldn't have been there. It was dangerous. I needed every extra penny for food and utilities and water.
But there I was in the dressing room.
I sat Colin down on the bench and gave him my phone to entertain him. My son was four at the time. He already knew how to play games on the phone so I figured he would be happy. And it would distract him enough that he wouldn't realize what I was doing and rat me out later.
As I took off my shirt, I saw him out of the corner of my eye. He was happily occupied. I felt a little smug. I was going to get away with this.
As I was putting on the new shirt, I heard the ominous "click" of a photo being taken. I turned to my son.
"Hey buddy. What are you doing? We don't take pictures in the dressing room…"
I stopped short of giving him a full lecture on privacy and nudity and pictures and pornography. Because I could see what was about to happen.
I shouted, "No! STOP. DON'T SEND THAT!" just as he texted the picture of me trying on the shirt…
…to my husband.
To answer your burning questions:
Yes, I bought the shirt.
In two different colors.
Follow Foxy Wine Pocket on Facebook and Twitter. You can also subscribe to my blog and never miss a new post. It's quick and easy! (That's what she said.)