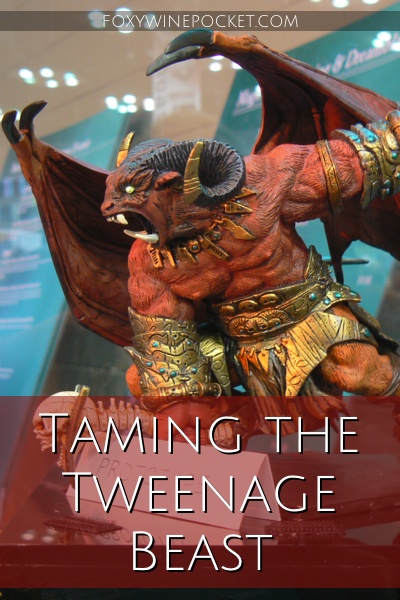 My pre-teen daughter is a fucking nightmare.
And by "fucking nightmare," I mean she's a perfectly-normal, emotionally-charged, almost-twelve-year-old girl. It's just that the hormones in her body are RAGING in an epic battle for dominance, and her good-natured spirit and cheerful demeanor are currently getting slaughtered.
Fortunately for her safety and my sanity, I remember what it's like to be her age. I remember the random screaming fits, the dramatic antics, and the internal emotional whiplash. I don't take it personally, and, for the most part, I can approach my daughter calmly and offer appropriate advice and support:
"Take some deep breaths. It's going to be okay."
"Do you want to walk the dog with me and talk about it?"

"Can you repeat that? I'd like to blog about it."

"How about you go lie down in your room? Hit a few pillows and get that frustration out."
"Here. Have a cookie.

It will give your mouth something else to do besides scream in my face."
Unfortunately, the boys in this household were not prepared for the tweenage reign of terror. My son, who's about three years younger, just stares at his sister as if he's studying a lab specimen. Because I'm open and direct, I've explained to him what's going on with my daughter, what it's going to be like the next few years, and how we can best help her. (This may be why he's not looking forward to 2016.)
He once made the mistake of saying something supportive during one of her internal cage matches, and she unleashed the fury of ten thousand plagues on him. Now he wisely stays out of her way and just gives me a look like, "That is a most illogical display of human behavior."
And poor Mr. Foxy is completely out of his league. He did not experience the same demonic drama, and he was apparently (intentionally?) distracted (by teenage girls?) when his younger sister was going through puberty. So he just looks at me with helpless eyes when our daughter is having one of her meltdowns.
We've discovered that he's better at discussing difficult things with her when she's calm, and I'm better at handing the meltdowns. Our real challenge, however, comes in the mornings. We never know who's going to wake up: our sweet daughter or Regan from The Exorcist.
Because my husband has been assaulted by her fury and vitriol one too many times, he asks me to wake up our daughter if she doesn't do so on her own. (Don't vilify him—he does shit I don't want to do all the time. Like removing hair from sink drains. And handling raw meat. [That's not a penis joke.] I find raw meat incredibly disgusting. In fact, I just threw up a little.)
Anyhow, on those mornings, I carefully go to her room, knock softly on the door, and attempt to wake her up calmly and lovingly. I remind myself: "Stay cool. Don't lose your shit. Watch out for flying projectiles. And don't look directly in her eyes."
Some days, we do just fine. Other days, the Hormones of Hell take control. She screams at the world, "WHAAAAAAAAAAT TIIIIME IIIIIIIIS IIIIIIIIIIT?! OHHHHHHH NOOOOOOOOOO!!" and other things I can't repeat (I know, RIGHT?!). Then she hurls clothes and random objects around the room and stomps to the bathroom. And throws me looks that rival Chucky from Childs Play. Before slamming the bathroom door with enough force to hack off a zombie's arm.
I'm lucky if I make it out of her room without turning into stone.
The whole situation reminds me of when she was two, and we encountered one of our first real parenting challenges. (She was an easy baby, but we didn't know it because she was our firstborn.) After sleeping twelve hours straight (don't hate me), she would wake up having turned into a screaming, nonsensical mini-monster—a dramatic change from her normal sweet, easy-going self.
At first we wondered if we'd hit the terrible twos and were just fucked for the next year or so. But after enduring this torment for a couple of weeks, we noticed that the blood-thirsty demon disappeared after breakfast, and we finally figured out that she was just really fucking hungry when she woke up.
Clever parents that we were, we discovered that if we left some milk and snacks in her room before she woke up, she could consume these before she found us, and we would never need to face that little barbarian again. We referred to this chore as "feeding the beast." ("Hey, did you feed the beast yet?" "Foxy, it's almost 7:00—you had better feed the beast before she wakes up!")
Because that brilliant technique worked so well in dealing with the terrifying two-year-old and because there are a lot of similarities between toddlers and tweenagers, Mr. Foxy and I are brainstorming on how to incorporate this strategy into our current morning routine. Here are some of our ideas:
Put a dorm fridge in her room and keep it stocked with food and beverages. (And let the dog in her room to clean up the crumbs.)
Remotely turn on her favorite music to wake her.
Get one of those automatic food dispensers and fill it with her favorite snack: Doritos. (Again, the dog-vacuum is instrumental.)
Have her best friend text her repeatedly when it's time to get up.
Install a timed, remote-controlled bank vault over her door that can only be opened when her blood pressure is below a certain threshold.
Bribe her with cold, hard cash. Or something shiny (like a real phone instead of an iPod touch).
Obviously, most of these ideas will result in a visit from Child Protective Services or a very spoiled, entitled brat. So I'll just keep wearing my emotional armor and persevere through this phase.
And maybe record one of her meltdowns to show her future husband.
Photo Credit: "Orcus, former prince of demons" by Benny Mazur is licensed under CC BY 2.0. Cropped and added title graphic overlay.
Follow Foxy Wine Pocket on Facebook and Twitter. You can also subscribe to my blog and never miss a new post. It's quick and easy! (That's what she said.)