About eighteen years ago, my husband ate my sandwich.
*pauses for effect*
HE ATE MY FUCKING SANDWICH. And an epic argument ensued. A. REALLY. BIG. ONE. I mean, we've had our fair share of spats and arguments, but The Great Sandwich Tragedy of 1997 is one that has really stuck with me throughout the years. So, naturally, I wrote all about it in a book.
My story, I Can't Believe You Ate My Sandwich, is part of a hilarious book called Clash of the Couples, a new anthology featuring a collection of absurd lovers' quarrels and relationship spats from some of my very favorite writers. I have been cry-laughing through the entire book, which includes dozens of short stories running the gamut—from disagreements over furniture, to who gets the last beer, to where to store the placenta (yes, you read that right). You will love laughing at our fights too.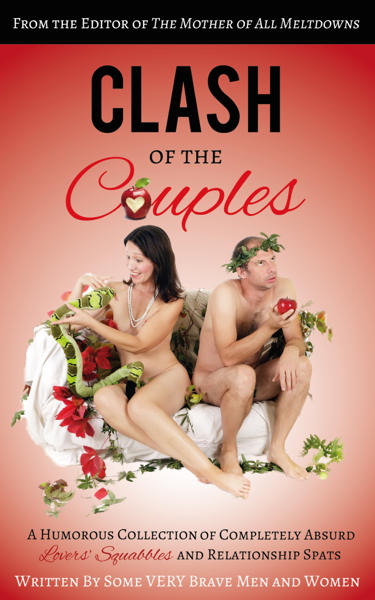 The book has been endorsed by a number of humor and publishing heavyweights, including Josh Blue, comedian and winner of NBC's Last Comic Standing, and Abby Heugel, popular humorist and blogger at Abby Has Issues. Here's what they had to say:
"If you're looking for a fun read, check out Clash of the Couples. I could relate to the couples in this honest and hilarious collection of modern relationship tales. Clash of the Couples bursts with the real stuff that couples fight about and will make you laugh while shaking your head at the ridiculousness of it!" said Blue.
Heugel shares his sentiments. "Married, single, destined for spinsterhood—it doesn't matter what angle you come at this book from, you will find something that you can relate to. And you will laugh, because even if you can't relate to that particular situation, you'll just be glad that it happened to somebody else."
You should really buy this book. Seriously. Right now. I'll wait. Buy one for yourself. Buy one for your friend who just got engaged. Purchase enough for everyone on your holiday shopping list. (That's what I'm doing.)
BUT WAIT! THERE'S MORE!
Naturally, as part of this epic launch, I'm giving away a copy of this hysterical book to one lucky reader. Here's the deal. In thirty words or less, tell me about one of your "favorite" spats with your spouse/partner/not-so-better half in the comments below. I'll put all of your names into a hat and pick a winner on November 15th to receive a signed copy of the book. Good luck and happy reading!
Follow Foxy Wine Pocket on Facebook and Twitter. You can also subscribe to my blog and never miss a new post. It's quick and easy! (That's what she said.)