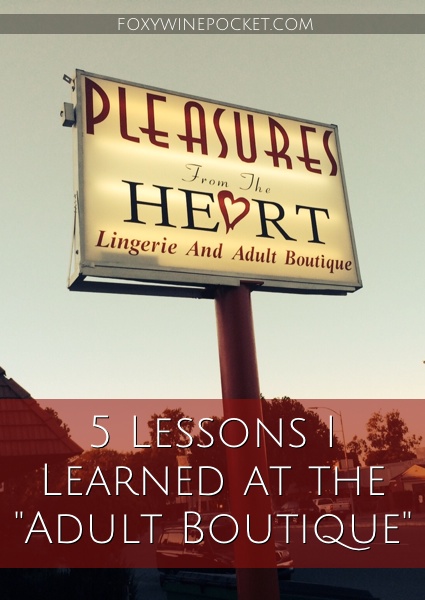 Two Catholic school girls walk into a sex shop…
That's not the opening line to a joke. That actually happened. My freighbor (friend + neighbor) and I, both Catholic school survivors, recently went to an adult boutique to buy a present for another freighbor. We were going to a party celebrating her 40th birthday and 15th wedding anniversary.
Naturally, given the momentous occasions, we decided sex toys were the most appropriate gift. (Believe it or not, it wasn't my idea.)
We left the kids at home with our husbands and bravely ventured out one evening. It's possible I had a glass of wine first. (By possible, I mean I had two glasses.) We're not prudes, but I'm not sure we were prepared for everything we encountered. We spent a good hour in that shop. We snickered; we gasped; we pointed; we stared in wide-eyed amazement.
As good Catholic school girls, we took some notes (and pictures), and we learned a few things.
One size does not fit all. It never has, and it never will. The elephant trunk g-string for men? Sure, this garment will fit some, but how embarrassing would it be for a guy to have droopy fabric at the end of his, uhhh, trunk?
There are some things better left unseen. Cloned pussies? (One is enough for me, thanks.) Veiny penis replicas with real hair? Shower-mounted fleshy openings? I'm still trying to erase those images from my brain.
You can't hide ugly. Sure, sure, the human body is a "beautiful" thing, but honestly men, your junk is ugly. Mesh boy shorts are not going to make it any more appealing to me. And a bikini with a face and a hole for the, uhhh, nose is just going to make me laugh hysterically.
There's a reason some things are on clearance. If the edges of the book are stained and frayed, I'm staying away. I don't want rejected porn or malfunctioning sex toys either. A vibrator that only works on the highest setting may seem like a good idea, but it's not. The last thing I need is a broken sex toy up in my hot pocket.
If you have to ask, maybe you aren't meant to know. I'm going to be honest: I had no idea how many of those toys would be used. Or maybe I'm just not adventurous enough. But anal plugs with attached fox tails, hooha balls, and masks that cover everything but my mouth just don't do it for me. Different strokes for different folks, I suppose.
After an hour of laughter, intrigue, and embarrassment (and fantastic conversation with the very helpful sales associate), we ended up purchasing a remote control vibrator. You know, one that the birthday girl could have in her pants and her husband could control from across the room? One of those.
But not before picking up a few things for ourselves. (I may need to go to confession.)
P.S. I don't put these in my mouth either: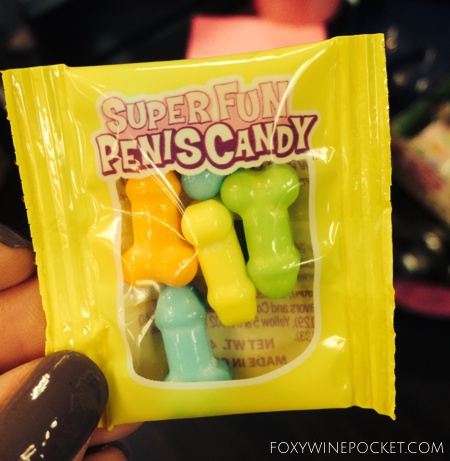 Like that? Then you'll LOVE Vaginal Beautification for the Rest of Us. Also, you should definitely follow me on Facebook and Twitter. Because I've got more inappropriate humor for you there.
Follow Foxy Wine Pocket on Facebook and Twitter. You can also subscribe to my blog and never miss a new post. It's quick and easy! (That's what she said.)