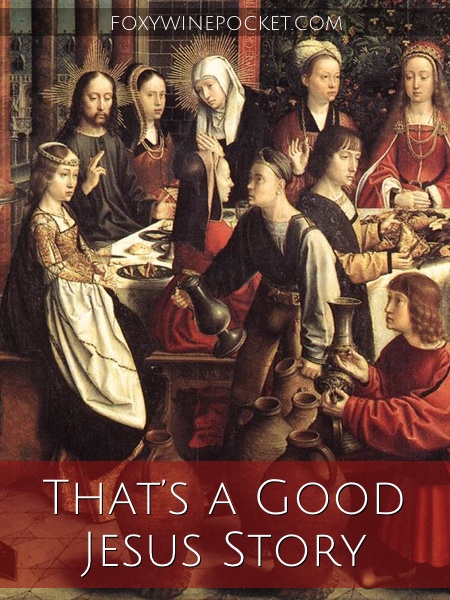 My children are much better Catholics than I am. They attend Catholic school and have learned waaaay more than I ever did about the Bible and Catholicism. I'm not sure they'll end up being practicing Catholics as adults, but I feel like I'm doing my part in providing exposure to that and other religions.
The problem is that they know way more than I do. And they ask me questions that I can't answer. I do a lot of this: "Tell me what you think." And this: "Your sister would love to tell you all about that."
One time my son came home with a beautiful picture he had drawn depicting the Wedding at Cana. He explained how they performed a play in the classroom, and he was Jesus. I admired his picture and asked about the play, but honestly, I didn't remember the Wedding at Cana. AT ALL.
My husband, who is conceivably definitely a worse Catholic than I am, actually knew the story. Apparently, it's about the time there was a wedding at Cana (hence the title), and they ran out of wine at the reception. Jesus, being the miracle worker he was, turned a bunch of jugs of water into wine. INTO WINE, PEOPLE.
Now, you may ask (as I did at that very moment): "Uhhh, Foxy WINE Pocket, how could you NOT know the Wedding at Cana?! That's a FANTASTIC story. Even I knew that story!"
Actually, I knew the basics of the story—just not all of the details. That is, I knew that Jesus turned water into wine somewhere at some point in time for some reason or another. Turning water into wine was the whole point of the story, right?
I'm kidding. (Mostly.)
Now that I know the specifics, I would venture to say that this is my very favorite Bible story. I mean, weddings and wine are two of my favorite things. And miraculously appearing wine? HELLO?!
Seriously, heads of Christian churches everywhere, I know church attendance is going down—why don't you just lead with the Wedding at Cana? You could attract far more followers with that one. Think about it. I mean, if Jesus turned water into wine, and we all need to act more like Jesus …
You see where I'm going with this, right?
Just imagine all of the new followers you would get. Okay, forget about the Mormons—they wouldn't care as much about the wine part. But just about every Catholic (and semi-Catholic) I know would love the crap out of that story. (Actually, I don't think crap was mentioned anywhere in the actual text.) Church attendance would skyrocket! Or not. But people would definitely be listening more attentively to stories like that one.
When my husband relayed the full story to me, I calmly replied, "That's a good Jesus story."
'Cuz it is.
Photo Credit: Gerard David (circa 1450/1460–1523) [Public domain], via Wikimedia Commons
Follow Foxy Wine Pocket on Facebook and Twitter. You can also subscribe to my blog and never miss a new post. It's quick and easy! (That's what she said.)